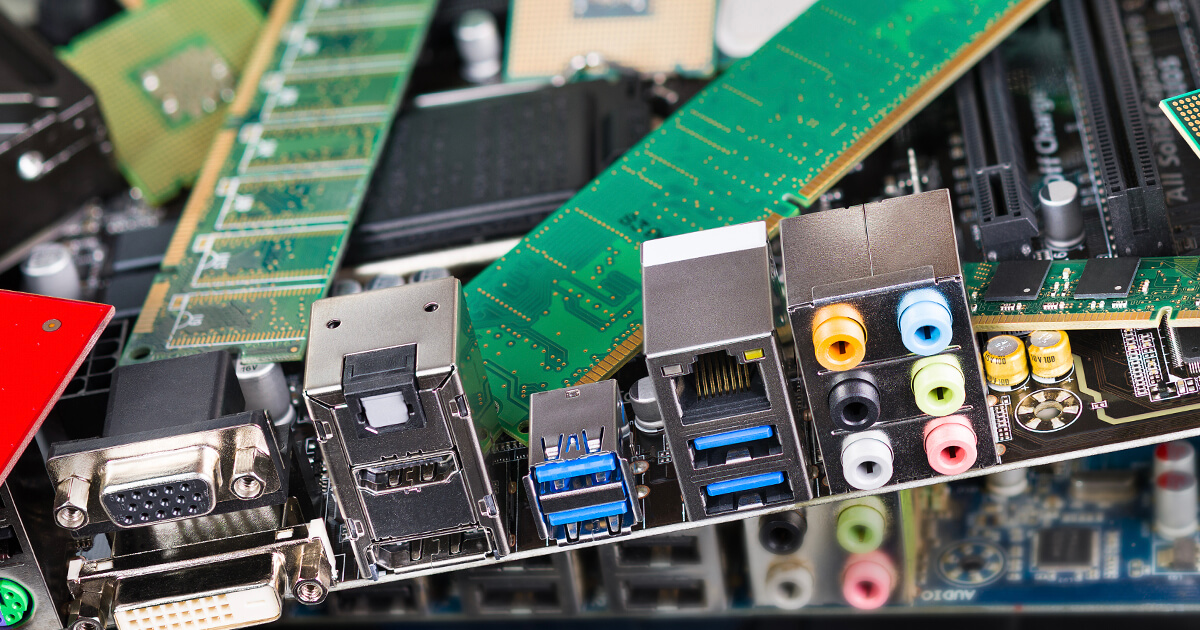 Despite several large-scale public-private efforts to address the problem, the global chip has only become more severe in recent months.
In Southeast Asia, a spike in COVID-19 infections prompted local leaders to initiate regional production stoppages and travel restrictions in the fall. Consequently, the area's output of key semiconductors fell precipitously.
Plus, Beijing ordered power usage cuts in 20 mainland provinces to reduce the country's overall output of greenhouse gases. As a result, several semiconductor companies with factories in the affected regions temporarily halted production.
Those developments helped push the average component lead time to a record 22 weeks.
However, despite the worsening of the parts bottleneck, Sourcengine can provide OEMs, CMs, and EMS providers with support.
The e-commerce marketplace hosts listings from over 3,000 leading manufacturers, distributors, and thoroughly vetted third parties. Thanks to its unparalleled resources, it can provide companies with high-quality connectors, even amid the marketplace's current instability.
Sourcengine Hosts Outstanding Molex Connectors
Sourcengine currently hosts a range of outstanding Molex, LLC. connectors even with the industry's ubiquitous supply issues.
For example, the marketplace has amble quantities of the manufacturer's 43045-0218 rectangular power connectors available with immediate delivery. The ultra-small wire-to-board component is highly durable due to its brass contacts and glass-filled liquid crystal polymer insulation. It is heat and fire-resistant because of those design elements and can operate consistently in temperatures from -40°C to 105°C.
Sourcengine has a great many 43045-0218 connectors in stock that are available for prompt shipment worldwide. In addition, it can transport its alternates (43045-0219, 43045-0220) to firms with more extensive inventory needs.
In addition, Molex's 43045-0223 through-hole power connector is ideal for new and existing PCB projects. As part of its Micro-Fit series, it has a modest form factor that consumes minimal board space. It is also ruggedized enough to withstand exposure to extreme temperatures up to 125°.
Sourcengine also lists phenomenal Molex headers and edge connectors with little turnaround time.
For example, the 5025985193 SMT connector offers 60mΩ of contact resistance, 50mΩ insulation resistance, and robust dielectric strength. It can also withstand up to 100mΩ of vibration and mechanical shocks and will remain functional temperatures as low as -30°C. Those qualities make it a component OEMs, CMs, and EMS providers can use in their offering with complete confidence in their integrity.
Similarly, the 1703901020 impact backplane connector is a product with superior design elements and capabilities. It enables data transfer rates of up to 25Gbps, and thanks to its 80 differential pairs per inch, phenomenal signal density. The part's innovative build minimizes crosstalk and channel performance variation while allowing for high signal bandwidth.
Because of the ongoing worldwide chip crunch, average lead times for many essential microelectronics grow longer every day. But Sourcengine can ensure prompt international delivery of Molex's 5025985193 and 1703901020 connectors despite the market's present instability.
Multiple Brands, Same Rapid Delivery
Earlier this year, multiple electronic components industry leaders and analysts predicted the global chip shortage would persist into 2023. Unfortunately, the massive costs and long construction times involved with establishing more production capacity make a sudden increase in output impossible.
As such, procurement specialists' best option for overcoming the sector's current hurdles is expanding their supply chains.
Companies can find the parts necessary to avoid debilitating unplanned production shutdowns by looking beyond their existing partners. Thankfully, Sourcengine can help professional buyers expand their supply ecosystems and high-quality microelectronics from multiple leading chipmakers.
The e-commerce marketplace is brand-independent, giving users the ability to browse and purchase millions of electronic devices. For instance, it currently hosts significant quantities of TE Connectivity's 794606-1 power contacts for multiple thoroughly vetted vendors. Manufacturers can arrange for delivery of the highly versatile component within weeks, not months.
Customers can also buy a selection of Hirose Electric Co., Ltd. products on Sourcengine.
The vendor's DF9-31S-1V(32) two-row, 30 contacts connectors are available without delay via the online marketplace. The surface-mounted receptacle has a 250V dielectric voltage rating, 0.5A in current, and 50mΩ of contact resistance waves. Even better, the item's alternates (DF9A-31S-1V(22), DF9-31S-1V(69), and DF9A-31S-1V(69)) are available for purchase for firms that need even more significant quantities of the part.
Currently, procurement specialists can also snap up high-quality interconnects from J.S.T. Mfg. Co., Ltd. on the marketplace. As an example, large, competitively priced quantities of its BM02B-SRSS-TB(LF)(SN) board connector can be ordered and delivered right away. Manufacturers can stock up on this low-profile, compact part before the end of the fourth quarter by shopping with Sourcengine.
OMEs, CMs, and EMS providers can also upload and manage BOMs featuring all the above-listed connectors and make a purchase within seconds. Although the global electronic component supply chain is experiencing unprecedented disruption, companies can still get the microelectronics they need by embracing digitalization.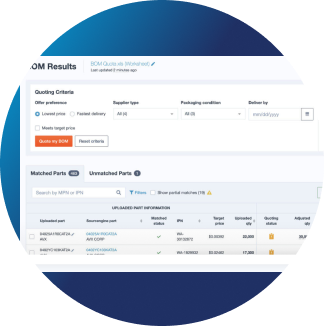 Quotengine: Your Ultimate BOM Tool
With Quotengine's real-time data on over 1 billion part offers, managing your BOM effectively has never been simpler.
Upload Your BOM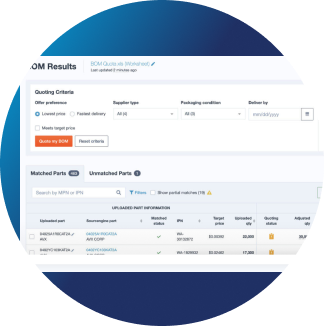 What's Your Excess Worth?
Real-time market data, quick response time, and unique price offers to help you maximize your return on excess inventory.
Get an Estimate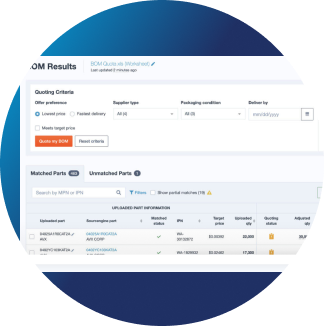 The Last Integration You'll Ever Need
Streamline manual processes and gain real-time access to inventory data, pricing updates, and order tracking through Sourcengine's API
Sign-up Here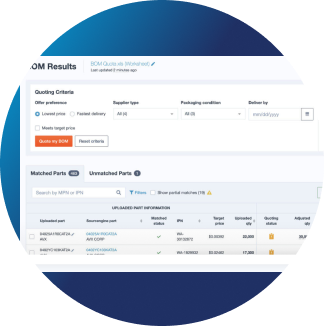 Sourcengine's Lead Time Report
Strategize for upcoming market shifts through lead time and price trends with our quarterly lead time report.
Download now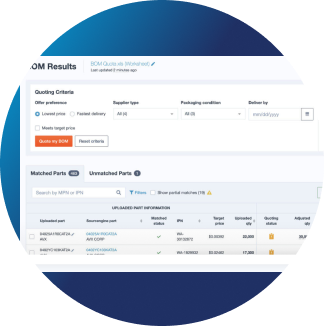 Sourcengine's Lead Time Report
Strategize for upcoming market shifts through lead time and price trends with our quarterly lead time report.
Download now