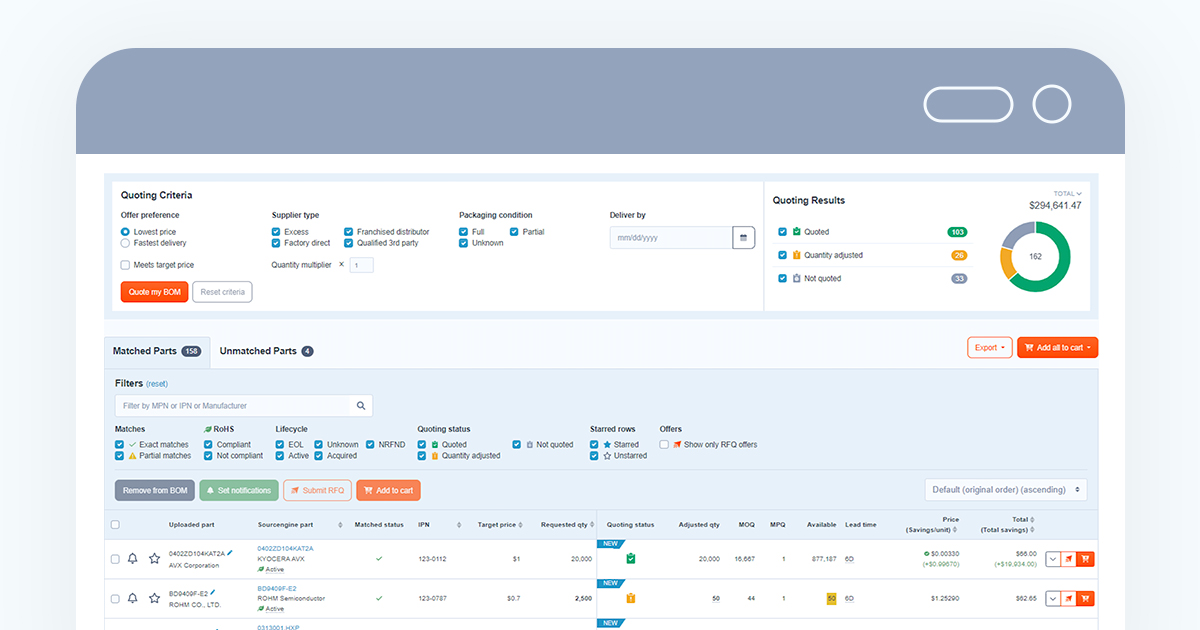 Technology is quickly becoming the cornerstone of every industry's advancement, from health to home. Smart home systems, centralized work communication platforms, autonomous vehicles, synthetic data for artificial intelligence, and Covid-19 variant tracking, are just the tip of tech's recent breakthroughs. The more developed technology becomes, so does the equipment that powers it.
New smartphone models need more advanced and smaller semiconductors. Original component manufacturers (OCMs) are innovating swiftly to keep pace with new technologies. TSMC, Intel, and Samsung Electronics are discussing future production plans for 1.4nm nodes. These advanced chips are the only ones able to keep pace with rapidly evolving software and hardware capabilities. The only challenge is accurately predicting and securing stock for each product entering mass production.  
Why a Resilient BOM is Make or Break
Throughout the pandemic, production in almost every industry suffered. Everything from car lines to artificial intelligence advances fell behind without the chips used to power them. It took days if not weeks to find and secure stock if it was even available. The semiconductor supply chain relies on just-in-time (JIT) scheduling. JIT is an inventory management method in which goods are received from suppliers only as they are needed. Chip capacity, which relates to the amount of stock produced by a chip maker, is determined by demand in years prior and market growth projection.  
This traditional method of management exacerbated the shortage as demand for stock rose sharply to combat increased consumer orders. Buyers, who need time to compare prices, lead time, and other data, suddenly had no time at all but needed to buy as much inventory as they could. Some double ordered and now, with that original demand gone, are left with large amounts of excess inventory.
Material management is often an overlooked part of manufacturing. Now that components are becoming more available, companies are playing catch up. But the more chips necessary to produce a product, the more complicated managing a project becomes.
A parts list is often massive, and buyers must take components, their suppliers, prices, technical data, and more into consideration. Buyers given such a list can spend hours, if not weeks, comparing prices, lead times, and more on a single parts list for one product. Sometimes mistakes are made. That shouldn't happen. If the products evolve so too should the system that documents their assembly.  
Manufacturers need to digitalize their BOMs.
What Does a Digital BOM Management Tool Do?
A bill of materials (BOM) improves manufacturing accuracy and efficiency as it lays out detailed plans that are easy to follow. What used to be stacks of paper spreadsheets are now digital for the most part. So, what is a BOM Tool?  
A digital BOM tool helps manage BOMs and the materials included. These digital management tools also offer several key features or help support better overall communication between engineering and purchasing teams. The goal of a BOM management tool is to aid buyers in the procurement process by increasing time-efficiency, cost-effectiveness, and ease-of-use. Digital BOM management tools can ensure this and more by performing several key tasks.
Provide Alternates: A smart BOM management tool will provide form-fit-function (FFF) alternates in offers if the original component is either out of stock, obsolete, or entering end-of-life (EOL). The importance of knowing part alternates and their subsequent offers helps buyers make better-informed decisions without further communication with engineering and reduces time spent searching for alternates on their own.
Price Benchmarking Capabilities: For BOMs that are integrated into a digital marketplace, price benchmarking allows buyers to view the best offers for a component without having to collect information from multiple sites. BOMs integrated with marketplaces usually have hundreds if not thousands of suppliers with real-time data that is consistently updated to always provide the best offer.
Ensure Traceability: With digital BOMs a paper trail for how, who, when, and where for every step of procurement is assured. This ensures there is always documentation of who supplied the part, how it was shipped, the date and time of the scheduled delivery, the quality management process, and warranties included for each purchase. That way every purchase can be made easily and with assurance.
Supply Comprehensive Data: A BOM should swiftly and accurately provide part information for each component needed which aids buyers in part recognition moving forward. An intelligent BOM management tool should provide technical data on offered parts that can be downloaded and shared by a buyer so they can follow up with their team on any questions before a purchase.  
An advanced BOM management tool needs to present a wide array of information in a streamlined way. Most buyers have little time and manufacturing BOMs are only growing. A smart BOM management tool doesn't take more than a few minutes to learn how to operate and the benefits should massively outweigh the time spent learning how to implement it.  
Unfortunately, there are very few BOM management tools that can support a range of BOM structures, display best offers, and support massive amounts of technical data that is ready to view at a moment's notice. However, there is one that can accomplish these tasks while accommodating buyers with a simple interface for purchasing.
‍Quotengine Capabilities
Quotengine is the premier BOM management tool for any original equipment manufacturers (OEMs), contract manufacturers (CMs), original design manufacturers (ODMs), electronic manufacturing service (EMS) providers, and more. As a BOM tool integrated with one of the largest digital marketplaces for electronic components, Sourcengine, Quotengine can pull offers from over 1 billion parts. Quotengine possesses several key features that make it the optimal intelligent BOM management tool for OEMs of any size.  
Enterprise Quoting: Quotengine offers users the ability to add up to 4,000 line items at once. These thousand-part BOM lists can quickly be obtained with multiple offers that can be filtered with Quotengine's filter feature to find the best offer that matches your specific requirements. For parts that do not have offers, you can quickly send Quotengine's team an RFQ who will source that pesky part for you.
One Window, One Transaction: No comparison, no multiple tabs, no dozens of excel sheets, everything is in one window. Once you've uploaded your list you can quickly add all to your cart with one click for one transaction  
Your Smart BOM Tool: Additional information on part offers from over 3,500 suppliers is available if needed. That includes everything from price benchmarking, lead times, compliance data, FFF alternates, and component technical data. Through Quotengine you can also schedule multiple deliveries to keep your supply chain moving up to one year in advance. This is assured through on-time delivery and a 3-year warranty on all products purchased through Quotengine.
Real-Time Shareable Data: Quotengine is integrated with Sourcengine, a global marketplace with over 1 billion component listings so each quote comes with the best offer. Once your BOM is processed you can easily download it and share it with your team and use it as a reference point for letter purchases as offers come in.  
BOMs are getting larger every year. The more advanced computing becomes, the BOMs that account for the materials that make it must do so as well. Without a proper tool, it's easy for disorganization to take hold. Quotengine ensures you can manage your BOM with time to focus on essential tasks outside of part orders.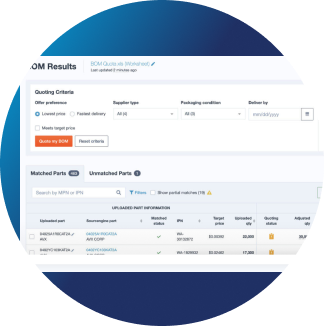 Quotengine: Your Ultimate BOM Tool
With Quotengine's real-time data on over 1 billion part offers, managing your BOM effectively has never been simpler.
Upload Your BOM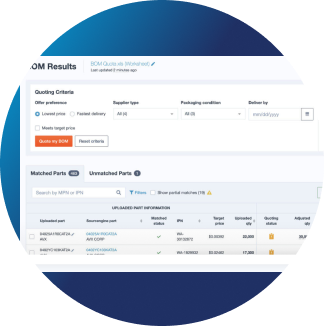 What's Your Excess Worth?
Real-time market data, quick response time, and unique price offers to help you maximize your return on excess inventory.
Get an Estimate