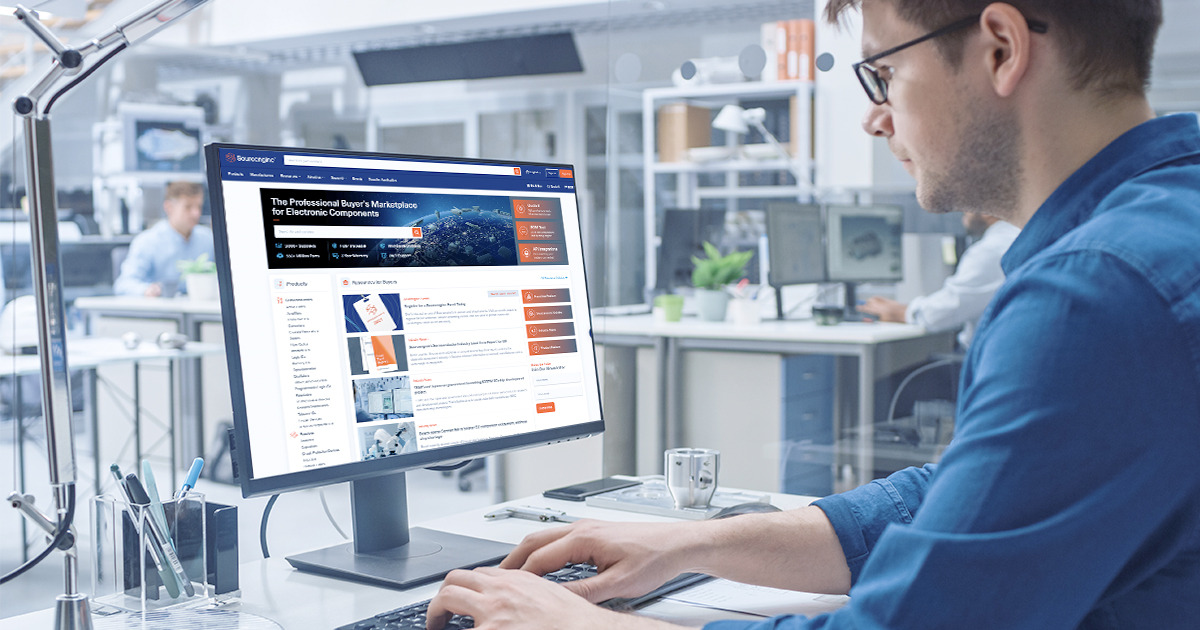 The global chip shortage has caused unprecedented problems throughout the global electronics supply chain in the last few months. More than 160 industries are currently grappling with widespread parts stockouts, and industry analysts expect the crisis will cost the automotive sector $110 billion this year.
Firms like Bosch and Taiwan Semiconductor Manufacturing Company (TSMC) are expanding their production capacity to address the situation. But, unfortunately, the costs and complexities associated with microelectronics fabrication mean the crisis will likely extend into 2022.
The reality is there is no short-term solution to the shortage. However, Sourcengine has resources that can help OEMs and EMS providers combat the effects of the worldwide parts bottleneck.
Provide Access to Part Listings From 3,000+ Suppliers
One of the most pernicious aspects of the global chip shortage is its impact on several foundry service providers. TSMC, Samsung, and GlobalFoundries are running their fabs at full utilization, but demand is still greatly outstripping the available supply. Consequently, fabless and fab-lite companies cannot replenish their depleted inventories in the near term.
While the current tightness in worldwide production capacity will be a long-term concern, OEMs and EMS providers have other options. For example, Sourcengine is an e-commerce marketplace that gives users access to microelectronics from over 3000 manufacturers, franchised distributors, and qualified third parties.
Accordingly, professional buyers can use it to procure everything they needed to support a forthcoming NPI. That means if a critical part is not available factory direct, purchasers might be able to get it through another channel and at a substantial discount.
The marketplace also provides worldwide shipping on all items acquired through the marketplace. Those features enable manufacturers to acquire the components they need to keep their production lines running, regardless of geography.
Improve OEMs and EMS Companies Procurement Through Digitalization
Another way Sourcengine helps OEMs and EMS providers overcome chip shortage problems is by digitalizing their procurement operations.
Sourcengine's online marketplace is designed to make finding and buying parts as seamless as possible for professional buyers. When applicable, products with available alternates will have those items listed on their PDPs to simplify the purchasing process. In addition, its BOM tool provides users detailed information for each part, include alternate component listings.
That functionality enables professional buyers to keep their manufacturing lines on track even during periods of widespread disruption. Plus, procurement specialists can avoid shortage-related delays by filling out their BOMs with high-quality alternates from premier manufactures like Samwha Capacitor Group and Alpha and Omega Semiconductor.
The global chip shortage and its projected duration represent a major challenge for OEMs and EMS companies. As the crisis massively disrupts traditional supply chain operations, firms need new solutions to thrive in the current landscape. Sourcing microelectronics from a wider range of providers, especially those that a range of alternates, is one of those solutions.
In fact, IHS Markit recently named increasing supplier diversity as a best practice for navigating components sector hurdles in 2021.
The marketplace makes the process of acquiring parts from new, fully vetted manufacturers, distributors, and third-party vendors as easy as possible. Registered users can upload BOMs with up to 4,000 items and receive real-time offers from thousands of vendors. Plus, the marketplace's intuitive interface makes replacing out-of-stock components with quality alternates a cinch.
Best of all, becoming a registered Sourcengine user and gaining access to its digitalization resources is free!
Offer Robust Safeguards Against Counterfeit Parts
Lastly, Sourcengine actively works to keep counterfeit electronic components off its online marketplace. That attribute has taken on increased importance recently as the chip shortage has prompted a spike in fraudulent parts distribution.
Independent Distributors of Electronics Association (IDEA) founder Steve Calabria told Ars Technica criminals see the bottleneck as an opportunity. He noted that bad actors are offering firms in danger of shutting down their production lines mislabeled knockoffs and scavenged microelectronics. Calabria also said unestablished and unvetted vendors have been popping with large quantities of otherwise unavailable components.
The official expects the proliferation of counterfeit components to worsen as the shortage persists.
Center for Advanced Life Cycle Engineering (CALCE) researcher Diganta Das echoed Calabria sentiments in a recent interview with ZDNet. Das believes tightness across the electronic components supply chain will prompt companies to lower their standards regarding quality assurance. In addition, he believes anxiety about avoiding production line shutdowns will lead to a spike in fraudulent part reports in the second half of 2021.
Sourcengine can help OEMs and EMS firms keep fraudulent parts away from their receiving dock and out of their devices.
Thanks to its partnership with Sourceability, the marketplace ensures the quality of products moving through its network. The company's stringent supplier rating system, date code monitoring, and 74-step inspection ensure items' integrity and legitimacy. Its thoroughly trained staffers and cutting-edge equipment can identify flaws and signs of forgery at the microscopic level.
As such, professional buyers can use Sourcengine secure in the knowledge that it is marketplace protected by rigorous anticounterfeiting measures.
Right now, it looks like the electronics supply chain will be dealing with the global chip shortage for at least another six months. However, Sourcengine has the partnerships, digital resources, and safeguards to mitigate its impact and succeed despite the landscape's current turmoil.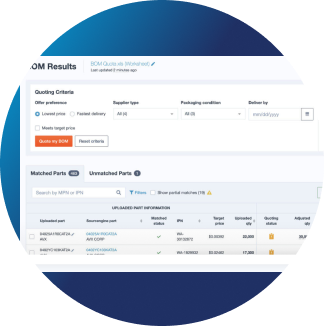 Quotengine: Your Ultimate BOM Tool
With Quotengine's real-time data on over 1 billion part offers, managing your BOM effectively has never been simpler.
Upload Your BOM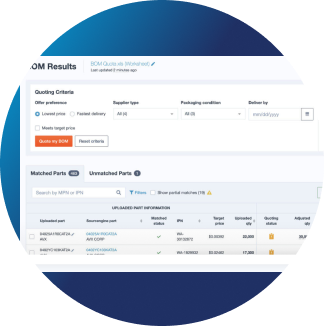 What's Your Excess Worth?
Real-time market data, quick response time, and unique price offers to help you maximize your return on excess inventory.
Get an Estimate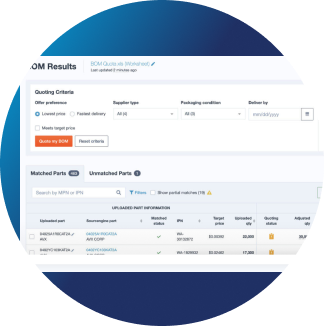 The Last Integration You'll Ever Need
Streamline manual processes and gain real-time access to inventory data, pricing updates, and order tracking through Sourcengine's API
Sign-up Here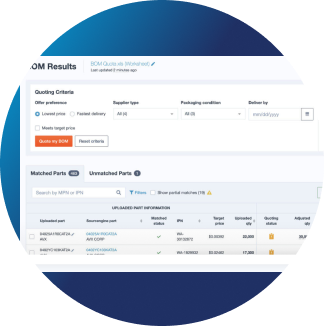 Sourcengine's Lead Time Report
Strategize for upcoming market shifts through lead time and price trends with our quarterly lead time report.
Download now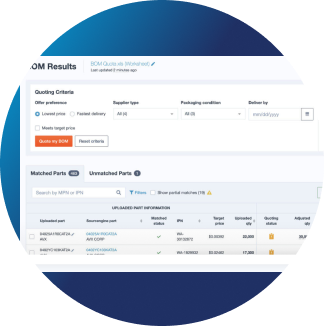 Sourcengine's Lead Time Report
Strategize for upcoming market shifts through lead time and price trends with our quarterly lead time report.
Download now