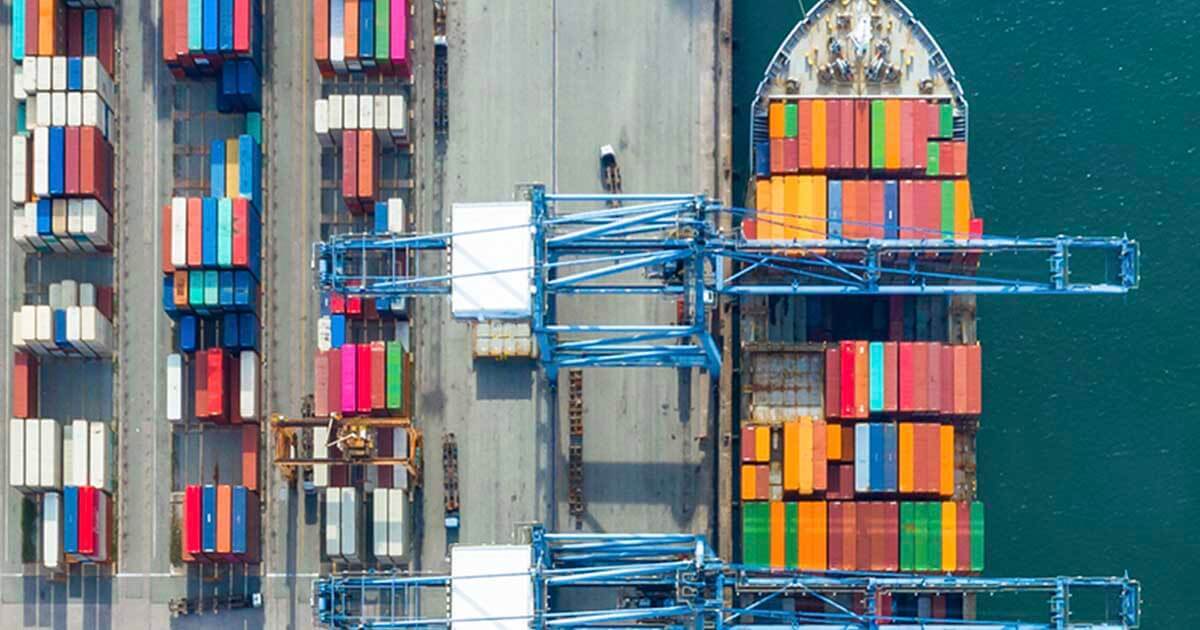 Since it began in late 2019, the coronavirus pandemic has had a catastrophic effect on the world. However, the global health crisis prompted people to come together to address its life-changing impact. Governments, corporations, and individuals mobilized to aid the sick and support citizens dealing with self-quarantine mandates.
The public embraced digital technology to adjust to life under lockdown, buying tools that would enable them to work, learn, and consume entertainment remotely.
Facilitating that unprecedented societal change put immense pressure on the global electronic industry. OEMs, CMs, EMS providers have encountered intense difficulty acquiring the microelectronics needed to keep their factories running during extremely volatile conditions. Ordering parts by phone or email amid increasing lead times, pricing volatility, and widespread stockouts highlighted the flaws of the existing chips supply chain.
Accordingly, firms had to rethink their procurement operations and utilize cutting-edge technologies to address their new challenges.
As a part of the Sourcengine Winter Games, we wanted to highlight how supply chain digitalization has helped companies adapt to the post-COVID-19 landscape.
Facilitates Global Direct and Indirect Parts Procurement
The greatest benefit of supply chain digitalization is how it facilitates global direct and indirect parts procurement.  
Traditionally, professional buyers contact distributors or chipmakers to purchase the components needed to meet their companies' needs. That paradigm allowed them to organize a steady inflow of semiconductors for use in their product lines. The process, which involves calling and emailing various manufacturers and distributors about availability and pricing, was inefficient but functional.

But in the aftermath of the coronavirus pandemic, the electronics supply chain has been destabilized by widespread lockdown mandates. Chipmakers have had to grapple with sudden factory closures and logistics restrictions that prevented the delivery of their products. The disruption created by COVID-19 became a primary contributor to the global chip shortage, a bottleneck experts believe will continue into 2023.
Under those conditions, OEMs, CMs, and EMS providers have struggled to acquire enough parts to maintain their operations. However, many forward-looking manufacturers have adjusted to the field's volatility by joining electronic component e-commerce marketplaces.
Buyers have utilized these online services to fill their inventories with otherwise unavailable ICs. Procurement specialists benefited from being able to source parts factory direct and from vendors based all over the world. They have also acquired microelectronics indirectly from verified third-party merchants that can provide otherwise inaccessible ICs.
In addition, e-commerce marketplaces have enabled companies to greatly expedite their procurement activities. Buyers can upload a list of parts, receive real-time offers for components with favorable prices, and arrange for delivery without geographical restrictions. Because the process is conducted online, firms do not waste time negotiating with suppliers over the phone or online.
As an added benefit, digitalization can help electronics manufacturers avoid one of the industry's biggest hazards; counterfeit chips.
Protects Manufacturers from Counterfeit Parts
As part of a multisector analysis of COVID-19's impact on global industry, the U.S. government found the consumer electronics field experienced a surge in parts counterfeiting. It attributed the proliferation of fake components in the supply chain to a lack of supplier verification. An industry survey affirmed that finding as 31 percent of respondents admitted to taking on new suppliers "without going through approved vendor qualification process."
Under intense end-market demand pressure, manufacturers created an opportunity for fraudsters by lowering their standards and purchasing raw materials from untrustworthy sources. While understandable given the condition of the post-pandemic landscape, buying from unproven parties is just not worth the risk.
Manufacturers can end up being tricked out of hundreds of thousands of dollars by con artists posing as reputable vendors. Firms have also found themselves acquiring large shipments of scrap metal disguised as functional microelectronics. When substandard ICs make their way into highly sought-after consumer devices, companies can end selling dangerous products.
In fact, a U.S. Congressperson introduced legislation to expand the liability involved with the sale of explosively defective electronics this summer.
Criminals make millions of dollars annually, luring in businesses with promises of quick shipments of hard-to-find components and unbelievable prices. And their victims end up with significant financial losses, severe brand reputation damage, and potential lawsuits.
However, OEMs, CMs, and EMS providers can avoid the hazards of fake chips through supply chain digitalization.
By working with an e-commerce marketplace that deals in electronic components, firms can benefit from focusing on quality assurance. Leading operators maintain continuously updated vendor rankings that measure attributes like product quality and timeliness. That way, buyers are protected from getting ripped off by phantom chipmakers and distributors. World-class digital parts marketplaces also keep certified inspectors on staff to detect even microscopic flaws in the ICs moving through their networks.
Furthermore, avoiding one of the biggest dangers affecting the electronics industry since COVID-19 hit is only one benefit of supply chain digitalization. Another is gaining insight into the regional developments that can disrupt the entire industry.
Enhances Market Intelligence
IPC, an industry trade group, learned 69 percent of its members received pandemic-related shipment delays from their suppliers last spring. Manufacturers found out their orders would be six weeks late, which is bad but not catastrophic.  At that time, 75 percent of the group believed their supply chains would be back to normal by the summer.
Unfortunately, the COVID-19 continued to disrupt the semiconductor industry throughout 2021, contributing to lead times rising to a record 22 weeks in October.
As a result, OEMs, CMs, and EMS providers did not stockpile essential parts ahead of the ordinarily lucrative holiday shopping season. That meant firms lacked adequate supplies to keep video game consoles, automobiles, and home electronics in stock by Q4. By the time companies learned that the pandemic would disrupt their sourcing activity, their production schedules had become untenable.
However, manufacturers that digitalize their operations find ways to mitigate the impact of COVID-19 with enhanced market intelligence.
Online marketplaces also provide users with insights on events that will affect availability for a slew of microelectronics.
For example, Southeast Asia experienced a spike in COVID-19 cases that prompted local leaders to institute national lockdowns. Because the area is a hub for global capacitor output, regional quarantine mandates constrained the world's supply of capacitance products.
Receiving regular updates on industry-impacting events can give organizations an advantage over rivals that wait for updates from their suppliers.
Companies that have integrated e-commerce marketplaces into their supply chains also benefit from comprehensive market forecasts. Thanks to their relationships with industry-leading chipmakers, those services can generate lead time reports for a variety of parts. That way, buyers can make orders that account for issues like multiple manufacturers discontinuing the production of certain items.
The coronavirus pandemic has had a massive negative impact on the world, but one positive to come out of the crisis is its activation of humanity's ingenuity. Individuals, institutions, and businesses have found ways to overcome significant adversity by embracing digital solutions. For the electronics industry, that has meant finding success by utilizing online services to bypass the limitations of the existing supply chain.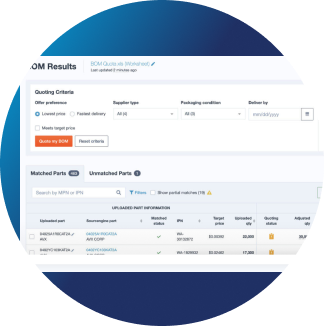 Quotengine: Your Ultimate BOM Tool
With Quotengine's real-time data on over 1 billion part offers, managing your BOM effectively has never been simpler.
Upload Your BOM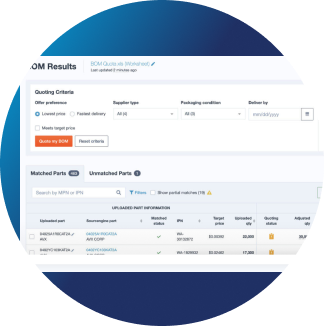 What's Your Excess Worth?
Real-time market data, quick response time, and unique price offers to help you maximize your return on excess inventory.
Get an Estimate