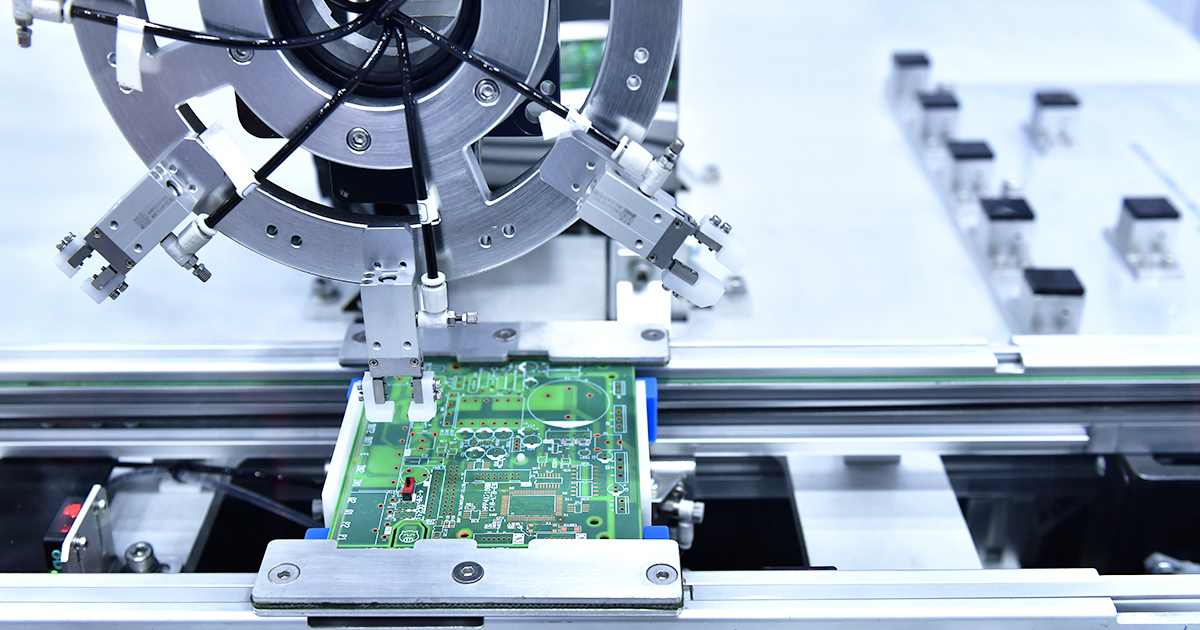 In the last few years, the global semiconductor supply chain has experienced a staggering amount of disruption.
The U.S.-China trade war imposed costly new tariffs and export restrictions on raw materials and components moving between the two countries. Subsequently, the COVID-19 outbreak prompted temporary shutdowns of the world's microelectronics fabrication hubs.
The sector bounced back quickly as consumers and businesses purchased new electronic devices to navigate social distancing mandates. But that trend created an unprecedented spike in demand that led to a parts bottleneck in the automotive industry, which grew into the global chip shortage.
Because those events occurred in rapid succession, they have fostered multiple systemic changes to the electronic component supply chain. It will become more advanced and decentralized based on recently announced government initiatives, corporate expansion programs, and public-private partnerships.
That said, certain aspects of the contemporary marketplace will likely remain in place for the foreseeable future. Together, Taiwan Semiconductor Manufacturing Company (TSMC) and Samsung make 71 percent of the world's microelectronics. Both corporations will probably continue leading the market in terms of design and production nine years from now.
Nevertheless, big changes taking place right now will reverberate through the worldwide chip ecosystem for many years to come. Most prominently, several countries are aggressively pursuing national semiconductor independence, a trend that is creating new hubs of microelectronic development. As a result, the IC supply chain of 2030 will be considerably more diverse and complex than it is now.
The U.S. Will Be Home to Multiple Leading-Edge Fabs
Since 2018, the United States has been in a trade war with China, which has introduced massive disruption to the semiconductor industry. A series of tariffs and retaliatory tariffs has made moving electronic components between the two superpowers increasingly costly. Plus, the U.S. has enacted multiple export controls to restrict the Chinese government's access to American IC technology.
Simultaneously, Washington has prioritized establishing its national semiconductor independence, meaning its capability to domestically design and manufacture its ICs. Although U.S. companies make 85 percent of the chip sector's design software, it only makes 12 percent of its silicon. Last month, the U.S. Senate approved a bill that would provide $52 billion to subsidize microelectronics fabrication in America.
Moreover, the electronic components industry's top players intend to establish major new fabs in the country.
TSMC, the world's top contract chipmaker, commenced construction on a $12 billion manufacturing complex in Arizona in July 2021. Once complete in 2024, the site will mass-producing chipsets using a cutting-edge 5nm node. The firm also envisions building up to six fabs in the American Southwest over the next 10 to 15 years.
Similarly, Samsung plans to spend $17 billion to significantly expanded the production capacity of its Austin, Texas, chip factory. It wants to upgrade the site's technology by equipping it with state-of-the-art extreme ultraviolet lithography machines. The conglomerate is also interested in launching a factory in Arizona, with construction wrapping up in 2024.
In addition, Intel, the world's foremost IDM, hopes to reassert its semiconductor industry supremacy by greatly expanding its U.S. footprint. The corporation declared it would invest $20 billion to build two new fabs with 7nm manufacturing capability in Arizona. It also aims to break into the foundry services market by using its resources to make chips for other companies.
Like TSMC and Samsung, Intel's new American production capacity should go online in 2024.
GlobalFoundries, the largest U.S.-based contract chipmaker, announced it would put $1 billion toward opening a new fab. The project, funded in conjunction with the American government, will enable its New York factory to increase its output by 150,000 wafers annually. The manufacturing plant upgrade will feature mature nodes dedicated to making automotive and 5G components in the future.
Provided the above-listed initiatives reach their intended completion, America will be home to significant leading and lagging edge production capacity by 2030. The possibility of the country achieving complete IC independence is a big unknown, but its reliance on overseas providers will significantly decrease. However, unless Washington authorizes much greater chip sector support, U.S.-made microelectronics could be more expensive than items sourced from other areas.
Mainland China Will Have Greater Domestic Chip Design and Fabrication Capabilities
China is the world's largest purchaser of semiconductors by country, importing $378 billion worth of chips in 2020. The region is a leading microelectronics purchaser because it lacks the design and production capabilities to fabricate leading-edge chips. Plus, ongoing conflicts between the U.S. and China are barring Sino companies from accessing advanced American chipmaking technology.
Consequently, Beijing is actively working to build a thriving domestic IC ecosystem, committing $150 billion to the project through 2030. However, despite that significant capital infusion, the nation has a long way to achieve national semiconductor independence.
The Semiconductor Industry Association (SIA) recently noted 95 percent of China's installed capacity is lagging edge, meaning nodes of 28nm or above. As a result, local providers cannot compete with the offerings of top East Asian and American chipmakers.
That said, the Chinese government's support of its chip sector is helping the field advance rapidly.
Boston Consulting Group found that a combination of lowered utility rates, discounted land, tax incentives, and favorable loan terms make it 37 percent cheaper to open a new plant in the mainland than in the U.S.
Those favorable conditions prompted a 195 percent year-over-year increase in Chinese chip startups launching in 2020.
Chinese foundry equipment makers reportedly have developed sophisticated tools to enable local firms to fabricate 19nm DDR4 DRAM modules. Telecommunications giant Huawei is building a 5G components factory in Wuhan that will launch in 2022. Shanghai Manufacturing International Corporation (SMIC) began producing 14nm FinFet process to produce Huawei's Kirin 701A smartphone CPUs last year.
Sino Big Tech Giants Tencent, Alibaba, and Baidu are developing or are funding the development of locally made data center AI chips.
At present, China's geopolitical tensions are slowing the advancement of its IC design and manufacturing fields. But its national government's support of the segment is helping overcome its present challenges. In fact, market watchers believe the sector will produce an estimated 20 percent of the world's semiconductors in three years.
By 2030, China will likely have expanded its market share and become an even bigger player in the global microelectronics industry.
Europe Will Possess Competitive Chip Making Resources
In March, the European Union unveiled its official response to the semiconductor industry's recent tectonic shifts.
The trade bloc's "Digital Compass" initiative aims to provide millions of EU citizens with information, communication, and technology training while also building a robust digital infrastructure. Its decadal plan calls for the region to produce 20 percent of the world's advanced microelectronics by 2030. That would double its current contribution to the world's overall semiconductor supply.
Although the EU is home to many leading microelectronics companies, they outsource their most sophisticated chips. Digital Compass would utilize public and private resources to establish domestic factories with nodes of 5nm and below. The trade bloc's interest in expanding its production capabilities has attracted the chip industry's most prominent players.
Intel told Financial Times it might spend $100 billion creating an IC ecosystem in the EU in July 2021. Along similar lines, TSMC said it is mulling over plans to construct a chip factory in Germany this month. Since several top automakers and component companies operate out of continental Europe, establishing an advanced fab in the region would be a good investment for either company.
In addition, Bosch announced it would launch its new $1 billion component factory in Dresden, Germany, six months ahead of schedule. In the immediate future, the AIoT-enabled facility will produce automobile semiconductors to address the global chip shortage. But in the long-term, it will be a significant supply chain node for carmakers with locally-based auto plants.
Based on current trends, Europe could be a thriving chip production hub in the next decade. The EU is willing to spend billions of dollars to enact its digital transformation. Leading foundry service providers are keen to facilitate that process because of the trade bloc's market opportunities. While not entirely self-sufficient, the region will be a significant player in the global chip industry within a decade.
The European Union could be a competitive mass producer of logic and power chips by as soon as 2030.
South Korea Will Make a Broader Range of Chips
Currently, South Korea is the world's leading producer of memory chips because Samsung and SK Hynix are its national champions. The country's technological leadership in that segment makes ICs its primary commodity, representing 15.4 percent of its $555 billion in annual exports. Seoul intends to make its international offerings more diverse.
In September 2020, the South Korean government pledged to spend ₩1 trillion ($873.1 million) to evolve into an artificial intelligence (AI) chip hot spot. It selected 91 businesses, 29 universities, and eight research organizations to facilitate the project. Local leaders want 50 new AI system semiconductors and 20 percent of the global market by 2030.
The following year, Seoul outlined a ₩171 trillion ($451 billion) public-private program to bolster its domestic IC ecosystem. The Blue House wants South Korea to become a leader in 5G, automotive, and AI components over the next nine years. Samsung committed to supporting the effort by raising its LSI and foundry-related capex by 29 percent through 2030.
Since South Korea has cutting-edge chip sector infrastructure in place, its long-term ambitions are sensible. Its political neutrality in the Sino-American trade war should also prevent its progress from being drailed by export restrictions. With adequate funding in place, it could become a leading global developer of communications and logic components this decade.
Furthermore, the nation's advances in microelectronics technology should pressure Taiwan to improve its semiconductor resources. Competition between the two regions will continue driving innovation in areas like transistor density and chip packaging. Therefore, the rivalry between East Asian providers will lead to remarkably powerful and versatile electronic parts flowing through the 2030 global supply chain.
Preparing for the Future
For the last five years, the semiconductor industry has been incredibly volatile. Abrupt shifts in geopolitical relations, devastating natural disasters, and changes in consumer buying habits have fostered irreversible changes within the sector.
Several national governments and large corporations are working on expanding and reinforcing the world's microelectronics supply chain. Those efforts will result in more and better chips being made available, though potential not in every area.
Plus, the widespread national semiconductor independence trend will create new regional chip manufacturing hubs. On the one hand, more production capacity could result in lower part costs and shorter lead times. On the other hand, the new possibly bifurcated landscape will make sourcing particular items more challenging.
Accordingly, professional buyers could benefit from utilizing a leading electronic components e-commerce marketplace. For example, Sourcengine enables users to shop for parts from thousands of suppliers without geographical restrictions. By integrating it into their procurement workflows, purchasers can get the products their companies need today and in 2030.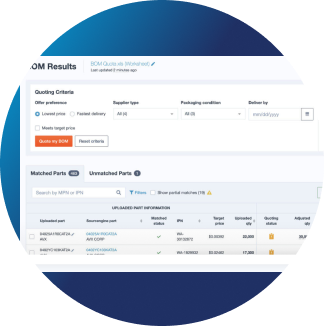 Quotengine: Your Ultimate BOM Tool
With Quotengine's real-time data on over 1 billion part offers, managing your BOM effectively has never been simpler.
Upload Your BOM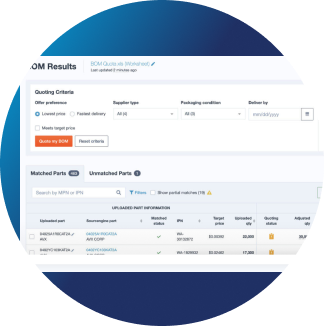 What's Your Excess Worth?
Real-time market data, quick response time, and unique price offers to help you maximize your return on excess inventory.
Get an Estimate