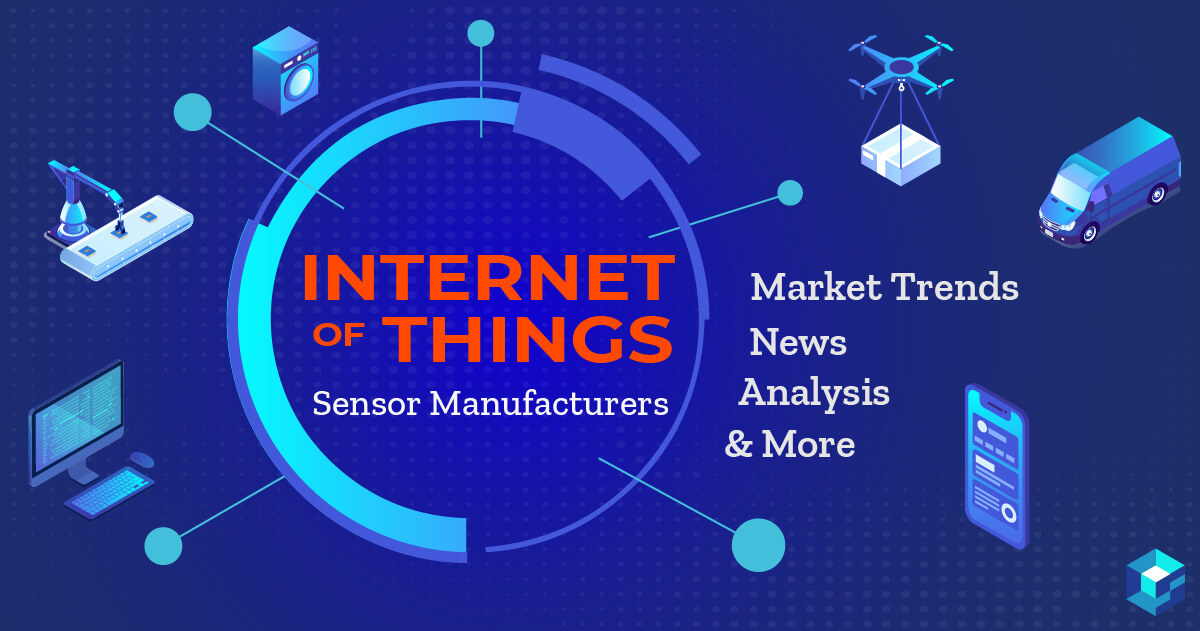 The current Internet of Things (IoT) sensor market is growing rapidly, and is projected to exceed $27 billion by 2022. As suppliers ramp up production to satisfy strong demand for IoT products, procurement specialists, designers, engineers, and others should keep an eye on the major players in the global marketplace – and even a few up-and-coming companies, too.
As such, the electronic parts sourcing experts at Sourcengine™, in keeping with our goal to add value in the procurement marketplace, compiled updates and sales information for IoT sensor manufacturers across the globe.
Let's take a look at some recent news regarding these companies, and also offer some analysis to help with your electronic component and IoT accessory purchasing decisions – for 2019 and beyond!
Texas Instruments 
The Dallas-based IoT manufacturing giant has experienced sluggish sales lately (revenue growth is down almost 3% from the same time last year), but its burgeoning IoT sensor design and manufacturing platform has offset some of those losses. Promising sales figures are on the horizon for Texas Instruments, thanks in no small part to the company's recent announcement of an ultra-low-power low-dropout (LDO) linear voltage regulator. This new technology allows faster, more reliable performance for a variety of electronic components, including IoT devices. Meanwhile, investors anxiously await Texas Instrument's planned Q3 earning report on October 31.
STMicroelectronics 
STMicroelectronics continues to make inroads into the IoT sensor marketplace. The French-Italian conglomerate recently announced another breakthrough as a result of their partnership with Green Hills Software. Their INTEGRITY® real-time operating system enables top-end performance for a variety of cloud-based automotive products and services. With revenue at $9.66 billion in 2019, the company is poised for a profitable Q4 in 2019 and soaring profits in 2020.
Microchip Technology, Inc.
Talk about a conundrum for one of the leading IoT sensor designers: while Microchip's stock price remains relatively stagnant and investors generally bearish on the Chandler, AZ, firm, revenue results don't lie: the company's revenue growth is up nearly 30% in the past year, due in part to their emerging IoT sensor manufacturing capabilities. Microchip remains in the public spotlight, thanks to their recent presentation at the Citi 2019 Global Technology Conference. What's more, their SMC 1000 8x25G serial memory controller has gained positive reviews across the semiconductor and IoT industry.  
ON Semiconductor
Based in Phoenix, AZ, this Fortune 500 semiconductor supplier has parlayed the strong demand for automotive IoT components with their new RGB-IR image sensor to further advance the company's worldwide profile. ON's new image sensor enhances existing passenger activity monitoring capability, along with object detection technology – and everyone from auto manufacturers to insurance companies have taken note. With rapid product development and IoT sensor manufacturing techniques, the company enjoys a current revenue of just under $6 billion. The arrow continues to point up for ON Semiconductor.
TE Connectivity Ltd.
While some IoT sensor and semiconductor manufacturers reluctantly embody a pioneering vision, TE Connectivity embraces their fast-growing reputation. The Swiss-based company recently earned top-5 recognition on the FORTUNE Change the World list. TE's focus on safety and efficiency continues to drive their product development. Plus, collaboration industry remains strong, as evidenced by their active participation in the Ethernet Alliance – just one more way TE continues to strengthen their worldwide image. The firm's $14 billion revenue doesn't hurt, either!
NXP Semiconductors N.V.
Dutch semiconductor manufacturer NXP's aggressive market maneuvering – punctuated by their acquisition of American chip company Freescale Semiconductor in 2015 – is a major reason for their strong market presence. What's more, their growing footprint in the IoT industry ensures they'll remain a significant contributor for years to come. With a refocus on mobile devices, NXP just introduced the world's first comprehensive solution for Secure Element (SE), Near Field Communications (NFC) and Ultra-Wide Band (UWB) fine-ranging technology. This multi-system advancement allows wide-ranging deployment of IoT devices for an assortment of mobile devices and IoT products.
Broadcom Limited
Acquired by Avago Technologies in 2016, this Irvine, CA,semiconductor manufacturer boasts nearly $23 billion in revenue, and is well-positioned to capitalize on the coming 5G communication boom. And thanks to their recent RDK video accelerator platform, Broadcom is leading the way for IoT real-time cloud monitoring and security applications. Expect Broadcom to gain even more market share as security becomes increasingly important for networks across the globe.
Robert Bosch GmbH
This German tech company remains focused on the automotive IoT market, with user-friendly navigation systems for fleet companies, particularly those who utilize the TomTom platform. Their IoT division, Bosch Software Innovations, comprises a profitable business unit for the entire corporate infrastructure. The company's net operating income, currently at over $5 billion, will direct even more resources to their IoT device deployment.
Infineon Technologies AG
The company celebrates their 20th anniversary this year and has grown to over 40,000 employees. During 2018, Infineon posted strong sales (more than $7 billion), and the current year has shown several promising developments, not the least of which is their collaboration with Synopsys to improve artificial intelligence (AI) systems in automobiles. "By developing the PPU together with Synopsys we make sure that our future microcontrollers will provide the safety features, throughput, and power-efficient performance necessary to meet increasing AI computational requirements," said Infineon microcontroller head Peter Schäfer.
Analog Devices, Inc.
Massachusetts-based Analog Devices enjoys a strong presence in power management and signal processing applications. The company's willingness to collaborate with related technologies is key to their accelerated growth. In particular, Analog Devices has partnered with MassRobotics to enhance real-time data gathering with sensor technology.
Arm Holdings PLC
One of the largest technology companies in Britain, Arm Holdings continues to acquire small technology firms to bolster its overall IoT profile. One of their most well-known acquisitions, Sansa Technologies in 2015, continues to pay dividends (literally and figuratively). Their system-on-a-chip (SoC) technology makes Arm Holdings poised to contribute in the IoT sector for the next decade.
About Sourcengine
Regardless of how semiconductor technology advances in the next few years and decades, the need for reliable electronic components won't change. To help your company's supply chain process, try searching for components on Sourcengine™, the world's leading e-commerce marketplace for electronic components. Over 2,000 traceable sellers offer their stocked items on our platform. Schedule a demo or sign up for more information today!