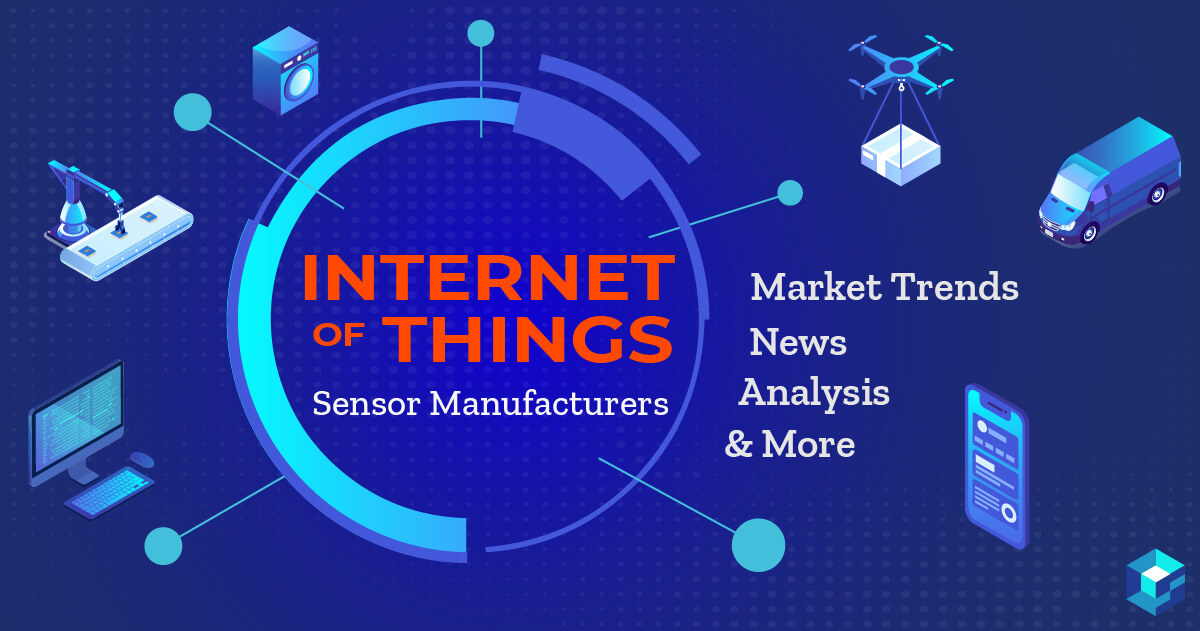 Editor's Note: This blog was originally published on October 10, 2019. It has since been updated for accuracy and relevancy.
The Internet of Things (IoT) sensor market continues to grow at a rapid pace. In 2021, the global sales of IoT sensors procured $21.8 billion in U.S. currency. It is expected to reach $27.4 billion in 2022. The global IoT sensor market is forecasted to reach $146.3 billion U.S. by 2032. This projected growth between 2021-2022 is a whopping 25.7%. Suppliers are still working under shortage conditions and will for a long time to come. It is imperative to watch these key players and the moves they make to address these rising demands.
With that in mind, the electronic component sourcing experts at Sourcengine compiled updates and sales information for IoT sensor manufacturers across the globe. By doing so we are in keeping with our goal of adding value to the procurement marketplace.
Let's look at the segment's leading providers and offer some analysis to help with your electronic component and IoT accessory purchasing decisions for the upcoming year of 2023 and beyond!
Texas Instruments
Dallas-based Texas Instruments, a major player in the semiconductor industry, has been hard at work pushing for advances in the IoT sensor market. Specifically, that of autonomous robots, "intelligent machines that sense and navigate without human control or intervention," to help automate different functions within society. Robots and other types of automated functions need multiple sensing modalities, such as the TI mmWave radar, to improve efficiency, productivity, and performance.  
Many of these sensors cannot "talk" to one another in a system. They work well enough on their own while performing their job, but are unable to interact, read, or respond to data from another sensor. TI's implementation of sensor fusion aims to increase performance of numerous sensors by bridging those gaps to create a working system of sensors.  
TI sees sensor fusion applications, like TI mmWave radar, being utilized in advanced driver assistance systems (ADAS) in any kind of vehicle, not just high-end automotives. The goal is to increase driver awareness of circumstances such as weather and proximity and how to react accordingly. This component is no bigger than a U.S. coin and can be easily installed in a variety of products for advanced monitoring.  
STMicroelectronics
With over 30 years of continuous investment and experience, STMicroelectronics has a diverse product portfolio of embedded processing capabilities for AI, connectivity, cloud computing, and more. STMicroelectronics's partner, XoverIoT, added the Sigfox module to their existing carbon monoxide monitor that previously had no IoT connectivity. This decision was in response to trying to make classrooms safer during the Covid-19 pandemic.  
Another creative use of IoT sensors in non-IoT connected applications is the utilization of STM32WL microcontroller in the gas sensor Silvanet used for detecting wildfires. These solar powered MCUs can detect smoldering within minutes. Best of all, besides being the most sensitive and quickest early fire detection system out there? It can live outdoors for up to 15 years.  
Microchip Technology, Inc.
As a partner of Amazon Web Services (AWS) and Microsoft Azure, Microchip Technology's embedded IoT devices can be managed by smart home appliances by Amazon, such as Alexa. Microchip offers online courses to help users get started in scaling IoT within their homes, projects, or software applications.  
These products are usually in collaboration with Microchip's IoT hardware, such as AVR-IoT Cellular Mini development board. This 5G-based platform is to help develop IoT solutions with their AVR128DB48 AVR microcontroller and other components.  
ON Semiconductor
In September 2022, semiconductor powerhouse, Onsemi, announced that they will be exhibiting with Leopard Imaging to showcase at VISION with 3D depth cameras. As the leader in intelligent power and sensing technologies, onsemi and Leopard Imaging will be demonstrating advanced imaging solutions for machine vision in robotics, factory automation, and IoT.  
These products include the 2D/3D stereoscopic Hawk Camera, which integrates two global shutter image sensors from onsemi that deliver 120 frames per second called AR0234CS. This global shutter sensor is the same one used in the 2D robotic vision camera Owl, which can be implemented in robotics, automation, and IoT applications.  
TE Connectivity
The Swiss-based company continues to push forward in the realm of IoT solutions and their implementation in different markets. This includes their partnerships with other proponents of IoT solutions, such as Hanhaa, Ltd to reduce weight, cost, and size for the performance of Hanhaa's tracking system called ParceLive.
TE is also focusing on the advantages of Wi-Fi designs with their Wi-Fi 6E. TE collaborated with Silex and Qualcomm to increase stability and efficiency over Wi-Fi 6E. The embedded Wi-Fi 6E modules expand into 6 GHz spectrum for unprecedented speedy communications. TE will continue to improve smart environment solutions for a more connected tomorrow.  
NXP Semiconductors N.V.
Dutch semiconductor manufacturer NXP continues to push for scalable AI solutions and further development with the aid of their partners. In September, Kinara and NXP collaborated to further AI acceleration by utilizing Kinara's Ara-1 AI processor and NXP's i.MX applications of processor families.  
Joe Yu, Vice President and General Manager of IoT Edge Processing at NXP said "by working with Kinara...we will bring high performance AI to smart retail, smart city, and industrial markets."
In June, NXP announced the new MCX microcontroller (MCU) portfolio to simplify product development, Arm Cortex-M core-based MCX portfolio, and the NXP-designed learning accelerator to enable high-performance interference at the edge.  
Broadcom Limited
Semiconductor manufacturer Broadcom Limited announced in September its intention to acquire the virtualization pioneer VMware for $61 billion. By purchasing VMware, Broadcom is furthering its goal of creating a mainframe-to-edge computing powerhouse.  
Over a month ago, Broadcom and Intel held the first successful demonstration of a "cross-vendor" Wi-Fi 7 connection. This joint presentation included a laptop running one of its processors to a Broadcom Wi-Fi 7 modem, which achieved speeds up to 5Gbps which leaps ahead of the current 1.7Gbps from Wi-Fi 6. Additionally, the new frequencies and bandwidths give routers far more stability to simultaneous connections.
Robert Bosch GmbH
This German tech company remains a major player in the automotive IoT market going into 2023. To ensure the printed circuit boards that go into its automotive applications have no faults, Robert Bosch GmbH has begun using new OMRON inline 3D x-ray inspection systems. The new inspection system, VT-X750, is five times faster than traditional X-ray systems with added AI functions to reduce programming time for advanced inspection of PCBA design.  
Infineon Technologies AG
Infineon Technologies continues to invest and build smart home features within the IoT market. The Connectivity Standards Alliance (CSA) recently released the Matter 1.0 standard and certification program. The goal is to join the community and the industry by one united standard of practice for wider adoption for future market applications.  
With leaders on the CSA board, Infineon will help pioneer the practices of Matter 1.0. It is expected that by 2030 more than 1.5 billion Matter certified devices will be shipped out annually. Infineon's new Matter solutions include the PSoC 62S2 Wi-Fi BT Pioneer Kit to help developers and engineers achieve reliable, ultra-low power Matter over Wi-Fi.  
Analog Devices, Inc.
Massachusetts-based Analog Devices enjoy a strong presence in power management and signal processing applications. The company's willingness to collaborate with related technologies is key to its accelerated growth. Leopard Imaging, a global leader in intelligent embedded camera design, announced the release of Analog Devices' new GMSL3 in its embedded vision solutions for its customers.  
GMSL3 is a high-speed communication IC developed by Analog Devices to provide multi-stream support in a single cable. With 12 Gbit/s in forward channel and 187 Mbit/s in reverse the GMSL3 supports uncompressed 4K resolution at 90 fps to deliver smooth video streams.

Arm Holdings PLC
Arm Holdings partnership with MediaTek and Advantech has born disruptive fruit for the high-end AIoT market in the form of Genio. This is a portfolio of new AIoT chipsets for consumer enterprise and industrial applications with leading-edge features. Genio 1200 is based on Arm's Cortex-A78 and Cortex-A55 CPU designs with their wide range of AIoT applications.
In June, Arm introduced a new image signal processor to advance vision systems for IoT and embedded markets. Called the Arm Mali-C55, it provides multi-camera capability for up to 8 separate inputs, support for image resolutions up to 8k, and maximum size image up to 48 megapixels. Arm also introduced high-performance Sorstone Subsystems for MCU and A-class applications.  
About Sourcengine
Regardless of how semiconductor technology advances in the upcoming years and decades, the need for reliable electronic components won't change. To optimize your company's supply chain, try searching for parts on Sourcengine, the world's leading e-commerce marketplace for integrated circuits. Over 3,500 traceable sellers offer their stocked items on our platform. Schedule a demo or sign up for more information today!
‍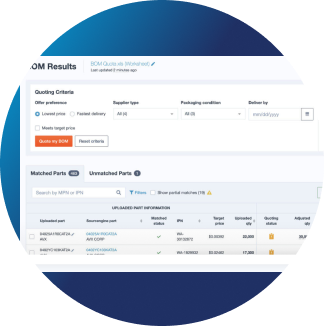 Quotengine: Your Ultimate BOM Tool
With Quotengine's real-time data on over 1 billion part offers, managing your BOM effectively has never been simpler.
Upload Your BOM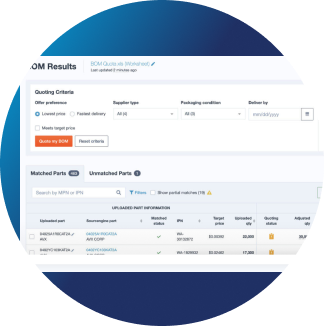 What's Your Excess Worth?
Real-time market data, quick response time, and unique price offers to help you maximize your return on excess inventory.
Get an Estimate