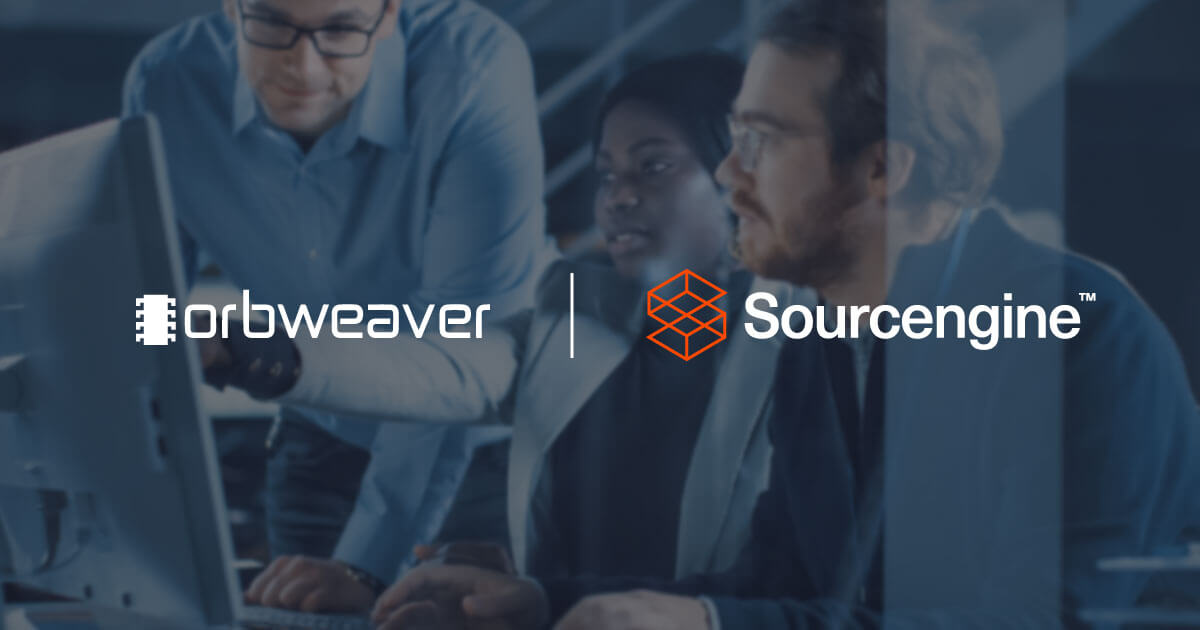 Electronics manufacturers can greatly benefit by integrating Sourcengine's API into their ERPs, making it possible to look up part listings and market data directly in their own system. This saves time and money for OEMs who are looking to ensure supply chains in these troubling times, as any disruption right now can potentially shut down production lines.  
However, from time to time these ERP systems or other procurement platforms need a helping hand. When this happens, we trust our partners at Orbweaver to help with integration. They offer a wide range of service options tailor-made for a manufacturing company's specific needs.
What is Orbweaver?
Founded in 2012, Orbweaver specializes in helping electronics manufacturers digitize their supply chains. The firm's brain trust has a combined 65 years' experience in the field, so it understands the sector's unique nomenclature, procedures, and challenges. The organization harnessed its expertise to develop a platform that automates the part procurement process in a way that does not disrupt its customers' existing workflows.
Orbweaver's platform consists of a number of different integrations that are based around a company's existing infrastructure and degree of digitization.
It all starts with "Connect," the foundational piece of the platform that all integrations are built upon. Connect functions as a "universal integration and translation engine" that streamlines data between two different systems. In other words, it stands in the gap between, for example, Sourcengine's API and a company's ERP or other proprietary system, allowing the two to integrate and communicate with one another. It is the heart of the Orbweaver platform.
Manufacturers looking to add more functionality can build off of the Connect platform and integrate Excel spreadsheet functionality with "Inform" (Connect + Inform). This gives companies access to an Excel-based interface (very familiar in this industry) that pulls parts data and quote information directly from Sourcengine.
Orbweaver also has an "Advance" tier (Connect + Advance) that helps organizations who need electronic component sales software with archival capability and expansion capacity. Manufacturers can configure automated workflows and data monitoring tasks through its web-based interface at this level. They can also configure custom alerts as well as tasks which are triggered by data events. It's a very powerful integration that really harnesses the full capabilities of Sourcengine's API.
In addition, Orbweaver offers enterprise-class services (Connect + custom integrations) for companies that want to integrate multiple databases, facilities, and workflows into one system.
Schedule a demo and learn more about what Orbweaver can do for your company.
Why Manufacturers Should Utilize Sourcengine's API
The volatility of the current marketplace underscores the need for companies to embrace digitization to save money, increase productivity, and bolster profitability.
By collaborating with Orbweaver, firms can take advantage of Sourcengine's API, which gives them access to more than 3,000 traceable suppliers and a wealth of industry market data. The platform lets buyers review real-time pricing, MPQ, inventory, datasheets, life cycle, and lead time information on more than 1 billion electronic components.
Because Orbweaver can connect manufacturers' existing ERPs or other systems, procurement specialists do not have to waste time visiting multiple supplier websites. Using Sourcengine's BOM tool, SCM heads can compile multiple electronic component offers onto a single spreadsheet and make purchases with a click of a button. Afterward, buyers will receive a real-time order confirmation and can download their bill of materials as a shareable Excel document.
Thanks to the Sourcengine-Orbweaver partnership, firms no longer have to worry about software compatibility issues. The platform is built on a universal integration engine designed specifically for the electronics industry. Now, OEMs or CMs of any size or technological sophistication can enjoy the benefits of Sourcengine's API through an easy, affordable, and readily available integration.
Our Business Developers are here to help; regions are listed below with language selection availabilities. Click on the language you prefer and schedule your demo today.
Americas
‍Europe
China, Hong Kong, Singapore
Taiwan
Korea
Japan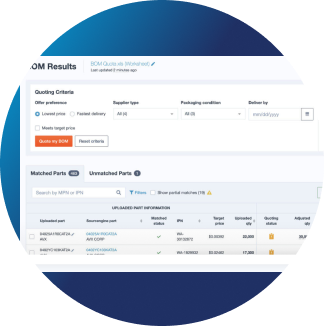 Quotengine: Your Ultimate BOM Tool
With Quotengine's real-time data on over 1 billion part offers, managing your BOM effectively has never been simpler.
Upload Your BOM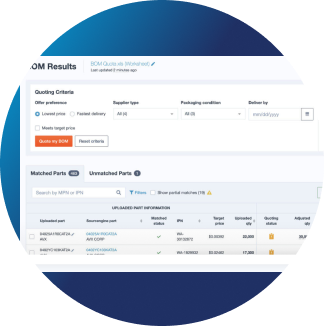 What's Your Excess Worth?
Real-time market data, quick response time, and unique price offers to help you maximize your return on excess inventory.
Get an Estimate