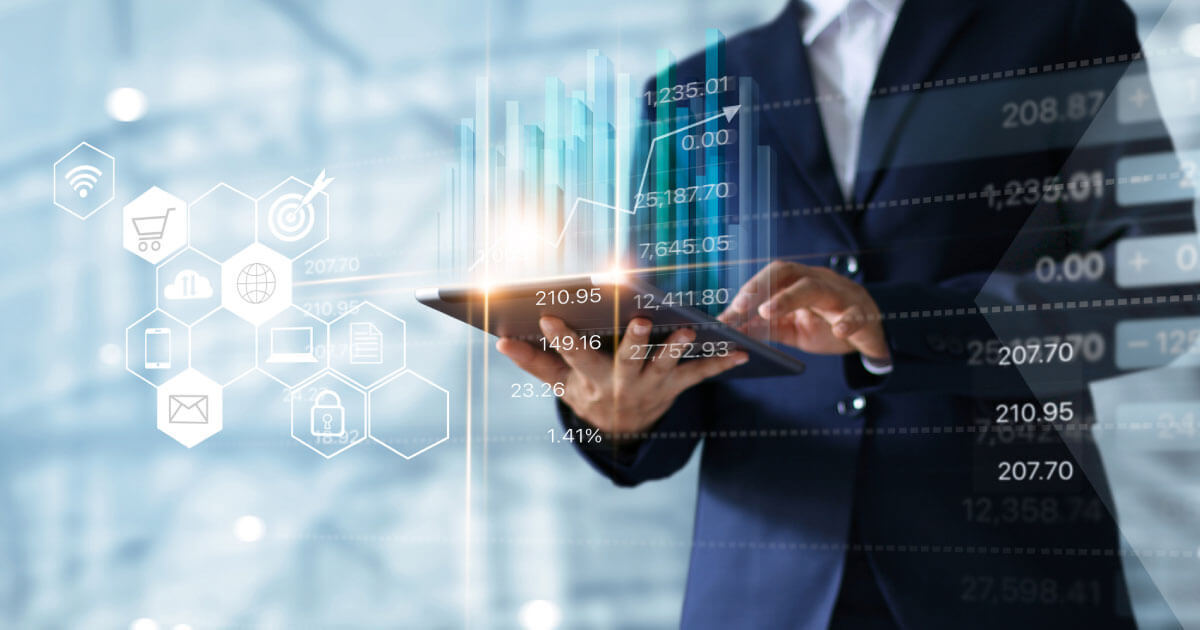 Editor's Note: This blog was originally published in August 2020 but has been updated for accuracy and comprehensiveness.
‍
In the current landscape, electronics manufacturers face challenges from international trade disputes, the fallout of the coronavirus pandemic, and rapidly shifting consumer preferences. All of this has put a strain on the traditional means of procurement.
However, living in the age of digitalization can have its perks for supply chain professionals. One such perk? Using digital solutions and API integrations, like the ones Sourcengine offers, to better utilize its e-commerce marketplace for procurement.
These APIs, or application programming interfaces, can allow companies to natively run the marketplace from inside their own workplace system. This helps speed things up and makes supply chains more efficient and productive.
Under the present economic conditions, such efficiency and productivity is key to a company's survival.
With this in mind, take a look at an important digital partnership as well as four specific APIs Sourcengine offers to its users.
Orbweaver
Orbweaver is a data solution company that helps connect the electronics industry to what is important. How so? Orbweaver's platform can take Sourcengine's API and run it natively in a company's own ERP or other system. What this means is that a procurement team does not have to leave their company's environment and use an external platform. Because of Orbweaver's integration capabilities, Sourcengine's e-commerce marketplace information can appear as part of that company's procurement system.
Such an integration allows buyers access to over 1 billion manufacturer part numbers (MPNs), availability, and pricing from Sourcengine.
Orbweaver also offers different levels of integration to match the needs of any company. Some companies may want to simply download availabilities in the form of an Excel sheet; Orbweaver can do this. As for other companies? They may want a more robust and full integration; Orbweaver can do a custom integration that matches the exact needs of that company.
CalcuQuote
CalcuQuote is another powerful software tool that helps electronic manufacturing service (EMS) providers automate the RFQ process. Every procurement specialist knows how long this process can take. It is laborious and stress-inducing.
A typical procurement process for a professional buyer will result in numerous RFQs being written, tracked, and then negotiated upon. Time, energy, and a lot of paperwork is shuffled around However, CalcuQuote simplifies this by keeping all RFQs in one easily managed dashboard. Basically, the system eliminates the need for procurement specialists to waste time on endless follow-up RFQ emails and phone calls.
Now, couple this with an API integration with Sourcengine, and buyers not only have a dashboard with RFQ tracking, but also information on more than 1 billion components.
Using the company's software, manufacturers can quickly find out a vendor's live inventory levels, product specifications, and delivery times. Afterward, buyers can get real-time request for quote (RFQ) information from multiple vendors without using any other channel.
Together, CalcuQuote and Sourcengine make electronic components ordering a breeze for EMS companies. This collaboration lets manufacturers view all of their incoming orders on one platform and arrange for global delivery from 19 locations based in 12 countries.
Ultra Librarian
Lastly, Ultra Librarian is an exciting tool for engineers and design teams. Ultra Librarian runs within Orcad and allows an engineer to access the world's largest repository of printed circuit board (PCB) computer-aided designs (CADs). Thanks to its use of the Sourcengine API, engineers can access over 1 billion electronic components pages, which include datasheets, life cycle information, and up-to-date pricing all within OrCad itself.
This integration can help shorten product design cycles. Teams can see which components are nearing end-of-life, which are readily available, and alternates when time or money constraints are a concern. Teams can also purchase the parts featured in their latest designs from Sourcengine's e-commerce marketplace.
BOM Connector
CircuitByte created BOM Connector to streamline the electronic components purchasing process for OEMs and EMS providers.
The tool enables professional buyers to load, prepare, scrub, format, check, and compare BOM data within their ERP interfaces. It also accepts external input in Excel, CSV, HTML, and free text formats. That versatility lets users browse for parts without having to waste time becoming comfortable with a new system. It also uses robust backend support, including intelligent algorithms, to make quoting as fast and error-free as possible.
The platform also gives users the ability to create "Golden BOMs," which feature frequently purchased components, to make reordering a breeze.
In addition, BOM Connector lets companies load CAD files and compare them to BOM data. That feature allows firms to better understand the manufacturing costs of their NPIs. Plus, the platform's Sourcengine API integration means it can help OEMs and EMS providers compensate for unexpected challenges like semiconductor shortages.
Improved Efficiency and Productivity Equals Greater Profitability
PricewaterhouseCoopers, Accenture, and Bain & Company all ran independent surveys with electronics manufacturers. There was one commonality amongst the companies surveyed: Firms that enhanced their manufacturing and logistics operations with technology cut costs and improved profitability.
The three consultancies also found that brands adhering to analog supply chain methodologies can suffer serious financial consequences.
Sourcengine's digital tools and available API integrations are here to help the industry update its supply chain methodologies. By utilizing them, manufacturers will optimize their procurement process, find new avenues of sourcing, and reach new heights of productivity.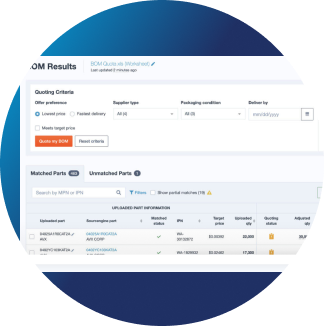 Quotengine: Your Ultimate BOM Tool
With Quotengine's real-time data on over 1 billion part offers, managing your BOM effectively has never been simpler.
Upload Your BOM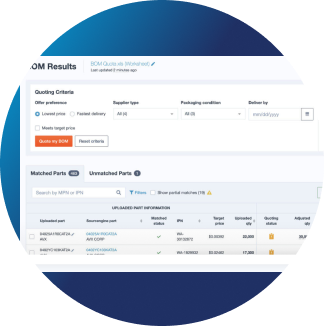 What's Your Excess Worth?
Real-time market data, quick response time, and unique price offers to help you maximize your return on excess inventory.
Get an Estimate