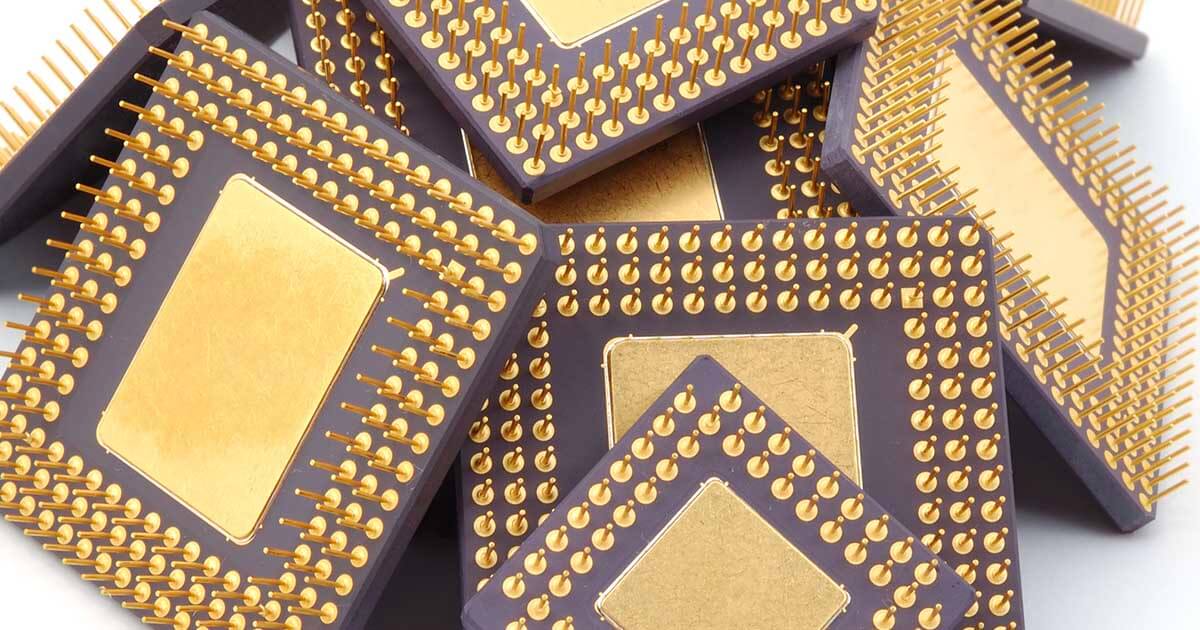 Since late 2020, the electronics industry has had to grapple with a global chip shortage. Because of its devastating economic impact, governments, component makers, and foundry service providers have worked hard to resolve the crisis. However, market leaders and analysts believe the bottleneck will last into 2023.
Until then, OEMs, CMs, and EMS companies will have to deal with intense pricing volatility, record lead times, and surprise stockouts. However, Sourcengine, the industry's leading electronic components e-commerce marketplace, can provide some assistance. With its global logistics network and more than 3,000 thoroughly vetted manufacturers, distributors, and third-party vendors, it helps companies fill the gaps in their supply chains.
For example, Sourcengine currently lists a pair of Texas Instruments microprocessors available for delivery straight away. The DM3730CBPD100 is a digital media processor with a range of applications in the business and home electronics segments. In addition, the AM3505AZCNAC processor is a multifaceted chip that is ideal for use in various consumer and commercial devices.
Avoid Market Volatility with a Robust and Rugged TI SoC
Right now, electronics manufacturers are dealing with extensive but temporary market disruptions. Over the next few years, corporations and governments will create enough production capacity to address post-pandemic demand levels. But the "new normal" is shaping up to be a much more expensive business landscape.
Taiwan Semiconductor Manufacturing Company (TSMC) will make its contract fabrication services up to 20 percent more expensive next year. At present, it is the world's leading foundry service company, with a 55 percent share of the global market. Given the ongoing and significant need for outsourced microelectronics fabrication, its competitors will likely follow suit.
That means OEMs, CMs, and EMS providers will see higher prices for microprocessors, memory modules, and other essential parts. In response, professional buyers would benefit from stocking up on powerful and versatile components like TI's DM3730CBPD100.
The 32-bit digital media process SoC features an Arm Cortex-A8 architecture that supports operations of up to 1GHz. It comes equipped with an image, video, and audio acceleration subsystem and an advanced very-long-instruction word DSP with eight independent functional units. It includes a C64x L1/L2 memory architecture with program and data RAM caches. The chip also has three multimedia card interfaces, a byte-addressable C64x instruction set, and commercial, industrial, and extended temperature grades.
In other words, the DM3730CBPD100 is a first-rate solution for gaming systems, smart home hubs, and single-board computer projects. With the holiday season imminent, now's a good time to snap up parts that can power popular household electronic gifts. At the same time, it is rugged enough to support personal data terminals, medical imaging equipment, and industrial control devices.
Professional buyers can order the DM3730CBPD100, and its alternate the DM3730CBP100, from Sourcengine and get it delivered without geographical restrictions.
TI's Sitara's Processors Are Durable and Versatile
Another factor that is likely to disrupt OEM, CM, and EMS provider supply chains for the foreseeable future is COVID-19. In recent months, spiking coronavirus cases in production hubs like Malaysia have caused local production suspensions with global implications. The nation's lockdown measures interrupted the assembly of automobiles, smartphones, and 5G base stations around the world. As temperatures drop in several regional manufacturing regions, additional clustered outbreaks become more likely.
Although manufacturers cannot affect unpredictable events thousands of miles away, they can proactively fill their inventories with mission-critical components like TI's AM3505AZCNAC.
The 600MHz Sitara at chip has an Arm Cortex-A8 Core with Neon SIMD coprocessor and a Floating-Point (FP) coprocessor. It comes equipped with a 166MHz 16/32-Bit mDDR/DDR2 memory interface with 1GB of addressable space. Its display subsystem supports up to two LCD panels, two 10-bit DACs, and 90°/180°/270° rotation. The device also features five multichannel buffered serial ports and can operate in temperatures ranging from -40°C to 105°C.
The AM3505AZCNAC processor can consistently operate in digital signage, point-of-sale equipment, and industrial automation systems. That said, it is technologically sophisticated enough to support digital video cameras, connected TVs, and smart white goods.
As of this writing, Sourcengine has ample qualities of this TI processor in stock. Moreover, the AM3505AZCNAC's alternates AM3517AZCNA, AM3517AZCN, AM3505AZCNA, AM3505AZCNC, AM3517AZCNAC, and AM3505AZCN are readily available at present.
Based on currently available information, the global semiconductor supply chain will not return to its pre-pandemic state. The widespread adoption of learning work from everywhere devices has expanded the market for personal and professional electronics. Plus, the 29 microchip manufacturing plants breaking ground in 2022 will greatly expand and diversify production capacity worldwide.
Even amid all that change, Sourcengine can provide OEMs, CM's, and EMS providers with the materials they need.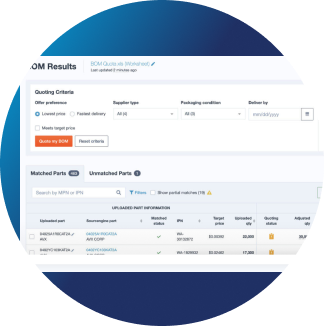 Quotengine: Your Ultimate BOM Tool
With Quotengine's real-time data on over 1 billion part offers, managing your BOM effectively has never been simpler.
Upload Your BOM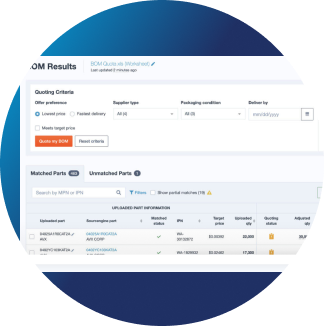 What's Your Excess Worth?
Real-time market data, quick response time, and unique price offers to help you maximize your return on excess inventory.
Get an Estimate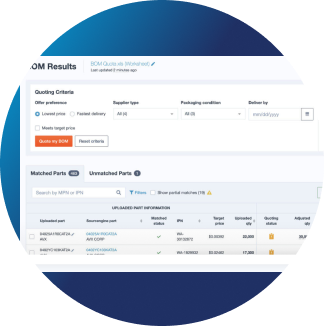 The Last Integration You'll Ever Need
Streamline manual processes and gain real-time access to inventory data, pricing updates, and order tracking through Sourcengine's API
Sign-up Here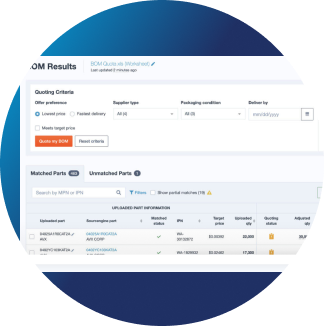 Sourcengine's Lead Time Report
Strategize for upcoming market shifts through lead time and price trends with our quarterly lead time report.
Download now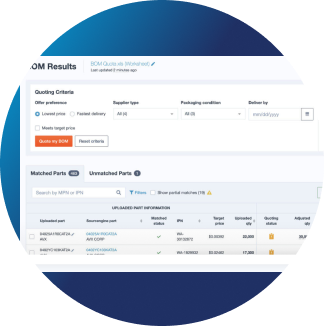 Sourcengine's Lead Time Report
Strategize for upcoming market shifts through lead time and price trends with our quarterly lead time report.
Download now