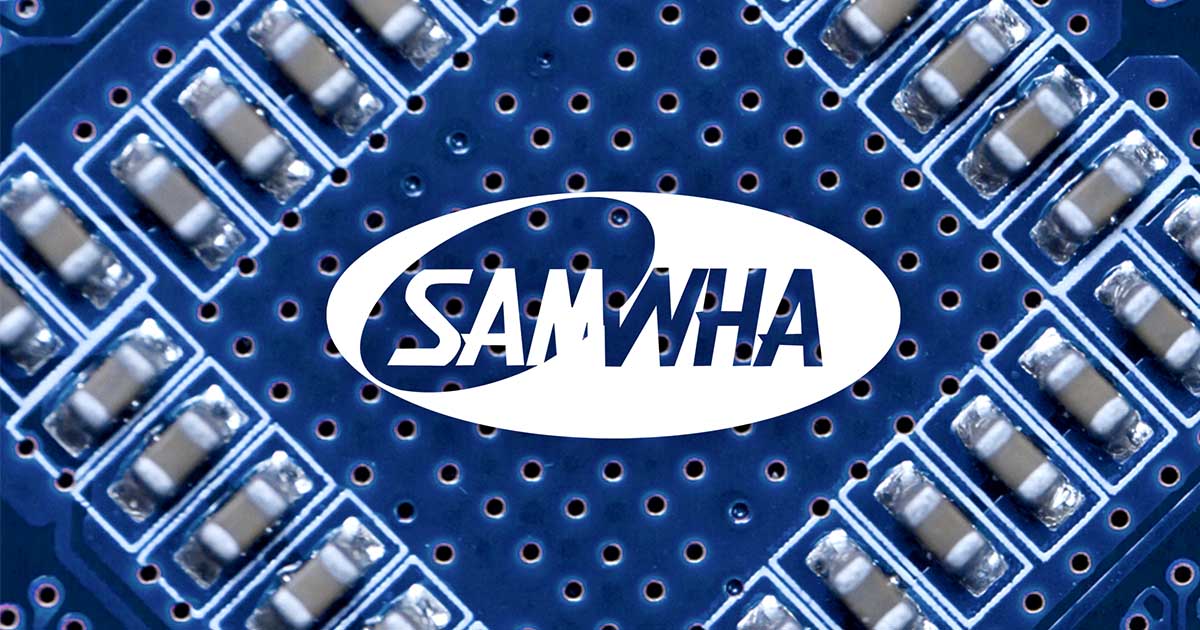 South Korea's Samwha Capacitor Group is a passive components manufacturer that may provide a great opportunity for OEMs. The firm is part of a conglomerate that has supplied Asia with innovative and quality products since the 1950s. Its offerings have added appeal in the present moment because of the global chip shortage.
The coronavirus pandemic precipitated conditions that led to a widespread scarcity of raw materials and intense demand for foundry space. Consequently, chipmakers have put many components on backorder and significantly extended their delivery dates.
However, Samwha has greater availability and lead times than many of its competitors. Plus, its portfolio features alternates for capacitors made by many leading suppliers.
Quality Capacitors, Quick Turnaround Times
Samwha's parent corporation operates manufacturing facilities in China, Indonesia, Thailand, and Vietnam. Because of that diverse manufacturing capacity and its strong inventory planning, the firm has stabilized the lead times of its most popular components.
For example, the vendor's SD1E477M1012MPA miniature aluminum electrolytic capacitors can (currently) be delivered in 19 to 20 weeks. The general purpose line possesses a high coefficient of variation value and a robust voltage range of 6.3V to 500V. The RoHS-compliant item can also serve as an alternate for several unavailable TDK Corporation and Nippon Chemi-Con Corporation parts.
Its MK1E477M10016PA miniature capacitors can be delivered to customers worldwide in the same timeframe as its SD1E477M1012MPA series. The high ripple current rated component can replace currently inaccessible products offered by Lelon Electronics Corp and Ruby Corporation.
Large Sizes and Multiple Designs Available
Samwha offers a host of miniature capacitors, but its catalog extends beyond that size category.
To start, the firm's HE1J228M22035HA large aluminum electrolytic capacitors can be sent to OEMs in 19 to 20 weeks. The series features a standard snap-in type terminal design and can function consistently in temperatures ranging from -40°C to 105°C.
In addition, the item is an alternate for multiple out-of-stock Yageo Corp. and Panasonic Corporation components.
Buyers can also receive orders of its HJ2D687M30025HA large capacitors within 20 weeks. This product line is typified by its high capacitance and high-voltage tolerance, as well as its 3,000-hour load life.
Resiliency in the Face of the Unexpected
Not long ago, market watchers anticipated the global semiconductor supply-demand imbalance would end this summer. However, suppliers have not had a chance to catch up with their orders because end-market demand has not diminished, even with suppliers running their factories at full capacity.
As the crisis has worsened, some electronic component vendors have sold through their entire annual inventories, resulting in lead times swelling well past 50 weeks.
Since conditions are unlikely to improve in the near term, OEMs have two ways forward. Companies can delay manufacturing until product availability returns to normal or work with new vendors. Samwha is eager to work with manufacturers pursuing the second course of action.
The corporation has a decades-spanning reputation as a trusted supplier of numerous firms in the East. And its wide selection of aluminum electrolytic capacitors are available in weeks, not several months. Its part availability, and the versatility of its offerings, enable businesses to adjust their 2021 rollout plans rather than cancel them outright.
Right now, the most optimistic forecasts see the chip supply crunch resolving some time in the second half of 2022. For some companies, the timeline is acceptable. But for OEMs that want to take a more proactive approach to the situation, options are available.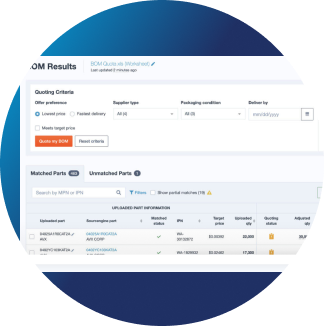 Quotengine: Your Ultimate BOM Tool
With Quotengine's real-time data on over 1 billion part offers, managing your BOM effectively has never been simpler.
Upload Your BOM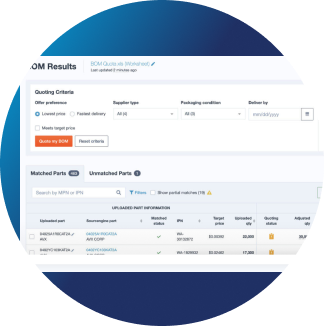 What's Your Excess Worth?
Real-time market data, quick response time, and unique price offers to help you maximize your return on excess inventory.
Get an Estimate