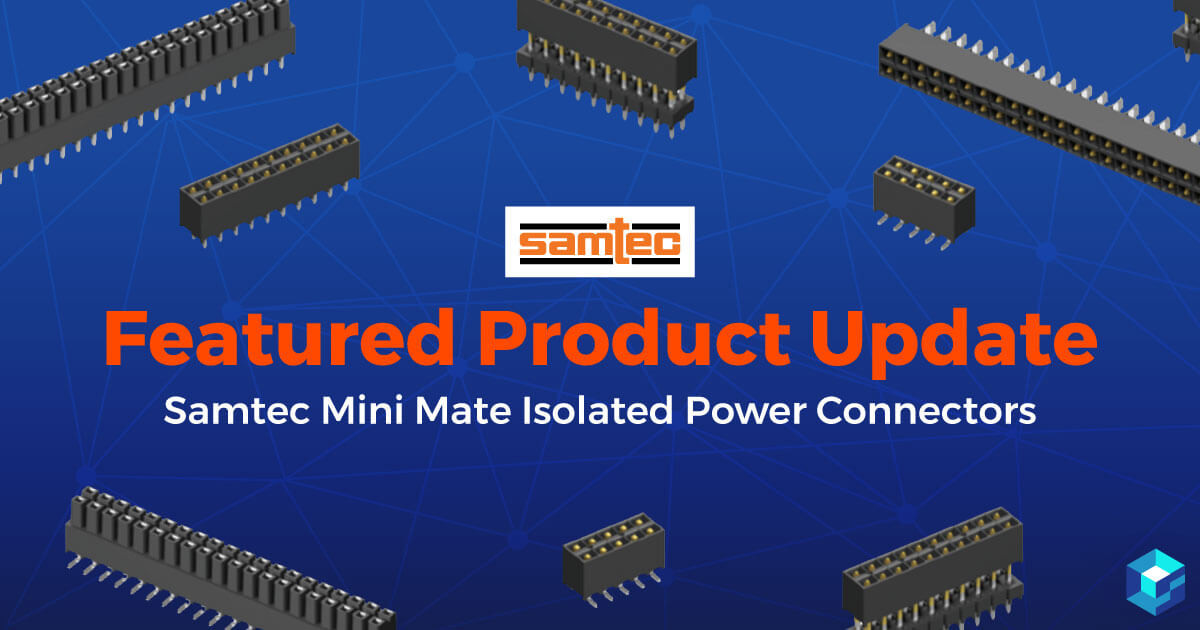 OEMs looking for robust yet versatile isolated power connectors would be well-served by Samtec's Mini Mate line. The firm's IPS1 and IPT1 series power connectors feature contacts and pins that have been shrouded for electrical and mechanical protection. As such, they are ideal components for systems that require rugged board-to-board power socket and terminal strips.
Features
Samtec constructed its IPS1 and IPT1 connector sets with black liquid crystal polymer insulation and phosphor bronze contact material. Moreover, the components utilize Tiger Buy contacts to maximize dependability. Also, both series have 2.54 mm pitches and current ratings of up to 4.8A at 95°C.
In addition, the IPS1 and IPT1 possess voltage ratings of 775VAC and 1095VDC.  
Samtec double-row components offer a host of configurability options. For instance, the IPS1 series has a standard creepage range of 2.55 mm to 1.08 mm and a standard clearance of 1.75 mm to 0.62 mm. Conversely, the IPT1 line features a creepage of 2.49 mm to 1.28 mm and a clearance of 1.91 mm to 0.91mm.


IPS1 and IPT1 connectors also have the capability to function within a broad temperature spectrum. With tin contacts, the components can operate between -55°C to 105 °C. Additionally, gold contact equipped isolated power connectors can work at temperatures from -55 °C to 125 °C. The power socket and terminal strips also have 1.27 µm Ni plating in either tin or gold.
Samtec's Mini Mate products can also be integrated with PCBs in two ways.One, the connectors can be attached via vertical through-hole and surface mount. Or, they can be affixed by right-angle through holes. Also, the firm gives purchasers the option to add locking clips to their components for increased ruggedization.
It's also worth noting both of Samtec Mini Mate connectors are RoHS compliant and offer lead-free solderability.
Applications
Desktop computers
Laptops
Consumer electronics
Servers
Automotive systems
To learn more, please check out Sourcengine's selection of Samtec Mini Mate Isolated Power Connectors.
IPS1Socket Strip Connectors
IPT1Terminal Strip Connectors
‍

‍