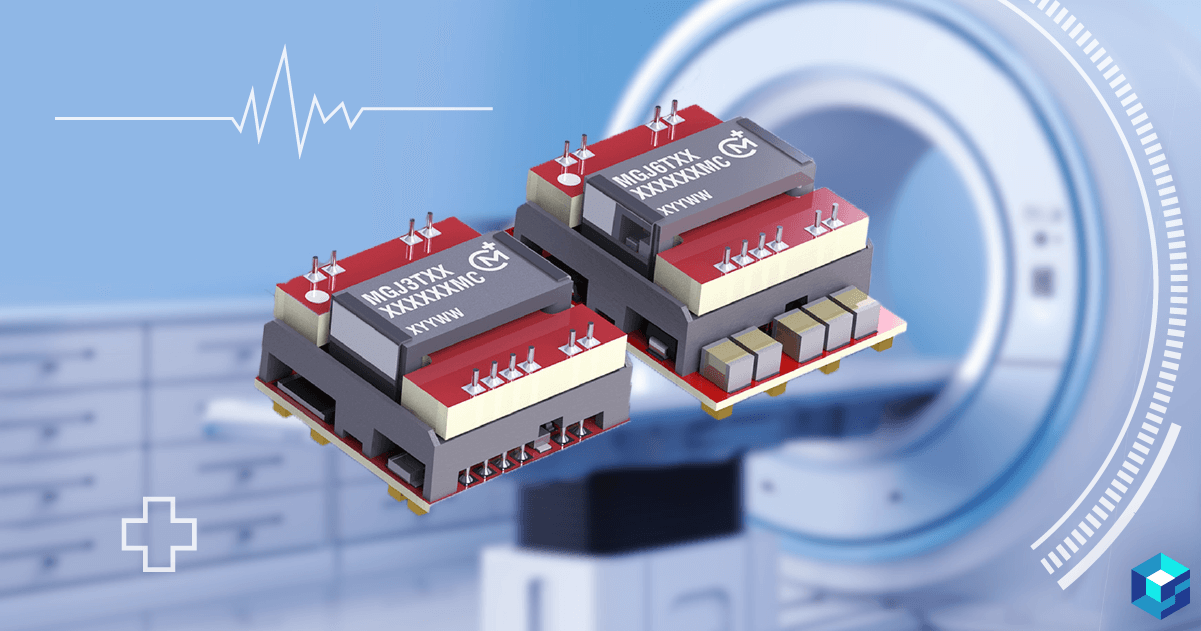 Corporations operating in the automotive, medical, utility, and manufacturing industries need insulated-gate bipolar transistors (IGBTs) fort heir equipment and facilities. Indeed, those items necessitate high-voltage,high-current inverters, and low-frequency converters for ideal switching.However, those small industrial electronics also need metal–oxide–semiconductor field-effect transistors (MOSFETs) to facilitate low-voltage, low-current, and high-frequency switching.
Thankfully, Murata Power Solutions has developed the MGJ series DC-DC Converters to handle both requirements.
Features
The most appealing and innovative aspect of the Murata Power Solutions MGJseries is that they offer bipolar voltage outputs. Therefore, the componentscan meet IGBT and MOSFET gate drive needs. That asymmetrical voltage output capability means the line can provide excellent drive levels and optimal system efficiency.
Also, all of the MGJ series DC-DC converters have ultra low coupling capacitance.
The entire product range features UL60950 recognized reinforced insulation.As such, manufacturers can buy the converters secure in the knowledge that they are compliant with Underwriter Laboratories' safety test standards. The MGJseries also features an attribute common in bridge circuits, i.e., high isolation. They also provide long-term reliability via their partial discharge performance.
Besides, Murata Power Solutions' DC-DC Converters offer 5V, 12V, and 24V voltage inputs.
The MGJ series provides manufacturers with a host of specialized options.For instance, the MGJ1s feature surface-mount packaging, protection against short-circuits, and possess an industrial grade temperature rating. Comparatively, the MGJ2 spossess dv/dt immunity and +15V/-5V, +15V/-8.7V, +15V/-15V, +17V/-9V,+18V/-2.5V +20V/-3.5V and +20V/-5V voltage outputs. In addition, the MGJ3 soffer no opto feedback and a pin that disables frequency synchronization for simplified EMC filter design. And the MGJ6 shave short circuit and overload protection, can operate at 105°C, and are available in multiple package configurations.
Applications
Murata Power Solutions' MGJ series has a wide variety of applications in awide range of industries. The firm's multifaceted DC-DC converters can aid electric vehicle uninterrupted power systems and motor/motion control functions.They also have multiple uses in medical technology, such as in computerized tomography, defibrillators, magnetic resonance imaging, and x-ray machines.
The MGJ series has multiple uses in the utility sector as components for power stations as well as solar energy and wind power generation equipment.
The DC-DC converters also have mass transit applications as they have uses in railway facilities. Moreover, they can be implemented in manufacturing equipment and facilities like electric arc welders, milling machines,industrial boilers, and textile mills.
Because they have applications in so many different markets, Murata Power Solutions' MGJ series should have a place in every OEM's inventory.
To learn more, checkout Sourcengine's selection of Murata Power Solutions MGJ Series DC-DC Converters.
‍
Article Tags