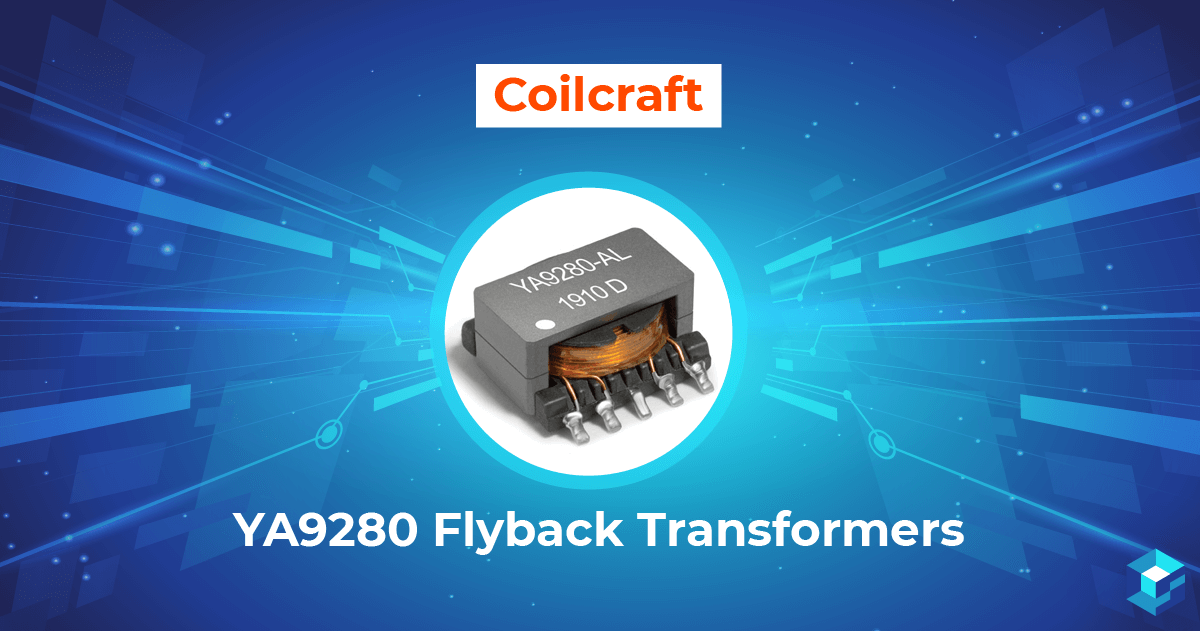 Regardless of sector, industrial electronics manufacturers are facing pressure to make their equipment and devices as small as possible. Accordingly, OEMs should invest in low-profile components that are designed for easy PCB integration. Coilcraft has addressed this particular need with its YA9280 Flyback Transformers.
Features
Coilcraft designed its Flyback Transformers to service as an affordable but high-performance solution for power supply designers. The firm made its coupled inductors with gapped cores capable of storing input voltage energy. As such, this type of transformer doesn't require separate output filter induction. Therefore, they consume less board space than inductors with different isolated topologies.
To achieve a high level of performance, Coilcraft built its Flyback Transformers for optimal durability and functionality. The firm designed its coupled inductors with an input range of 17V to 36V. Similarly, this model of transformer has an output rating of 5V and 1.5A. The component also has an isolation rating of 1,500 Vrms.
Furthermore, the Coilcraft YA9280 Flyback Transformer has an ambient temperature range of−40°C to 125°C, a level 1 moisture rating, and is RoHS compliant. The component can also withstand three 40 second reflows at 260°C.
Because of their robust construction, the YA9280 boasts a Failures in Time rating of 38per billion hours. This type of Flyback Transformer has a Mean Time Between Failures of 26,315,789 hours via Telcordia SR-332 calculation.
Applications
The firm created its YA9280 Flyback Transformers specifically to work with Maxim Integrated's MAXREFDES1226 DC-DC power converters. When used in concert with MAX17690 Non-Opto Isolated Flyback Controllers, YA9280 equipped devices offer 87 percent conversion efficiency. As such, the coupled inductor would be ideal for use in industrial and telecommunications equipment.
OEMs can utilize YA9280-embedded converters in the construction of high-efficiency LED lights.
In addition, Coilcraft Flyback Transformers can also be used to facilitate battery and capacitor charging devices. Manufacturers can include YA9280s in DC-DC power converters used in wind turbines and photovoltaic systems.

To learn more, check out Sourcengine's selection of CoilcraftFlyback Transformers supported by Maxim's DC-DC power converters.

MAX17690

‍