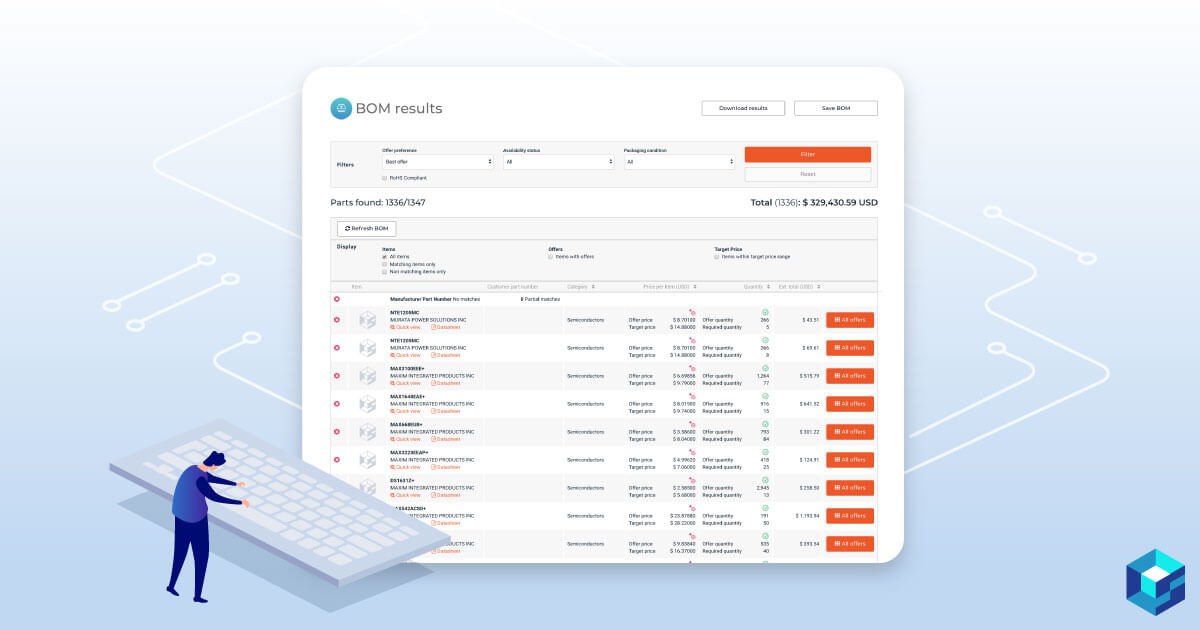 Scheduling complex projects – particularly assemblies with many electronic parts –often involves last-minute changes, sudden priority shifts, and moving deadlines. Getting everyone on the same page is tough enough; making sure your deliverables are on track for timely procurement seems impossible at times.
Wouldn't it be great to have a master order list for all of your project's electronic accessories?
You may not know it, but you already have one: your bill of material (BOM).
While most project managers, engineers, and product supply chain personnel don't consider the BOM an order-ready resource, today's advanced supply chain software (SCM) enables easy integration and ordering for even the most data-rich BOMs.
Think about it: every BOM already has essential information that's tailor-made for invoice lists, packing slips, and other ordering content:
Quantity. How many accessories and components go into your project? If you aren't sure of the quantity, you'll need to reference your BOM.
Part number. Whether a manufacturer part number or universal number, the P/N is the critical piece of data everyone in the supply chain process needs to know.
Part name. All electronic parts have a basic description, which helps facilitate the ordering process.
Special instructions.From custom delivery options to packaging requirements, some project parts demand special instructions. A comprehensive BOM includes this data for those special "one-offs."
Why are BOMs important for planning and project execution?And how can you ensure your "master list" or order-ready parts keeps your schedule aligned with tight deadlines, all while keeping your bottom line in view?
It all starts with the right SCM software. Sourcengine™, the leader in BOM integration for supply chain management, provides full SCM capability, including smart,streamlined BOM tools.
The Importance of BOMs for Scheduling, Ordering, and More
Without a complete BOM, no project would get off the ground. A BOM is the ultimate organizing resource, a sort of "master planner document" for your entire project. With simple structural organization in place, a top-level BOM and all associated electronic components (as sub-BOMs) provide schedulers and planners the information necessary to order all sourced parts.
Getting your BOM into an actionable ordering document takes work. In the "good old days," taking BOM data into invoices and other purchasing documents was a purely manual endeavor. Each line item had to be copied or transferred accurately. Just one error could jeopardize an entire project schedule, especially if the item(s) in error were tied to critical delivery dates.
Thanks to e-commerce tools and supply chain software, BOMs are more important than ever. They're still the foundation for electronic components ordering. But with integrated BOM/purchasing tools, supply chain personnel can upload raw data into buyer-friendly resources to compare prices, analyze delivery lead times, and much more.
Align BOMs with Aggressive Deadlines: Sign Up with Sourcengine Today!
Sourcengine stands out from the competition with robust, ready-to-order BOM integration tools. As part of our advanced SCM resources, our BOM management feature allows anyone to simplify the sourcing process directly from any BOM.
Our supply chain OS allows easy Excel spreadsheet uploads of up to 10,000 line items. Once uploaded, Sourcengine does the rest. Thanks to user-friendly technology and ultra-quick processing, our software-commerce marketplace shows best offers for every item on your BOM, including both common and custom accessories and parts.
What's more, intuitive filtering tools allow custom views and streamlined ordering. Parse out different BOM electronic parts for faster delivery, better price, or optimal offer. Regardless of your particular project demands, Sourcengine's BOM tools are up to the task, even if your job order requires fast, accurate analysis for thousands of line items.
See how Sourcengine can turn your BOM master list into a practical, on-point ordering tool. View a demo of our powerful e-commerce marketplace tools. If you have any questions about Sourcengine's supply chain software and BOM integration, contact us today.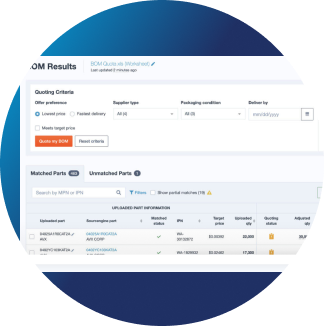 Quotengine: Your Ultimate BOM Tool
With Quotengine's real-time data on over 1 billion part offers, managing your BOM effectively has never been simpler.
Upload Your BOM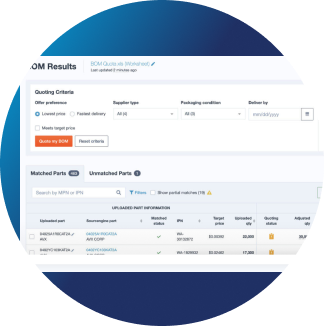 What's Your Excess Worth?
Real-time market data, quick response time, and unique price offers to help you maximize your return on excess inventory.
Get an Estimate