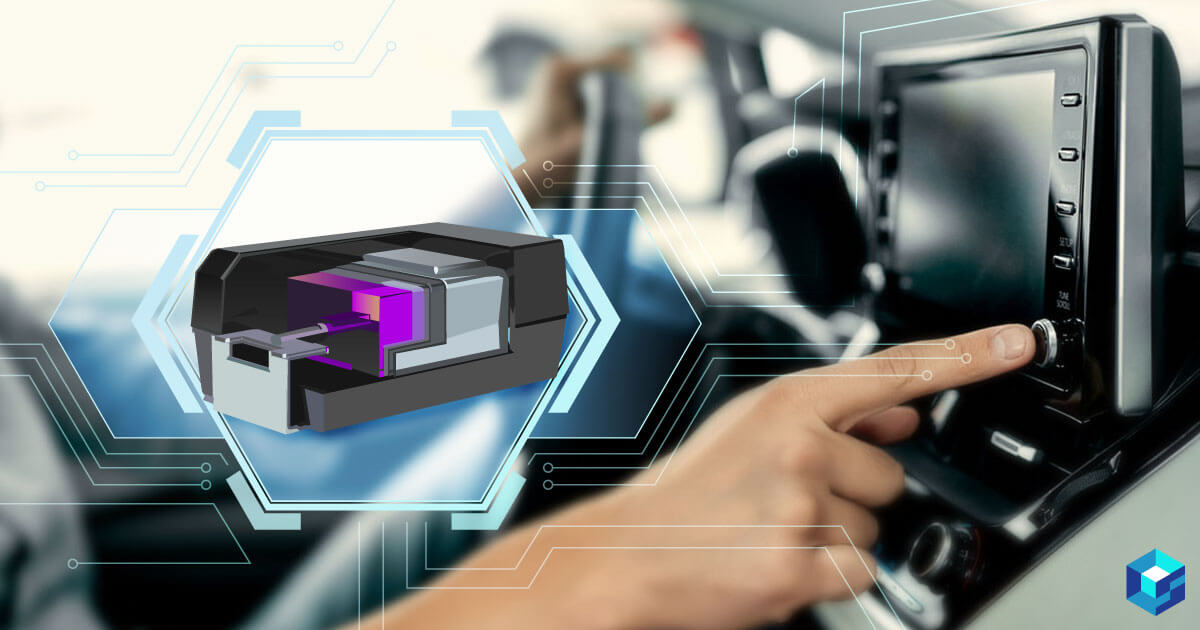 In the past, manufacturers only installed automotive information and entertainment systems in high-end luxury vehicles. But recent technology innovations have led to their deployment in budget automobiles. As such,Infinity Research notes the global automotive infotainment system market will be worth $44.13 Billion by 2022. Accordingly, manufacturers looking to capitalize on the rapidly-growing market should utilize quality components like Kemet's organic polymer capacitors (KO-CAP), specifically, the firm's T591,T598, and T599 series of products.
Features
Kemet designed its T591, T598, and T599 polymer capacitors to operate in harsh environmental conditions with a voltage range of 2.5 V to 50 V. Sinteredat 1,000° C, the components are composed of a compressed tantalum powdered anode, a tantalum pentoxide dielectric, and conductive polymer cathode. As such, they feature robust capacitance retention at high frequencies and minimal equivalent series resistance (ESR).
The firm's KO-CAPs offer manufacturers the low ESR of MLCCs, tantalum's volumetric efficiency, and the electric charge storage capability of aluminum electrolytic capacitors.
‍
Furthermore, Kemet built the T591, T598, and T599 series to operate in high humidity and temperature environments. Indeed, the T591 capacitor can run voltage at 85° C with 85 percent relative humidity for 500 hours.Besides, the T598 and T599 series can perform at the same level for 1,000 hours. But AEC-Q2000 qualified products have a maximum operational temperature life of up to 125° C and 150°C, respectively.
Kemet's KO-CAPs also meet or exceed EIA standard 535BAAC, are RoHS compliant, and feature halogen-free epoxy.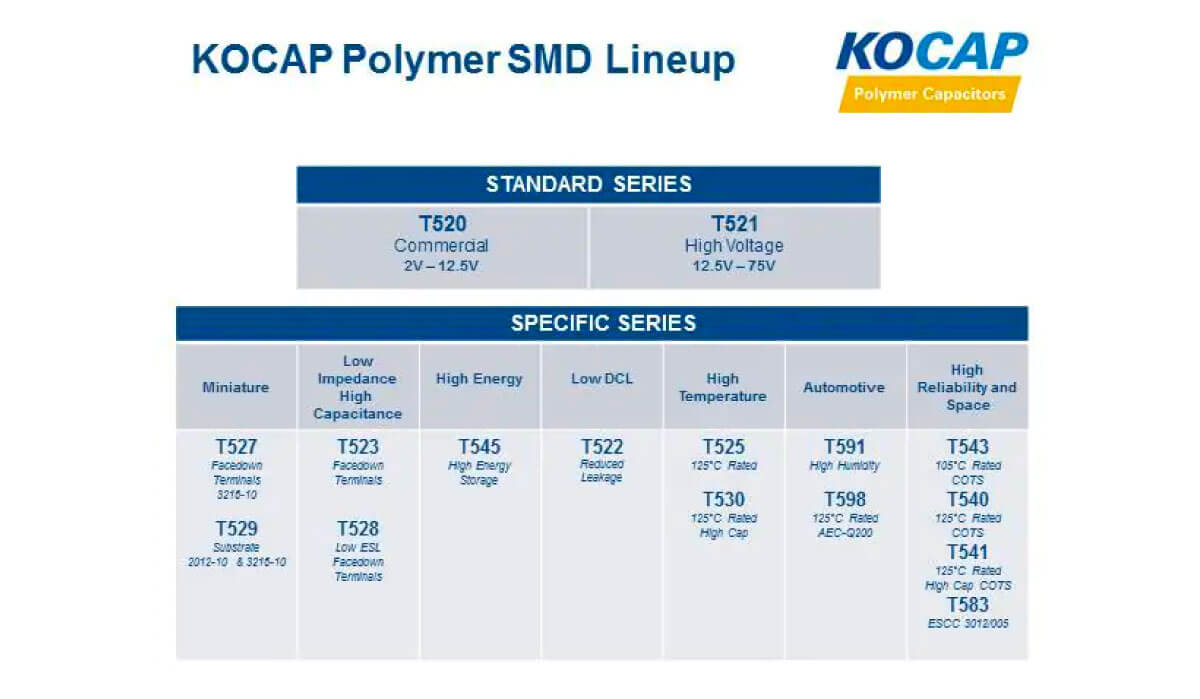 Applications
Kemet's T591, T598, and T599 polymer capacitors are capable of performing decoupling and filtering in a range of sectors. However, the KO-CAPs are especially useful in automobiles, in particular, increasingly ubiquitous infotainment systems. Similarly, their durability and longevity make them suitable for utilizing in advanced driver assistance hardware.
The T591,T598, and T599 high ESR stability and capacitance in harsh conditions also make them ideal for integration in traditional automotive systems. In fact, because Kemet's polymer capacitors have a long operational life in high temperature and humidity environments, they can support chassis frameworks, safety systems, and powertrain functionality.
In addition, the firm's KO-CAPs can even replace MLCCs, provided their design parameters fall in line. As the deployment of 5G networks is driving demand for certain MLCCs, Kemet's polymer components can relieve supply line constraints.
To learn more, check out Sourcengine's selection of Kemet's T591, T598, and T599 Organic Polymer Capacitors.

T591
T598
T599


Article Tags