Earlier this year, electronics industry professionals expected the global semiconductor shortage would reach its inflection point this summer. Unfortunately, a confluence of factors, including adverse weather conditions, unprecedented demand, and limited foundry space could prolong the crisis until 2022.
In moments like this, it is important to remember the electronics industry has endured similar challenges in the past. In 2018, the sector had to grapple with a widespread scarcity of MLCCs, resistors, and other electronic components.
Ultimately, the industry persevered through that crisis by embracing out-of-the-box solutions. As it happens, one of those time-tested strategies, sourcing more alternates and crosses, can help OEMs persevere through the current chip bottleneck.
Why the Global Chip Shortage Is Not Going Away Anytime Soon
Ultimately, there is no way to quickly resolve the global chip shortage because its root cause is a vast gap between supply and demand.
Together, Taiwan Semiconductor Manufacturing Company (TSMC) and Samsung represent 74 percent of the worldwide pure-play foundry market. Though each corporation maintains multiple gigafabs, they cannot produce components at a rate that would meet the needs of the world's leading automakers, smartphone vendors, and video game console companies.
In addition, Samsung shuttered its Austin, Texas-based factories after an unusual winter storm hit the area in mid-February. The conglomerate indicated it would need "more time" to get its facilities back to their regular output levels. That development is problematic since Citibank estimates the plants represent almost a third of its global total production capacity.
TSMC and Samsung are in the process of building multiple new factories to expand their foundry resources. But it takes anywhere between $10 billion and $12 billion to build a cutting-edge chip fabrication facility, and billions more to equip and staff it.
The United States, Europe, and China understand the devastating economic impact of the semiconductor shortage and are addressing it with robust federal support programs. However, even multibillion-dollar capital infusions cannot make new fabs appear overnight.
Plus, the surge in automobile demand that precipitated the component shortfall last year has only increased in intensity.
The public-private drive to diversify and increase the world's chip production capacity will only make the global supply chain more resilient. But tomorrow's solutions are ineffective at resolving today's problems.
Alternates and Crosses Can Mitigate Component Shortage Headaches
Many OEMs increased their usage of alternate and cross components as a mitigation measure during previous semiconductor shortages. Once again, firms can sidestep the bottleneck by ordering substitute electronics parts that can still be delivered this year rather than next.
Greg Wood, IHS Markit's director of product management, explained the strategy is most effective when deployed holistically. He pointed out that when design teams and buyers work together, they can align their NPIs to the market's realities.
For instance, interdepartmental collaborations enable buyers to create BOMs that feature one or more alternatives for each part number. That extra bit of preparation can make the sourcing process more seamless by eliminating time-consuming part substitution approvals.
Online electronic component marketplaces can also be enormously useful in helping OEMs find appropriate part replacements.
Leading e-commerce platforms like Sourcengine provide suggestions for functionally identical replacements to unavailable items. For instance, these tools can provide buyers with access to readily available Alpha and Omega Semiconductor (AOS) products that serve as alternates and crosses for various hard-to-find Infineon Technologies, Renesas Electronics, and ON Semiconductor MOSFETS.
Chip marketplaces also let purchasers browse through a myriad of active listings from thousands of factory-direct and authorized franchisee vendors. That means buyers can find and order accessible components with just a few clicks.
Amid the most severe semiconductor shortage in recent memory, OEMs must revamp their methodologies to move forward. By harnessing the power of digitalization, companies can revive their dormant production lines using high-quality alternates and crosses. That way, firms will not have to wait a year to resume doing what they do best.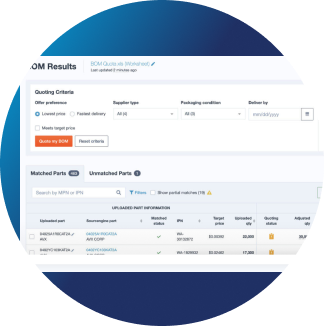 Quotengine: Your Ultimate BOM Tool
With Quotengine's real-time data on over 1 billion part offers, managing your BOM effectively has never been simpler.
Upload Your BOM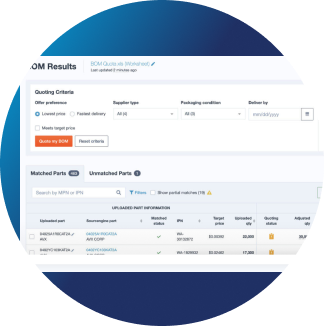 What's Your Excess Worth?
Real-time market data, quick response time, and unique price offers to help you maximize your return on excess inventory.
Get an Estimate