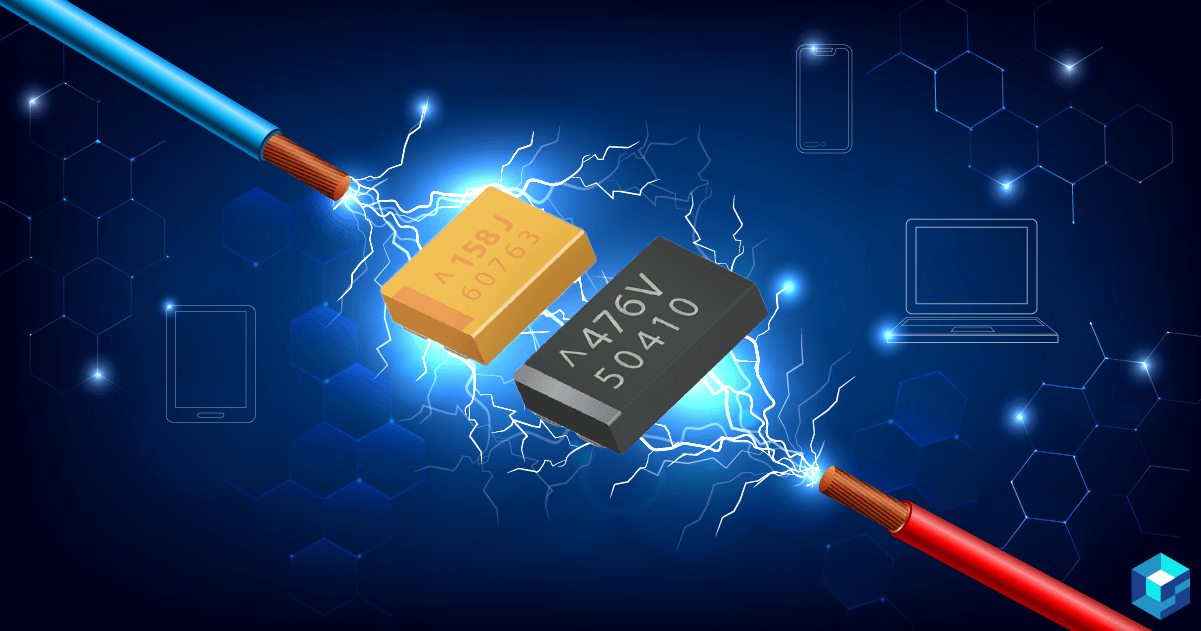 According to Barron's, U.S.spending on consumer electronics will reach $422 billion in 2020, up 4 percent year-over-year. As such, the market represents a significant opportunity for OEMs with interest in developing new smartphones, laptops, voice recorders, and tablets. However, to distinguish themselves, firms need to utilize high-quality components to produce hardware that will impress consumers. For instance,companies would be well served by investing in AVX Corporation's long-lasting and dependable TCN series of polymer capacitors.
Features
TCN series capacitors are distinguished by the fact that they offer the industry's highest continuous current/continuous voltage (CC/CV) rating in a low-profile package.Indeed, the surface-mounted tantalum polymer electrodes are available in 10 different case sizes and the ultrathin components have heights that top out at 1 mm to 2 mm.
Therefore,these remarkably small electrodes allow for high PCB assembly density.
Despite their discreet nature, AVX's TCN series capacitors offer excellent volumetric efficiency thanks to their undertab design. Moreover, the electrodes have a capacitance range of 1.0 μF to 1500 μF and a capacitance tolerance ofplus-minus 20 percent. Besides, the firm designed its components for maximum reliability over their lifetime. Notably, the electrodes can be operated continuously with 20 percent voltage derating.
AVX's innovative TCN series feature low ESR, a reduced ignition failure mode, and high surge current robustness. The firm's RoHS compliant electrodes are also free from halogen and lead compounds.
Applications
In their component datasheet, AVX notes the TCN series are ideal for utilization in a host of consumer electronics.With their low-profile and high-frequency capacitance retention, the semiconductors are suitable for use in smartphones, tablets, laptops, and other mobile devices.
The tantalum polymer electrodes also have the capability to serve both the coupling functions for system-on-a-chip (SoC) equipment. Accordingly, as carmakers are utilizing SoCs to power the self-driving platforms in their next-generation vehicles, the TCN series has automotive applications.
It's also worth noting that the AVX's CC/CV capacitors can be used to build high-quality power modules. Consequently, the TCN series can be used to make inverters that are commonly used in renewable energy equipment. Hence,OEMs that produce wind turbines, solar panels, and title power plants could benefit from stocking up on the firm's polymer electrodes.
Shop for AVX TCN Series Polymer Capacitors.


TCN4157M025R0070E
‍
TCN4158M006R0055
‍
TCN4158M006R0055E
‍
TCN4227M016R0070
‍
TCN4227M016R0070E
‍
TCN4227M020R0100
‍
TCN4227M020R0100E
‍
TCN4337M016R0070E
‍
TCN4477M016R0100
‍
TCN4477M016R0100E
‍
TCNL157M006R0200
‍
TCNL107M006R0200
‍
TCNL107M006R0200E
‍
TCNL157M006R0200E
‍
TCNL336M016R0200
‍
TCNL336M016R0200E
‍
TCNL475M035R0300
‍
TCNL476M016R0250
‍
TCNL476M016R0250E
‍
TCNL336M016R0200
‍
TCNL336M016R0200E
‍
TCNT106M035R0200E
‍
TCNT226M025R0200E
‍
TCNT336M016R0200E
‍
TCNT336M025R0250E
‍
TCNT475M035R0200E
‍
TCNT476M016R0200
‍
TCNT106M035R0200E
‍
TCNT475M035R0200E
‍
TCNT476M016R0150E
‍
TCNT476M016R0200
‍
TCNX108M006R0200
‍
TCNX108M006R0200E
‍
TCNX157M016R0070E
‍
TCNX157M016R0100E
‍
TCNX476M025R0100
‍
TCNX476M025R0100E
‍
TCNX476M035R0150E
‍
TCNX477M006R0050
‍
TCNX477M006R0050E