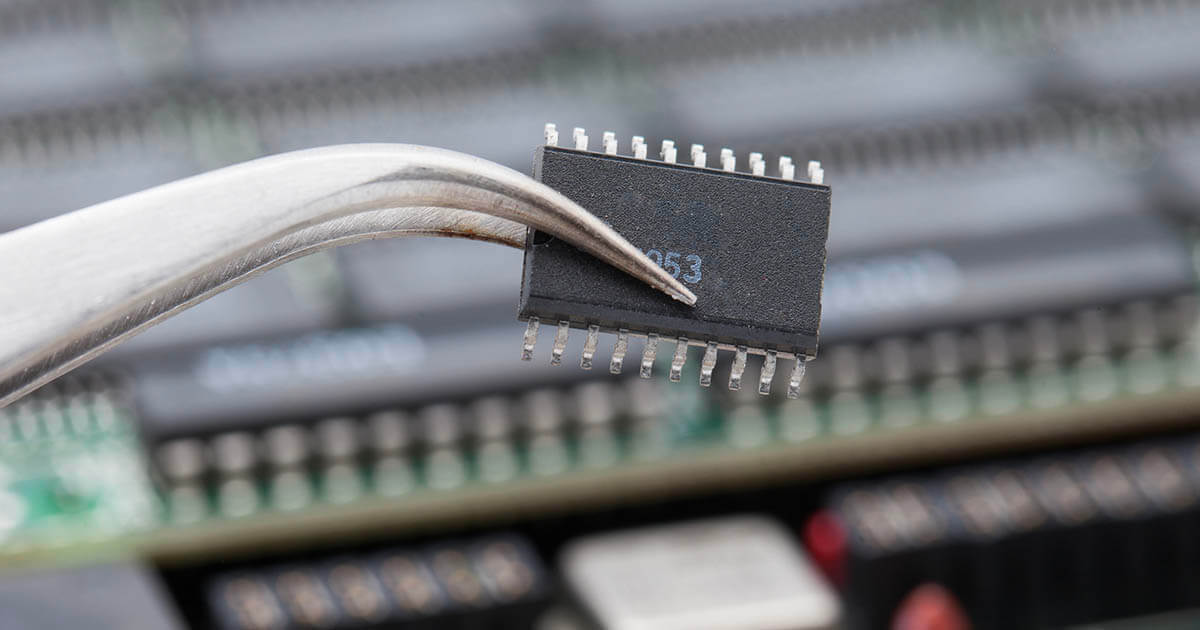 The phrase "supply chain nightmare" has become quite common over the last several years. Along the same lines so too does "out of stock" or "production stall." Starting in 2020 and continuing today, everyone has been dealing with variations of one thing.
Shortages, plain and simple. The largest of which is the global semiconductor shortage.  
Throughout the pandemic everything experienced some degree of limited supply, coffee and toilet paper were some of the worst. Those shortages have been resolved in the months following their overnight skyrocketing demands. The global semiconductor shortage has not felt the same relief.  
Until now, that is. 2022 has seen less demand for semiconductors than 2020 and 2021 with negative sales growth reflected in certain component markets. Electronic components witnessing the greatest declines are those in PC or other consumer electronic parts. Some of the biggest drops in demand can be found in the DRAM and NAND component sectors. South Korea, one of the largest exporters of memory chips including DRAM and NAND, has needed to slash production to avoid flooding the now slumping market.  
On the other hand, the shortage is not over for others. Not by a long shot.  
Automotive original equipment manufacturers (OEMs) are facing another year of frustrating constraints. Shortages of automotive microcontroller units (MCUs) and insulated-gate bipolar transistors (IGBT) are especially in demand. As consumer electronics see a drop in their IC sales, automotive and industrial manufacturers are having to negotiate with Taiwan-based IC design houses for display driver ICs (DDIs) and display driver integration (TDDI). These constraints show no sign of slowing and could last until 2026, or worse, 2030.
Shortages are not an uncommon occurrence, even for electronic components. Throughout its history, the electronics industry has seen several short, but impactful shortages. Some occurred after natural disasters, such as the 2011 component shortage after the Japanese earthquake and following Fukushima disaster. Some are caused by escalating demand and no supply, like the CDMA shortage after strong pushes for mobile us in the U.S. and India.  
While problematic, these shortages were resolved without much fanfare. Strategies to avoid similar scenarios were developed and implemented within months or years. If the world has been through shortages before, why was this chip shortage so crippling?
Why is There a Chip Shortage?
The chip shortage of 2020-2022 occurred for numerous reasons. The catalyst itself is easy to identify, the Covid-19 pandemic. The groundwork for the shortage's prolonged existence, however, was laid well in advance before the pandemic began. The recurring obstacle with this shortage, and those of the past, lies with one factor.
The global supply chain.  
That is not a misnomer, the global supply chain of electronic components, especially that of semiconductors, is full of intricacy. Materials that are used in the creation of semiconductors can come from all over the globe, such as neon gas for laser cutting tools in Ukraine and silicon in China. Impurities are added to raw elements and made into wafers that are processed, assembled, and sent on to others.  
Truthfully, the process is far more complicated as it includes sometimes close to 500 steps to construct a single semiconductor. Most of them are sent on a global tour to different facilities during their creation before ever entering the marketplace. The entire chain is so widespread over the world, as the steps are necessary, that one singular disruption along any point can have disastrous effects.  
Disruptions are normally resolved over several months or a year, as evidenced by previous shortages. However, as the global supply chain has become further intertwined and expansive, experts agree that the shortages of tomorrow may make 2020-2022 look like a walk in the park.  
The Covid-19 pandemic's initial disruption on the supply chain came in the form of lockdowns. China was one of the first to experience massive lockdowns and, as the main hub for several chipmaking facilities, lit the fuse of what would become the global semiconductor shortage. As lockdowns began facilities stopped production, including that of electronic components.  
As the world braced for a global pandemic, numerous industries monitoring market trends watched as demand started to drop and reacted strategically. This includes automakers, known for their just-in-time (JIT) ordering, to cancel large orders as shutdowns rose. Unfortunately, despite these cautionary actions being taken based on accurate data the dropping demand did not last for long.  
When it became clear the pandemic would not be solved within the period of a few weeks, businesses were forced to find methods to remain operational even during lockdowns. This is what led to the boom in the work-from-home (WFH) model, a model that required the use of consumer electronics including phones, computers, headsets, and routers. Demand skyrocketed as a result and original component manufacturers (OCMs) were left scrambling to fulfill orders while still facing lockdown orders.  
Then at the end of 2020 automotive demand unexpectedly jumped as consumers were left with more expendable income than anticipated from low-interest rates due to pandemic legislation. This continued throughout the first half of 2021, leaving automotive OEMs struggling to meet rising demand and unable to resume their normal JIT method of ordering. Having been burned at the start, chipmakers did not seek to prioritize automotive component orders. Instead, automotive manufacturers were left to grapple with long lead times just as everyone else was.  
Even with the pandemic, increasing demands, and long lead times, there were opportunities for recovery. Lockdown parameters varied from country to country and while some countries had strict rules on operation during lockdowns, such as China and Italy, semiconductor fabrication plants were able to run while abiding by guidelines. Unlike normal production lines, semiconductor fabrication plants are not run by a simple on-off button.  
Semiconductors are created under specific conditions that must be followed to the letter at risk of ruining the chips with impurities. That means everything from the space they are processed and assembled to the room temperature must be monitored and regulated, unlike an automotive production line. As a result, it took time and experienced staff to resume operations during the worst of the pandemic conditions.
Eventually, facilities restarted operations. Some even worked around the clock, 24 hours a day to keep production close to 90% or higher. While this disruption was massive, it could have been tamed. There was a chance to control the effects of the shortage before it grew to the size it did.  
As we all came to learn, Murphy's Law of what can go wrong will go wrong is still true.
What is Prolonging the Chip Shortage?
2021 should have been the year for production to bounce back. Vaccine rollouts for the public in February and March of 2021 and with an entire year left demand, while still high, could have been diminished with enough force.  
The fragility of the supply chain was far too vulnerable. When 2021's unpredictable "black swan events," as described by Professor Richard Wilding of Cranefield University, occurred, they hit too hard. Texas Instruments, NXP Semiconductor, Infineon Technology, and Samsung Electronics all suffered setbacks from severe winter storms in Texas. The power cuts took semiconductor fabs and other facilities offline for weeks. Then Renesas experienced a massive fire at their plant in Japan setting them back 6 weeks. Taiwan and its companies, including chip giant TSMC, faced cuts in water supply over a potential crisis.  
It did not stop there.  
The Ever Given, a transport ship, became wedged in the Suez Canal sending waves of disruption among dozens of different global supply chains. This affected everything from coffee to fears over a possible second coming of the dreaded toilet paper shortage. TSMC then announced mounting geopolitical tension was causing customers to double-order on the small supply left.  
Production could only increase so much, as 2021 endured another, far greater shortage. That of experienced staff as employees resigned or quit in the wake of Covid-19, now called The Great Resignation.  
Despite these challenges experts, including Intel's Pat Gelsinger, had hope in October of 2021. As manufacturers ramped up production to meet needs one by one, there was hope the shortage would end by late 2022 and early 2023. As 2022 began, new endeavors to increase and diversify the semiconductor supply chain were signed into law through incentives for new facilities and research. The U.S. passed the CHIPS and Science Act, the European Union's proposed CHIPS Act, and India continues to add more funds to their semiconductor incentive package.

Alongside government subsidy programs, chipmaking giants such as Intel, Micron Technology, TSMC, Samsung Electronics, and more have pledged billions toward new facilities across the globe. With these endeavors, Gelsinger's prediction looked all but assured.  
Then in February 2022, Russia invaded Ukraine.  
The humanitarian cost has been nothing short of immeasurable. It is important to make note of that loss when discussing the resulting effect on the semiconductor supply chain. Sanctions on Russia led to an energy crisis in Europe. This crisis eventually went global, taking the form of elevated energy and transport costs. To avoid impacted profit margins from these new expenditures, OEMs and OCMs alike raised costs on materials and products.
It is only now at the end of 2022 that a sudden reversal in demand leads to further complication and certain component shortages ending.
How Do We Stop Future Shortages?
Fears of a global recession have led to a drop in demand for consumer electronics. Meanwhile, automotive OEMs still cannot find parts to keep production running. Numerous countries have invested in legislation to provide incentives for domestic manufacturing and R&D. Now that orders are slipping with new sanctions from the U.S. on China chip manufacturing, will these plans be able to continue?  
The simple answer is yes. Even with softening demand and excess stockpiles building, chipmakers will be moving forward with construction. The shortage, despite it discord it caused, was not meant to last forever. These facilities are aimed to help prevent the massive shortages of tomorrow. Now that excess inventory is an issue, some OCMs are strategizing by refocusing production capacity for new markets including automotive.  
Passive component manufacturers are one of the many OCMs shifting to automotive component production now that consumer demand is dropping. Automotive components, unlike consumer electronic counterparts, need far longer lifespans and require stricter processes to be made and assessed for quality. This usually requires more investment on the OCMs part than automotive OEMs, with rising shipping and material costs, the desire to increase automotive component capacity is low.  
Future shortages are not a matter of "if." Shortages will happen and are a risk to any existing business sector, not solely electronic components. To keep shortages from being long-lasting or as impactful as 2020-2022 steps must be taken by every member of the supply chain. Here are some ways to accomplish this.

1. Increase Production
Everyone is vying to become the next hub of global semiconductor production. The dip in demand is troubling in comparison to the previous few years of hypergrowth, however, negative sales growth will not continue eternally.
With the continued implementation and development of technology at such a rapid pace, components will continue to be necessary. It is important to get the jump on it now and continue development while we are in this low period. Electric vehicle (EV) adoption, despite the component shortage, has only increased. Legislation calling for gasoline-powered cars to be banned has passed in Europe, the U.S., and China and will most likely continue.
That is without taking other industries into account and how digitalized sectors such as healthcare are becoming. Increasing semiconductor production will help mitigate the costly damage shortages inflict on all parts of the supply chain.  
Next time, according to experts, it will be worse.
2. Collaboration Between Manufacturers
Collaboration is key to persistence. A few companies are already taking steps for a more collaborative relationship than just seller and buyer. Automotive OEMs including automakers Volkswagen, Toyota, and Tesla are working with chipmakers such as Intel, STMicroelectronics, and others to invest in innovative technology.
This mutually beneficial relationship gives both partners a leg up against the competition. Expensive processes, such as automotive components, are a shared expense between two parties rather than the manufacturer. Volkswagen is partnering with STMicroelectronics to develop new semiconductors with aid of TSMC after the frustrations of the chip shortage. The Toyota Group will be contributing $350 million in a joint venture for a new plant between TSMC and Sony.  
Tesla and Samsung have been working together for several years now, including Samsung producing Tesla's own self-designed chip.  
Transparency between OEMs and OCMs, beyond automotive manufacturers, is necessary. Without it the probability of errors for accurate supply stock being available and what is needed increases. The shortage showed just how greatly impacted chipmakers were by shifting demands, even worse through canceled just-in-time (JIT) orders. Clear communication and collaboration between OEMs and their suppliers or distributors must be observed from this point onward.  
3. Digitalization
Keeping an eye on market trends and global events to forecast shortages will make sure you can strategize before things get rough. With digital marketing tools, you can plan and assess risk long before a shortage or obsolescence announcements throw your team into a panic. Digitalizing your supply chain is pertinent to preparing and overcoming shortages and excess inventory.  
The global semiconductor supply chain is massive and the information that exists within it is more so. The traditional manner of keeping track of vendors through Excel spreadsheets and then their components is a necessary but tedious task that often provides an incomplete picture. Unpredictable events, obsolescence/end-of-life announcements, raw material shortages, and other possibilities affecting over hundreds of components needed for one project are taxing.  
By taking steps to digitalize and use smart tools, like artificial intelligence (AI), to sort and compile this data into easy-to-read reports where time-sensitive decisions can be made effectively and quickly makes all the difference. Learning to do so sooner than later is essential.
Preparing For What Follows
While the shortage is starting to show signs of slowing for some markets, the effects of it will still be felt for years to come. Automotive manufacturers are still expecting to suffer from shortage constraints for at least another year, some experts believe it could last another 3 to 5 years. Others, such as the consumer electronics market, are now facing component orders they cannot get rid of.  
Semiconductors are starting to become hard to sell.  
A shortage-turned-glut is what experts are warning us about. The first inklings of it started a few weeks ago and have ramped up as recession fears grow. Excess is a problem all on its own, and the solutions differ depending on what resources one has access to.  
No matter what kind of excess stock you have, there are ways to recoup lost costs without taking another financial hit. The aftershocks of the 2020-2022 chip shortage will be immense if these early warning signs continue to stack up. To avoid production stalls, revenue loss, and periods of excess in the future, everyone needs to take the necessary steps now.  

The best way to start is by monitoring the market.  
‍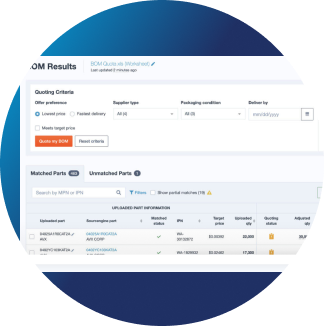 Quotengine: Your Ultimate BOM Tool
With Quotengine's real-time data on over 1 billion part offers, managing your BOM effectively has never been simpler.
Upload Your BOM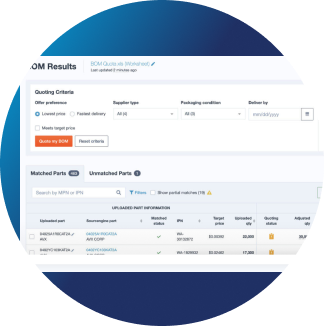 What's Your Excess Worth?
Real-time market data, quick response time, and unique price offers to help you maximize your return on excess inventory.
Get an Estimate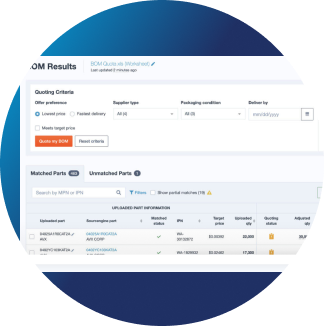 The Last Integration You'll Ever Need
Streamline manual processes and gain real-time access to inventory data, pricing updates, and order tracking through Sourcengine's API
Sign-up Here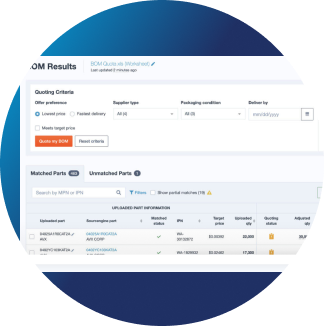 Sourcengine's Lead Time Report
Strategize for upcoming market shifts through lead time and price trends with our quarterly lead time report.
Download now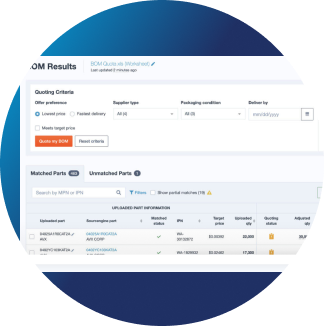 Sourcengine's Lead Time Report
Strategize for upcoming market shifts through lead time and price trends with our quarterly lead time report.
Download now