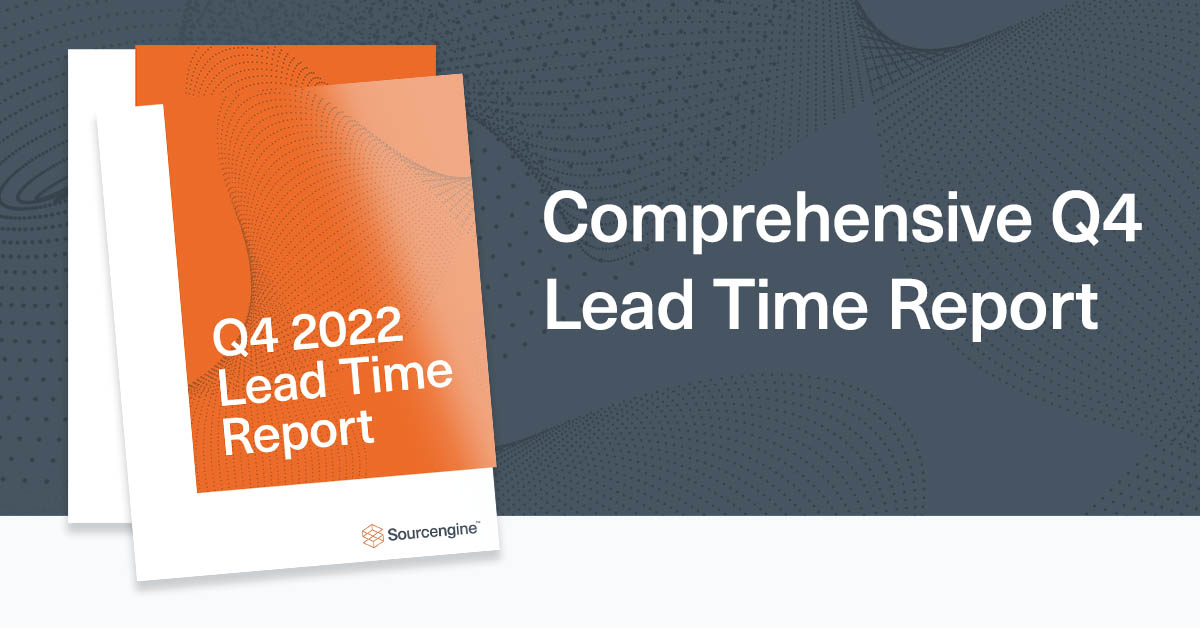 Sourcengine uses its robust market intelligence resources to create a thorough lead time report every quarter. It features up-to-date availability information on a wide range of electronic components made by a slew of chipmakers. It also provides pricing and turnaround time forecasts through January 2023.
For Q4 2022, our report highlights the slow stabilization of the semiconductor market following consumer demand drops. Allocation continues to plague some chipmakers.
The State of the Market
The global electronic components market is a little all over the place. Recession concerns and inflationary prices have led to massive drops in demand for volatile and non-volatile memory. Overall, the lead times for semiconductors dropped by 4 days in September, decreasing from 27 weeks on average to 26.3 weeks. This has been the largest drop over the past several years altogether, as reported by the Susquehanna Financial Group.
Automotive components, on the other hand, continue to see rising lead times and price surges. U.S. sanctions on China have led to panic-buying on behalf of automotive OEMs. Those that cannot buy through their normal partners have turned to gray marketers out of desperation. McKinsey and Company reports suggest that the automotive component shortage might last until 2026 and, at worst, 2030.  
Sudden demand drops have contributed to excess inventory within the consumer electronics market. Suppliers and OEMs alike are considering drastic price cuts throughout November and December of 2022 to digest inventory. The hope is to go into 2023 with far less excess stock to mitigate through the slow months of Q1 2023.
Continued construction of new facilities in India, the U.S., Japan, Italy, and more will continue to ease remaining bottlenecks. As demand falls for memory chips, Samsung Electronics and passive component manufacturer Yageo, are looking to increase the capacity for automotive components.  
With these steps, there is hope that a supply-demand balance will come soon.  
Key Q4 2022 Lead Time Report Takeaways
Even with the consumer demand drop, most leading chip providers still need an average of 20 weeks to deliver volatile and non-volatile memory chips to buyers. In general, DRAM and NAND are seeing the greatest drop in purchases because of a lack of demand.

EEPROM continues to struggle with rising lead times, as it has throughout 2022. STMicroelectronics still has their EEPROM products on allocation as a result.  
Discrete and lighting parts will see prices increasing overall with lead times remaining either stable or rising. Vishay is experiencing the longest lead time for power at a maximum of 150 weeks with prices still going up. Many of the semiconductor market trends reflect stable lead times; however, most leading chipmakers will be dealing with supply constraints and parts on allocation through December.  
Texas Instruments and NXP Semiconductor are seeing some bright spots in their embedded processing products. NXP Semiconductor's components are shipping out at the lower end of their lead time range at 52 weeks. Texas Instruments has greater stability with some constraints in their industrial and automotive component portfolios.
Emech and connectors are seeing the greatest leaps in both lead time and price through December. Raw material shortages are impacting TEConnectivity and Molex has placed most products on allocation.  
The Q4 report reflects many of the same component market trends as seen in Q3's lead report. There are some minor changes throughout. Component lead times for DRAM, NAND, and other consumer electronic products could see price cuts throughout December as suppliers try to offload excess. However, we will have to wait and see.  
For more information and forecasts for embedded devices, advanced analog parts, and programmable logic components, check out Sourcengine's Q4 2022 lead time report.
‍
Article Tags