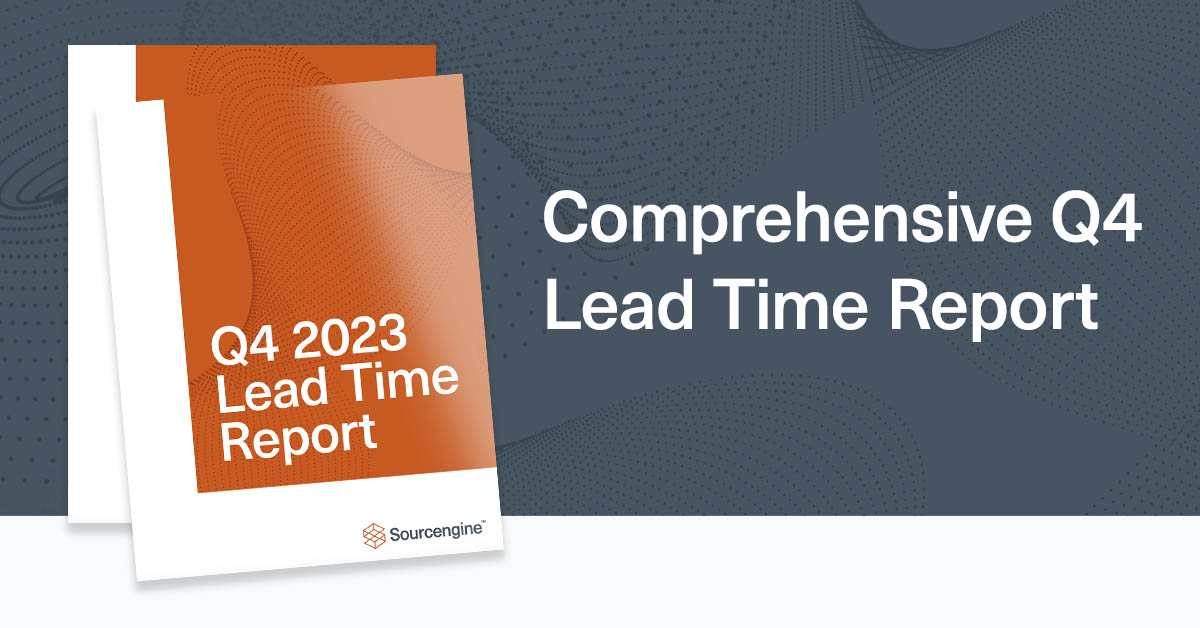 Each quarter, Sourcengine utilizes its real-time market data and robust resources to create a thorough lead time report for active and passive component markets. Sourcengine's Lead Time Report features up-to-date availability information on a wide range of electronic components from a slew of chipmakers. This lead time covers the current market standings for component lead time and price, with a forecast of how these trends may change over the next few months.
Ongoing geopolitical volatility has continued complicating recovery in the PEMCO market as raw material shortages and logistics challenges impact suppliers. Increased prices, as a result, are expected over the coming quarter and into Q1 2024. Within the semiconductor market, excess electronic component inventory remains a problem. Consumer demand remains low, contributing to excess challenges. The popularity of generative artificial intelligence (AI) and other AI applications are helping pull some suppliers out of the current slump.
Q4 2023 Electronic Component Lead Time and Price Trend Takeaways
The industry has grappled with both shortage and glut over 2023, depending on the market area. PEMCO markets have experienced raw material shortages for most of the year, while semiconductor markets continue to see stabilization and downward trends from low consumer demand.

DDR3/LPDDR3 and DDR4/LPDDR4 could see increased lead time and price in Q4 2023 - Q1 2024 as generative AI demand continues to grow. With the low production capacity after strategic cuts earlier in 2023, shortages may appear in 2024.  
eMMC and SSD products in the storage market will experience increased lead time and price in Q4 2023 - Q1 2024 as AI demand remains high.  
Constraints for automotive and industrial MCUs are ongoing as most embedded processing products see continued stabilization. STMicroelectronics notes that severe supply challenges remain for STM32H7 and STM32 families, as they have for most of 2023.
Ceramic shortages within the EU have increased the price and lead time for MLCC products in that market space. Murata has recently announced a new valid price on its MLCC products sold in the EU, which became effective on October 10th.  
Transport delays and component constraints affect every supplier within the Thermal Management and Power Product markets. Lead times remain mostly stable to where they were in Q3 2023, but increased prices will arrive over Q4 2023 - Q1 2024.
The semiconductor market continues to see stable and lower lead time as managing excess inventory remains a challenge. Increased prices could arrive over the latter half of Q4 2023 or early Q1 2023 due to AI prioritization by companies and consumers alike. The PEMCO market is more disadvantaged, wracked by raw material shortages and logistics costs. Stabilization has come few and far between for many suppliers. Rising geopolitical volatility could push recovery even further into the future.  
Quarter-Over-Quarter Product Lead Time Comparisons
Between Q3 and Q4 2023, the volatile memory market has seen an increase in lead time by two weeks for SDRAM, DDR I/DDR II, and DDR 3/LPDDR3. Over the next quarter, DDR3/LPDDR3 and DDR4/LPDDR4 should see price and lead time increase again. DRAM suppliers have recently experienced a surge in orders, mainly due to the AI craze, leading the charge. Samsung Electronics, Micron Technology, and Winbond products will see these increases.
Likewise, some non-volatile memory products saw lead times increase by two weeks for much of the same reason. In the coming quarter, NAND-flash suppliers Micron, SkyHigh Memory, Kioxia, Macronix, and Winbond all expect to see increased prices on their products in this sector. With AI applications still in demand, NAND-flash and DRAM products could likely be thrust into another shortage in 2024. After production cuts by major suppliers on DRAM and NAND-flash products, it will take time to increase production capacity to meet a new supply-demand level.  
SSD products saw one of the most significant jumps in lead time between Q3 and Q4 2023. Most products within the storage market are expecting further increases in lead time and price over Q4 2023 - Q1 2024 after weeks of low demand.  
On the other hand, Intel's programmable logic products saw the largest lead time reduction after quarters of constraints and stubborn supply challenges. FPGA (legacy, focus, and new) and CPLD product families have all been taken off allocation since July 17th. Lead times have dropped on average from 45 - 52 weeks to 22 - 28 weeks.
Many advanced semiconductors or components mainly used within consumer products or white goods are still seeing low demand. Lingering inflation and recession concerns could impact consumer sales over the first half of 2024. There may be an uptick over the latter half of Q4 2023 as new smartphone releases from giants like Apple and Samsung are announced and the holiday shopping season enters full swing.  
Semiconductor orders are still on track to return in Q3-Q4 from the rising use of artificial intelligence products. By the end of 2023, most surplus inventory is expected to have diminished enough for many manufacturers to begin reordering. Time will tell if it will be enough. For more information and forecasts for embedded devices, advanced analog parts, and programmable logic components, check out Sourcengine's Q4 2023 lead time report.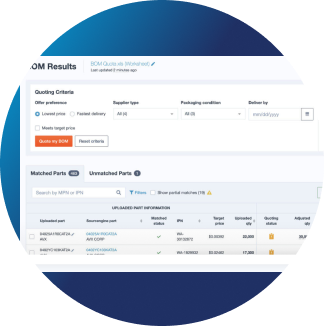 Quotengine: Your Ultimate BOM Tool
With Quotengine's real-time data on over 1 billion part offers, managing your BOM effectively has never been simpler.
Upload Your BOM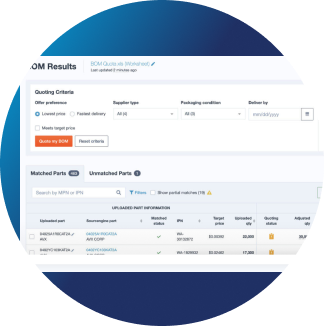 What's Your Excess Worth?
Real-time market data, quick response time, and unique price offers to help you maximize your return on excess inventory.
Get an Estimate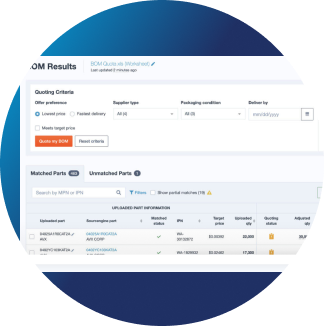 The Last Integration You'll Ever Need
Streamline manual processes and gain real-time access to inventory data, pricing updates, and order tracking through Sourcengine's API
Sign-up Here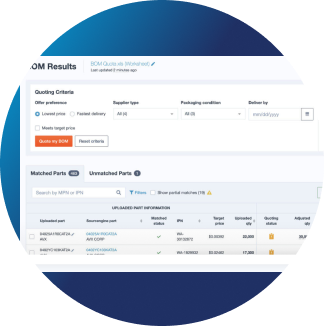 Sourcengine's Lead Time Report
Strategize for upcoming market shifts through lead time and price trends with our quarterly lead time report.
Download now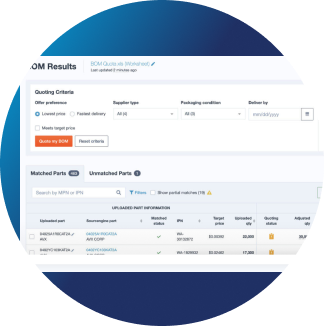 Sourcengine's Lead Time Report
Strategize for upcoming market shifts through lead time and price trends with our quarterly lead time report.
Download now