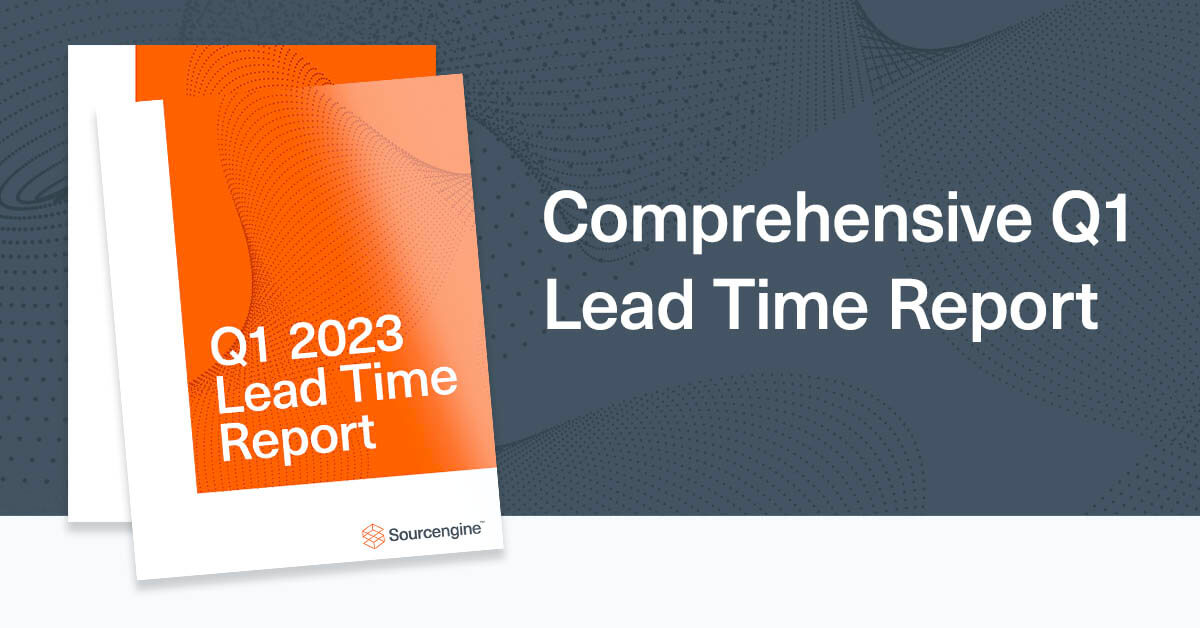 Every quarter, Sourcengine utilizes its robust marketing intelligence resources to create a thorough lead time report for active and passive component markets. Sourcengine's Lead Time Report features up-to-date availability information on a wide range of electronic components from a slew of chipmakers. This lead time report includes lead time and pricing trends through the first three months of 2023 that impact part availability.  
In the Q1 2023 report, raw material shortages lead to price increases in some component markets despite deteriorating demand.  
The State of the Market
The global electronic component market is still reeling from the bullwhip of chip shortage to glut. OEMs and OCMs are experiencing up to six months' worth of stockpiles. Excess inventory built up relatively quickly during late 2022, when large chipmakers, TSMC among them, faced canceled orders from top clients in succession. NAND, DRAM, and passives saw the most significant drops in Q4 of 2022.  
Despite excess stock and deteriorating demand, rumored price cuts throughout the holiday season didn't stick around for long. As a result of raw material shortages and logistics costs, the average selling price (ASP) for many components increased between 5% to 10%.  
Many chipmakers will raise prices throughout 2023 after 2022's massive revenue losses from consumer demand declining. Samsung Electronics increased many of its NAND lines by 10% in December 2022. Earlier this month, Intel also raised prices on its Alder Lake processors by 10% with expectations that most of its CPU lines will follow suit soon. Automotive components will grow by 5% to 10%. Vehicle costs will likely rise again by 11% over 2023 in response to price hikes and high demand.  
There are still chip shortages for automotive, industrial, and healthcare applications. It is unlikely, according to experts, this will resolve during 2023. 2024 for both shortage and excess, is far more likely to bring the global supply chain closer to the supply-demand balance we need.  
Key Q1 2023 Lead Time Report Takeaways
Epcos/TDK is experiencing the most significant impact for the upcoming quarter. Many of their passive component lines face allocation or price increases of 10%, including their Snap-in capacitors, inductors, chokes, coils, transformers, ferrites, and EMI filters. Schaffner's EMI filters saw a 10% increase in price as well. Both manufacturers have stable lead times for their component lines.  
PEMCO manufacturers still face raw material shortages, leading to higher lead times and prices. Molex's connector lines are still on allocation as TE Connectivity battles raw material shortages impacting lead times. Most of TE Connectivity's connector lead times do not exceed 20 weeks but could rise in the next three months.  
Bourns Trimpots are taking longer to reach customers from a lack of ceramics supply. The price currently remains stable. Despite allocation challenges and raw material shortages, most of the PEMCO market has stable lead times. Frequency control crystals and oscillators are the exception facing increased lead times and prices, with some TXC parts reaching 72 weeks.  
Overall, the Q1 2023 Lead Time Report trends are similar to those in the Q4 2022 Report, as raw material shortages and logistics continue to impact the global supply chain. Price increases will likely affect many components even as lead time stabilizes. The energy crisis in Europe from the war in Ukraine, U.S. sanctions on China, and Covid-19 lockdowns keep inflation high, impacting ASPs.  
For more information and forecasts for embedded devices, advanced analog parts, and programmable logic components, check out Sourcengine's Q1 2023 lead time report.
‍
Article Tags