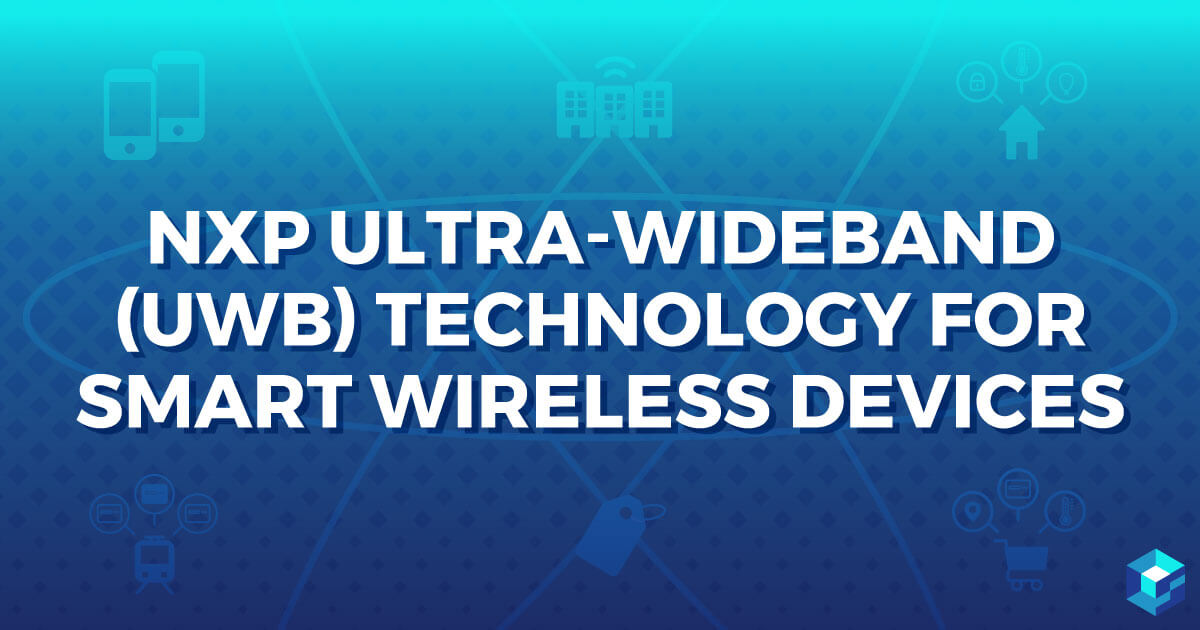 Let's talk about disruptive technology: What exactly qualifies as a true marketplace disruptor? Is the term only limited to tech-centric companies? And can current disruptive technology offer a hint of what's down the road for future shakeups?
To answer all those questions – and more – it helps to look at semiconductor manufacturer NXP Semiconductors, and how the company has capitalized on a (formerly) underrated technology called ultra-wideband communications.
One company (with dozens of products and digital solutions),and one technology (with a near endless variety of applications): How can the dynamic between a single firm and disruptive technology impact industries as varied as the automobile market and smartphones?
What Is Ultra-Wideband Technology?
The release of the much-anticipated Apple iPhone 11 included a groundbreaking feature: ultra-wideband (UWB). In a nutshell, ultra-wideband is all about big performance over short distances. It's not like UWB is out-of-the-box new; the technology has been around for years. But the application of ultra-wideband technology for cellphones truly came into form with smartphone usage, specifically the iPhone 11.
Ultra-wideband is a lot like Bluetooth communication protocols. A UWB chip transmits critical data over relatively short distances, allowing electronic devices to talk with each other. Unlike Bluetooth, however, ultra-wideband offers three distinct advantages:
·      Power requirements. Think about how much your cellphone battery drains with Bluetooth applications active. It's not so much a problem with ultra-wideband, as UWB chips operate with very little power.
·      Crystal-clear communication protocol. Bluetooth and other short-distance communication platforms are subject to external influences, which can compromise signal integrity. Interference is a common problem with Bluetooth, but ultra-wideband chips broadcast with little to no signal disruption.
·      Locked-in locations. Perhaps the biggest advantage with ultra-wideband technology is the ability to precisely determine locations of connected devices and accessories, thanks in part to the UWB frequency range, which spans from 500MHz to multiple gigahertz. UWB is simply more precise than Bluetooth, which has considerable implications beyond cellphone usage. For example, IoT devices connected to UWB chips are better able to measure distances, which helps with everything from speaker tuning to home temperature settings for smart home connectivity.
NXP: Ultra-TimelyCapitalization with Ultra-Wideband Technology
UWB's versatility for a multitude of applications has made it a go-to "old-new" technology, and NXP has taken advantage of this sudden demand for ultra-wideband chips and devices. Netherlands-based NXP has combined signature technology solutions for radio interface (RF), security, power management, digital processing, and other applications. With the surge in smartphone communication technology, driven in part by ultra-wideband applications, the company is poised to become a major player in the UWB chip marketplace for years to come.
NXP aims to make short-range RF communications the new benchmark for cellphone communications, which could eventually make Bluetooth a secondary platform –which would have been unthinkable just a few years ago. That's part of what makes NXP a first-tier market disruptor.
But when technology makes decades-old accessories obsolete, or at least changes the functional foundation of these accessories, that's the very definition of disruptive, groundbreaking technology. And that's exactly what NXP has done with ultra-wideband chips for automobile keys.
NXP's UWB chips provide superior spatial awareness for connected vehicles to precisely gauge user locations. Thanks to UWB chips, smartphone car access now equals the ease and convenience of traditional key fobs, with even less power demand.
Some of the additional applications NXP could deploy UWB chips for in automobiles include drive-thru payments, autonomous driving vehicle valet parking, theft prevention, and "car as a key" technology, where a vehicle Is used as a "key" for garage access, parking permissions, and more.
With a 2018 revenue exceeding $9 billion, NXP should continue to exceed expectations over the short and long term, thanks to their specialized ultra-wideband applications.
Get Ultra-Wideband Chips,Technology, and Components with Sourcengine
Sourcengine™ knows all about market disruption. Our e-commerce platform goes beyond traditional parts aggregation and regular supply chain techniques to leverage the total global marketplace. As a result, everyone from e-procurement associates to designers can help your organization save time and money with electronic parts sourcing – including UWB chips.
Checkout a demo, or sign up with Sourcengine and discover how our supply chain software optimizes real-time deals, global supply chains, traceable suppliers, and more.
‍
Article Tags