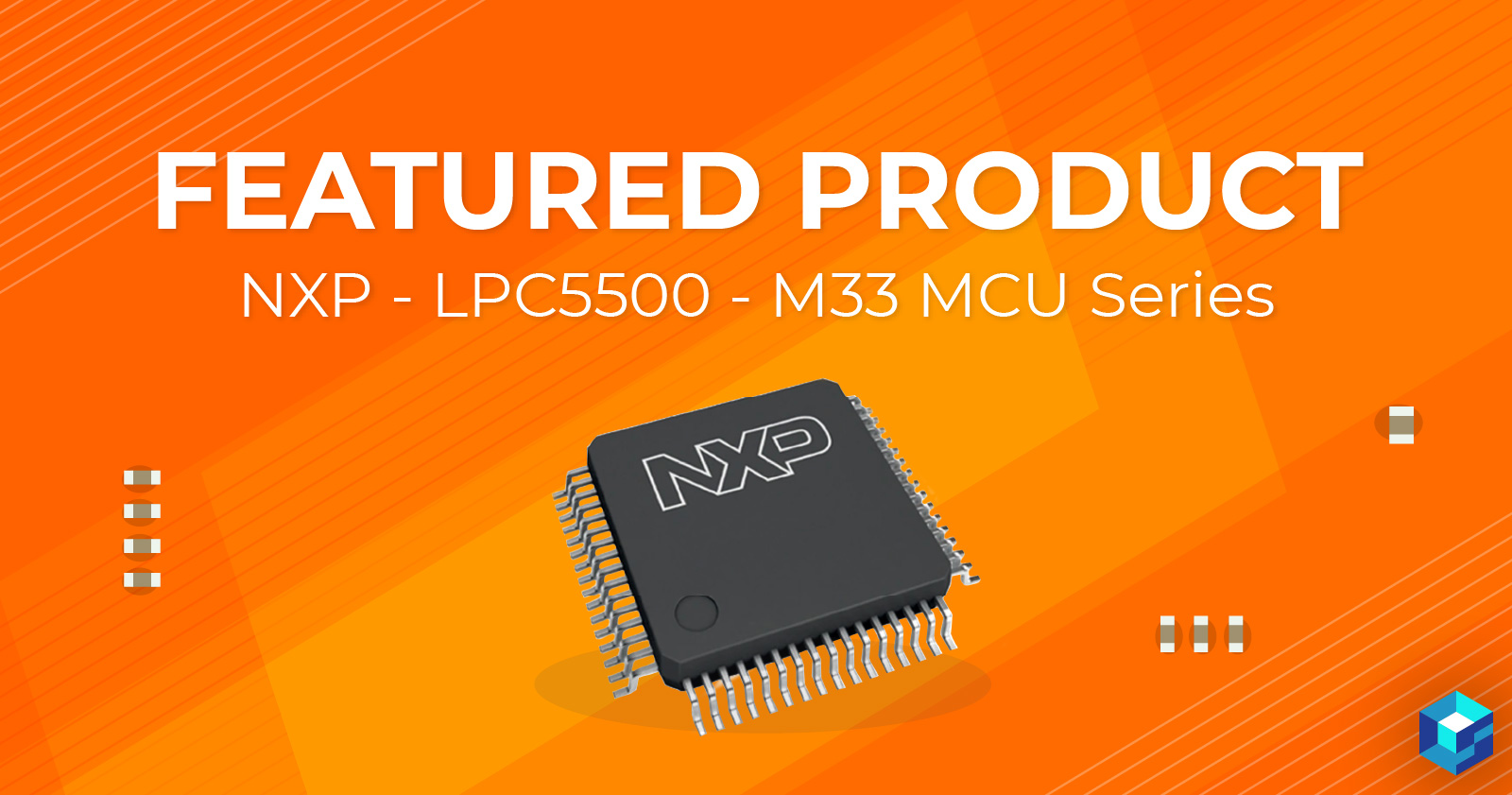 NXP Semiconductors has married next-generation performance with the peace of mind provided by end-to-end encryption with its LPC5500 MCU series. The mass-market family of microcontrollers utilizes ARMs Cortex-M33 technology to provide significantly enhanced architecture, integration, and power consumption compared to prior generation MCUs.
With the LPC5500 series, NXP has introduced the world's first general-purpose Cortex-M33 microcontrollers. The LPC55S6x MCU family leverages a proprietary DSP accelerator to offer 10x cycle reduction, a significant improvement in signal processing capability. These high-efficiency chips utilize Arm's new Armv8-M architecture to achieve new levels of performance.  
In addition, the LPCXpresso55S69 development boards offer flexible and powerful platforms for NXP's Cortex-M MCUs. The boards allow for expansion using Arduino, Mikroe, and PMod headers and feature a high-speed USB port and Link2 debugging probe. In tandem with the LPC55S69 dual-Cortex-M33 core processors, they allow for rapid evaluation and prototyping.
Furthermore, NXP's Cortex-M33 microcontrollers feature advanced security functionality thanks to their SRAM PUF-based root of trust and provisioning. The LPC5500 single and dual-core MCUs also provide real-time execution from encrypted images (internal flash) and system-wide asset protection via Arm's TrustZone technology.
Boasting seven scalable families and a host of memory and package options, the LPC5500 MCU series are a versatile and secure solution for a range of consumer and industrial Internet of Things (IoT) products.
Specifications
Robust offering and scalability with 40 nm cost advantage, comprehensive memory and package options, and powerful enablement including MCUXpresso Software and Tools ecosystem
Groundbreaking performance efficiency of 30uA/MHz via integrated DC-DC interconnectors and dedicated co-processors that allow for cryptographic acceleration and signal processing
High-grade and accessible IoT security with SRAM PUF, real-time encrypted images, and Arm TrustZone asset protection
Over 370 CoreMarks (96 MHz) which ensures productive awake time
On-chip memory
Core Platform: Arm Cortex-M33
FPU, MPU, SIMD, TrustZone
DSP accelerator: Arm Cortex-M things 33 (Optional Core) and Crypto Engine
Analog: ACMP, ADC, and Temp Sensor
Interfaces: 8 x FlexComm, HS LSPI, SDIO, and FS USB + PHY
Programmable Features: Programmable Logic Unit
System Control: Power Control
Single V DC power supply
POR and BOD
Reduced power modes – DC-DC convertor: Clock Generation Unit, Secure DMA0, and Secure DMA1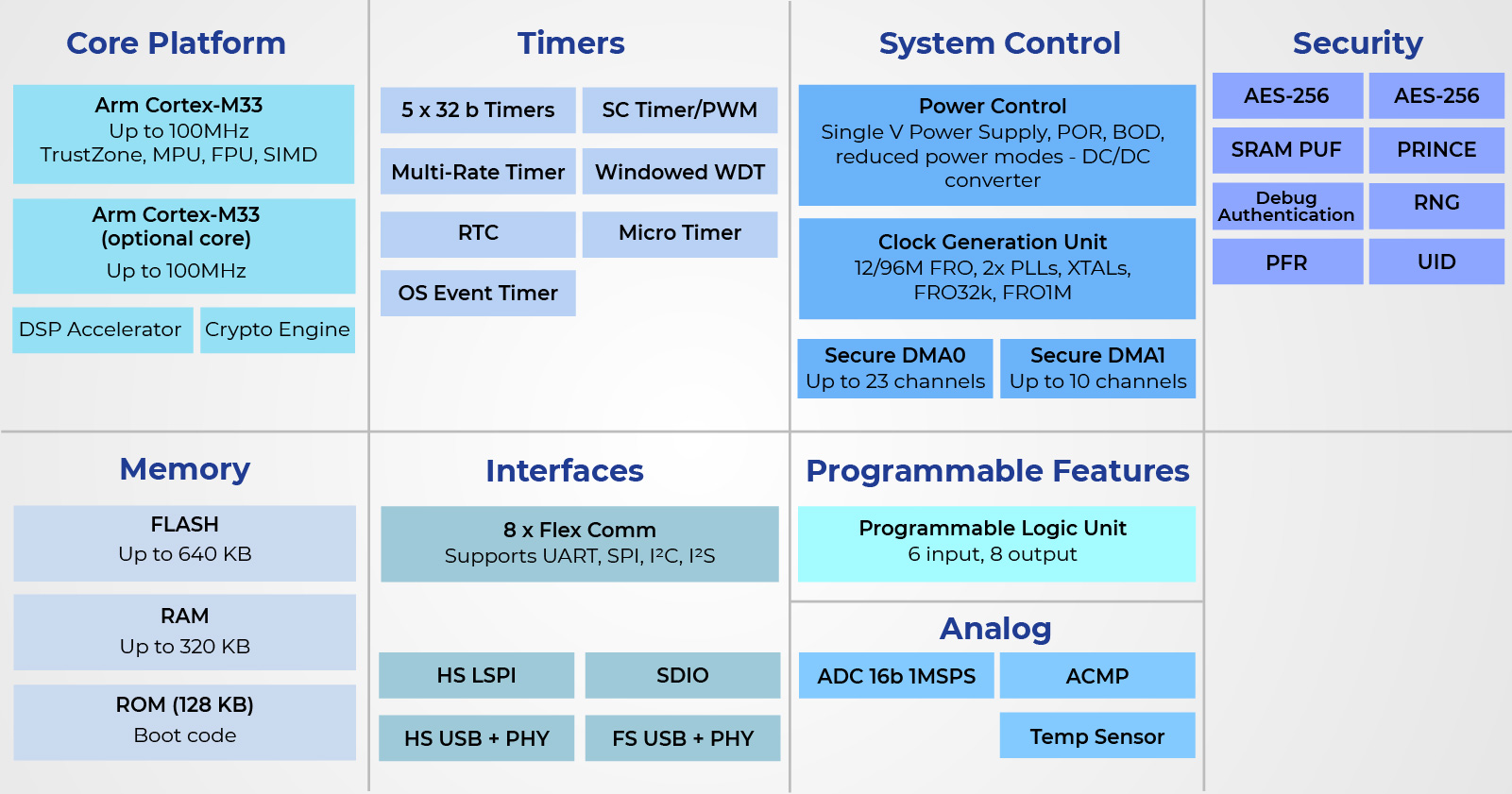 Applications
Building control and automation
Consumer electronics
Diagnostic equipment
Industrial IoT
Machine learning
Secure applications
NXP's LPC5500 series microcontrollers are an ideal solution for companies interested in developing game-changing consumer and industrial IoT products. The chips possess a combination of next-generation level performance, low power consumption, and end-to-end security that tomorrow's networks require.
‍
NXP LPC5500 Series MCUs
Article Tags