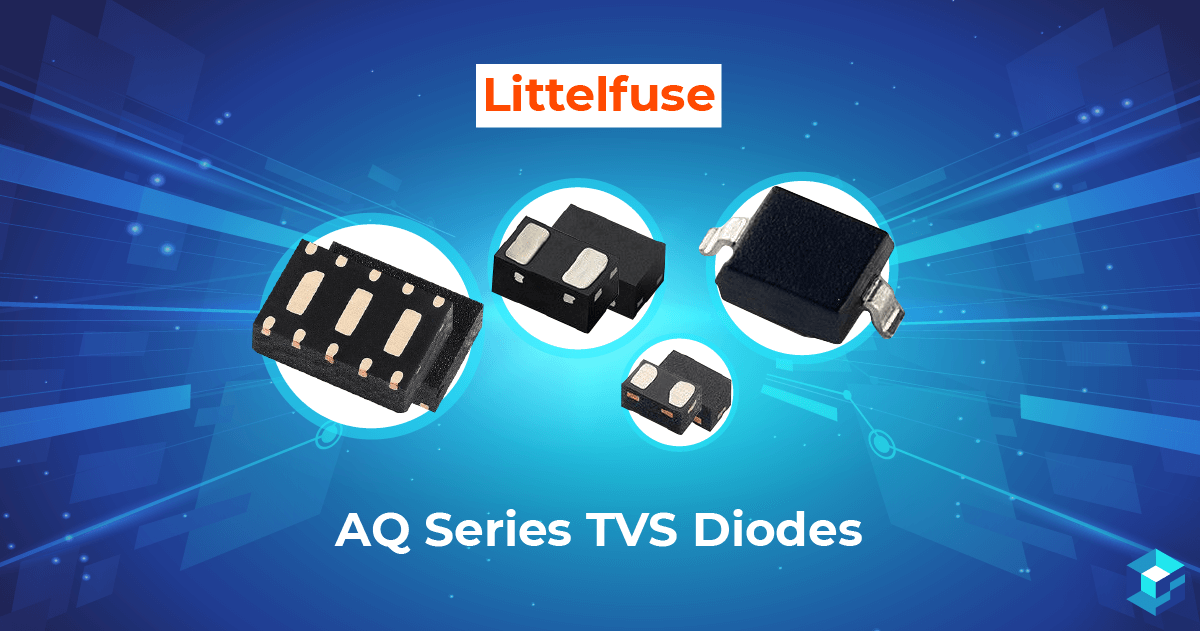 The increasing popularity of electric automobiles and rising demand for vehicles with greater levels of safety and comfort has dramatically expanded the market for automotive electronics. Global Market Insights estimates the sector will be worth $645 billion by 2030, up from $285 billion in 2018. However, OEMs looking to take advantage of the rapidly growing segment need to utilize quality components when constructing their systems. Notably, Littelfuse has developed a line of transient-voltage-suppression (TVS) diodes, the AQ series, that are suitable for use in next-generation automotive systems.
Features
For optimal functionality, a vehicle's electronic systems need guarding against damaging high-voltage transients. Indeed, overstress caused by electrostatic discharge (ESD) and inductive load switching can devastate a car's delicate integrated circuits. To address the issue, Littelfuse developed the AQ series of TVS diodes.
The firm's components are robust enough to manage ±30 kV of ESD. Moreover, the AQ series has a peak pulse power of 450 W and an operating temperature range of -40°C to 150°C. Littelfuse designed its automotive diodes with a very slight profile of less than 2.76 mm squared. As such, OEMs can easily integrate the electrical short preventing semiconductors in their PCBs.
Furthermore, Littlefuse made its AQ series broad enough to encompass a range of automotive systems. The supplier made its diodes available in uni- and bidirectional configurations in a spectrum of voltage options. OEMs can purchase both iterations of the ESD suppressing components in 5V, 12V, 15V, 24V, and 36V varieties.
It's also worth noting that AQ TVS diodes have a level 1 moisture sensitivity rating and are AEC-Q101 qualified. Moreover, the AQ series are halogen and lead-free and are compliant with the Restriction of Hazardous Substances Directive.
Applications
Littelfuse designed its AQ series TVS diodes for use in automotive electronics systems. The product line's ability to withstand high levels of EDS makes them ideal for protecting next-generation vehicle networks. In addition, the line's wide range of configuration options makes it suitable for a diverse array of implementations.
However, the AQ series can be utilized outside their primary application. For instance, the components have the capacity to protect against electrical shorts makes them useful in medical equipment and testing instruments. Moreover, OEMs would be well-served by equipping their notebooks, desktops, and servers with Littlefuse's TVS diodes.
Check out Sourcengine's range of Littelfuse AQ Series TVS Diodes.
‍
‍
‍