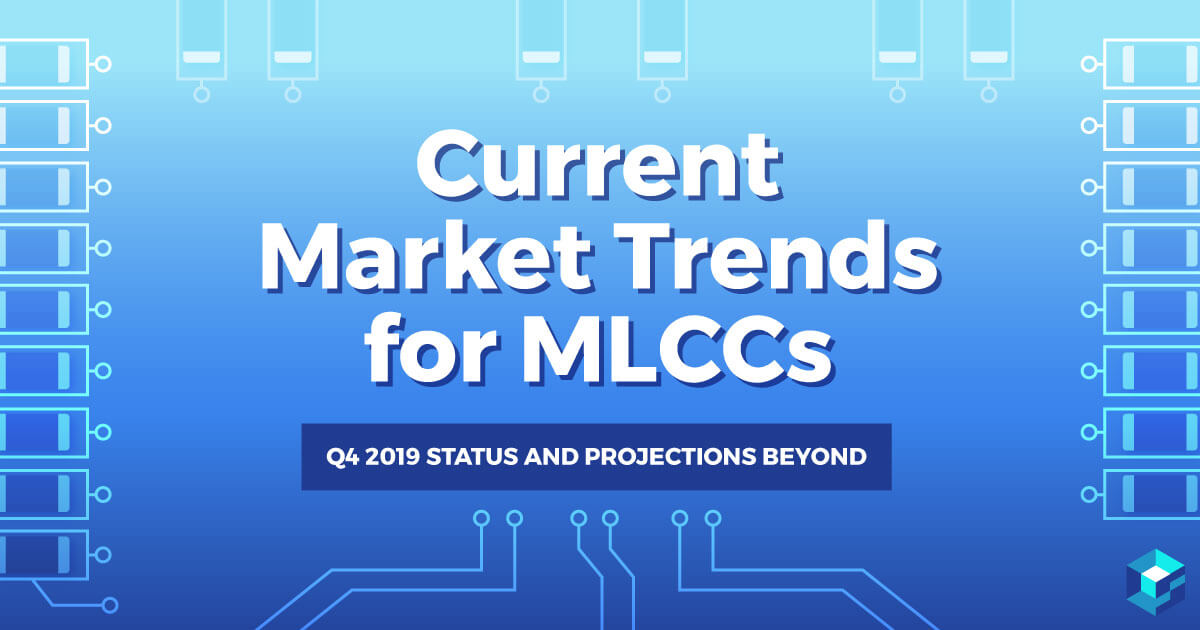 The existing multi-layer ceramic chip capacitors (MLCCs) market is, well, multilayered. Even though MLCCs have been around since the early 1960s, they're still considered an emerging technology, given the tremendous advancements in memory, performance, and durability on an annual basis.
While MLCC performance and output has been pointing up throughout the 2010s, overall market revenue has been up and down, with an overall "flat" trend line. So, what's going on with MLCCs? Actually, this neutral revenue / high performance conundrum is present throughout the overall global marketplace for electronic components, in everything from diodes to batteries to power converters and more.
While demand continues to grow, suppliers and distributors have responded with mostly conservative corresponding supply. Strategic goals are fluid, given lower than normal ROI. "Proceed with caution" seems to be the current MO for MLCC manufacturers. Even as global output approaches 4 trillion total ceramic capacitors, demand continues to outpace current supply figures.
To give a full perspective of the MLCC marketplace – and project next-decade supply and demand – it helps to see where it currently stands.
As an update to our MLCC market status published in Q1 of 2019, three key factors have defined 2019 MLCC performance trends:
Sector-dependent supply and demand challenges,driven primarily by five key segments (see below).
Disruptive trade disputes between the United States and China (and, to a lesser extent, disputes between ancillary suppliers, contractors, and manufacturers outside those two countries).
Fluid, unpredictable smartphone demand, for both developed and emerging markets.
Today's Shortages, Tomorrow's Opportunities: Trade Wars and More
Current demand for MLCCs is greater than ever, driven primarily by significant technology breakthroughs (and corresponding market growth) in the overall electronics industry. Specifically, a handful of sectors will continue to keep MLCCs firmly in the spotlight:
IoT devices – particularly for connected automobiles, personal health tech devices, and other interconnected accessories.
Telecommunications – as 5G technology continues to take hold in the American, European, and Asian markets, MLCC availability is critical to infrastructure, hardware support, etc.
Computer data centers and industrial servers –from cloud computing to traditional (physical) data centers, the demand for MLCCs is greater than ever.
The military-industrial complex – MLCC distribution is a critical component for supply chain processes related to government contracts, military accessories, and related equipment.
Vehicular technology – as the "connected vehicle" becomes more commonplace, MLCCs are necessary to connect IoT devices, software applications, car-to-car (and car-to-server) communications, and much more.
While suppliers and manufacturers struggle to keep up with surging demand – particularly in the 5 segments listed above – opportunities exist for companies with access to smart, streamlined supply chain software. In a saturated marketplace, MLCC demand isn't as critical for project deadlines and last-minute design changes, since any distributor from practically anywhere in the world can accommodate the most aggressive delivery schedules.
Of course, this is different in a relatively restricted marketplace. And we can't dismiss the recent trade wars between the U.S. and China, which also affect other major MLCC consumers and suppliers across the globe. To paraphrase a famous saying, "You may not be interested in politics. But politics is interested in you." Politics, in this instance, refers to the ongoing trade disputes between these two countries, which are two of the largest consumers and producers of MLCC products and technology. Tumultuous new reports, never-ending bluster between trade officials, and ever-changing trade agreements are now the new normal for the MLCC market.
The 2020s and Beyond: Next-Decade Projections for MLCCs
To get an idea of the MLCC marketplace (strictly from a demand perspective), let's take a look at one of the most popular personal electronic devices in history: the Apple iPhone. A few years seems like a lifetime when discussing rapid technological developments, which makes MLCC usage in two popular models – the iPhone 6 and the iPhone X – the ideal reference points to project the MLCC marketplace from now to 2020 and into the future.
The iPhone 6 was released in September 2014 and used 700 MLCCs per model. The iPhone X was rolled out just over three years later in November 2017; however, the iPhone X integrated roughly 1,100 MLCC into its base design, a significant 57% increase in less than 40 months.
Since popular consumer electronics drive the MLCC market, that 57% demand every three years (simply looking at iPhone production) is a good starting point to project future growth, as smartphone production will continue to play a significant role in MLCC distribution. Even as consumers gravitate to other wearable technology and MLCC utilization becomes more efficient, these electronic components will still be in demand in the next decade and beyond. Plus, given the impressive growth with personal IoT and industrial IoT technology, MLCC demand isn't going away anytime soon.
Most industry experts project steady yearly expansion of the MLCC market, with estimates ranging anywhere from roughly 4-8%. We suspect annual growth should be on the larger end of that spectrum, thanks to continued IoT market penetration and a bounce back for smartphone demand in the wake of a slight global downturn.
Smartphone and related IoT device demand will be the key catalyst for overall MLCC demand. If widely distributed phones (like the iPhone) continue to utilize MLCCs roughly 50% more every three years, the arrow will continue to point up for global supply requirements. Even as MLCCs become more efficient, consumer demand may nullify these engineering and design improvements in the form of overstretched suppliers and distributors.
Article Tags