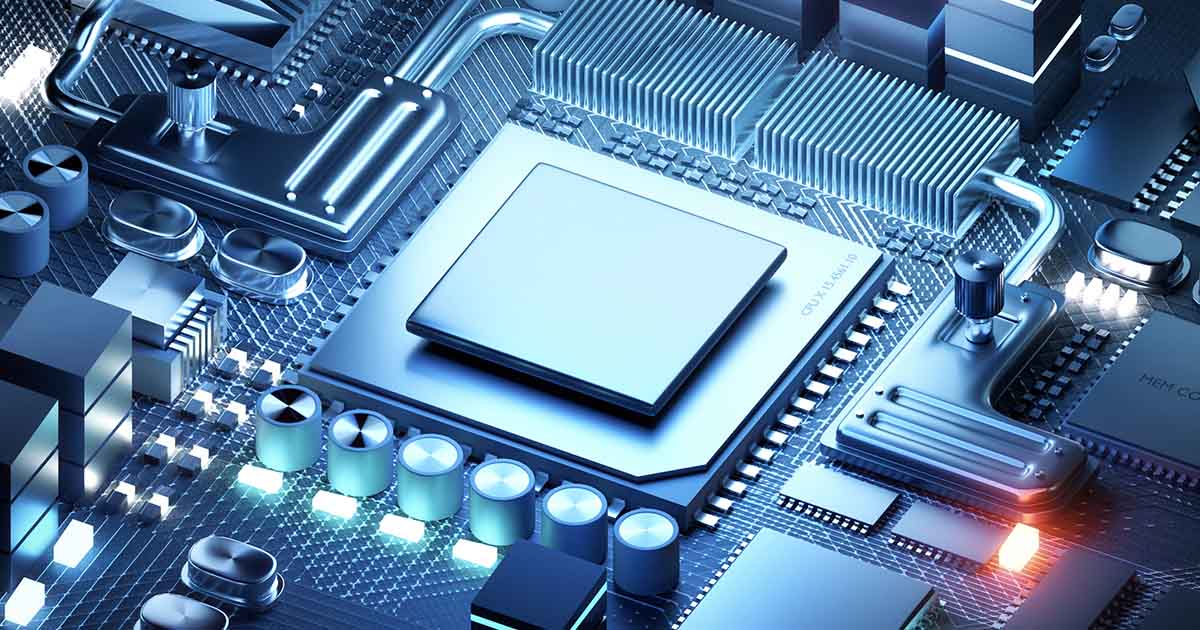 Earlier this month, reports emerged that surging demand for new automobiles has prompted an industry-wide semiconductor production shortage. Since then, the situation has been exacerbated by a shortage of raw materials used in making components. As a consequence, motor vehicle production has become severely disrupted, and component procurement has become more expensive.
Because of the shortage's multisector impact, original equipment manufacturers (OEMs) should expect across the board pricing volatility, extended lead times, and stock-outs in the near future.
Here's a closer examination of the raw materials shortfall, the circumstances that caused it, and its expected duration.
Not Enough ABF and Glass Substrate to Go Around
Manufacturers will feel the effects of reduced availability for Ajinomoto Build-up Film (ABF) and glass substrates in 2021.
Last year, manufacturers ramped up their output of central processing units (CPUs), graphics processing units (GPUs), and computer peripherals to meet consumer demand. Because of the coronavirus pandemic, employees and students needed to upgrade their hardware to work and learn from home. This trend led to significant growth in the personal computer market, but it also caused a shortage in ABF substrate.
At one point, orders for the insulation material exceeded the available supply by 20 percent, which generated widespread pricing volatility.
DigiTimes expects ongoing end-market demand for high-performance GPUs and CPUs, coupled with ongoing 5G buildouts, to increase ABF prices by 15 to 20 percent this year. Since International Data Corporation (IDC) expects purchases of consumer computing hardware to remain high until 2022, ABF quantities will remain limited and expensive in the long term.
The new organization also noted LG Electronics, AU Optronics, and Innolux Corporation are grappling with a glass substrate shortage. Consumer hunger for new televisions and computer monitors, which feature liquid crystal display (LCD) panels, have fostered a supply scarcity. DigiTimes predicts the problem could drive glass substrate prices up by as much as 70 percent this year.
Heavy Auto Sector Demand Prompts Shortages for PCB Materials
The coronavirus pandemic and higher-than-expected demand for new hardware fostered conditions for a shortage of crucial printed circuit board (PCB) raw materials.
COVID-19 related quarantine mandates created a shortfall in foil copper supplies used to make PCBs and lithium batteries for battery-powered vehicles. The global health crisis also created a pent-up interest in automobiles, especially EVs, in large markets like China. Manufacturers responded to that development by dedicating their production capacity to lightweight copper foils used in personal transport batteries.
As a result, prices and lead times for heavy copper foils used in PCBs have increased.
In addition, many governments plan to enact laws banning the sale of new gas-powered vehicles in the next decade. That development will fuel EV sales, which will, in turn, constrain availability for lightweight copper foils.
Similarly, the automotive sector has had increased demand for aluminum as it is used to make vehicle lighting systems. That will be a problem for PCB manufacturers as the material is needed to fabricate insulated metal substrates (IMS) and metal-backed printed circuit boards (MPC).
Market insiders forecast the electrification trend will make PCB sourcing harder and more expensive for electronic device makers through the 2030s.
COVID-19 Worsens Existing 8-Inch Wafer Shortage
Although the chip shortage began manifesting late last year, the raw materials shortfalls that prompted it are older. In Q3 2019, industry analysts began seeing signs of a deficit in 8-inch (200mm) silicon wafers. The problem was a result of 3 overlapping, concurrent issues: surging demand, manufacturing difficulties, and international commerce tensions.
First, 5G network deployments and rising interest in electric automobiles resulted in a high demand for integrated circuits (ICs). Second, foundries could not significantly increase wafer output because they lack the equipment needed to fabricate the older, 8-inch wafer type. Third, Chinese chipmakers began stockpiling silicon to avoid future and retaliatory tariffs issued by Washington and Beijing.
Even with wafer foundries working at 99 percent capacity, those three factors introduced disruption to the global component sector.
In Q1 2020, COVID-19 reached pandemic proportions and prompted a widespread sequence of regional, government-mandated lockdowns. Those production shutdowns negatively impacted silicon and semiconductor production, which worsened existing supply.
For 2021, OEMs should anticipate the wafer crunch to raise analog IC prices by 20 percent.
Leading Carmakers Suspend Production Due to Chip Shortages
Heavy demand for electric vehicles (EVs) resulted in constrained availability for some consumer electronic parts. In addition, intense interest in smartphones, video game consoles, and smart TVs created an automotive chip deficit. Now, leading carmakers have been forced to suspend production at their plants.
Bloomberg reported that Toyota Motor Group, the world's second-largest vehicle manufacturer, partially suspended production at its Guangzhou, China factory. The corporation believes its stock out related pause will decrease the facility's output by 30 percent this month.
Honda Motor Co. ordered a production slowdown at five of its U.S.-based plants and one U.K. factory because of the part shortage.
Volkswagen has furloughed over 10,000 workers because of the supply crunch, but it expects annual output to remain unaffected. Fiat Chrysler Automobiles has temporarily shuttered a Canadian plant and delayed a production restart at another facility in Mexico due to the shortfall.
Ford Motor Company directed its Kentucky SUV manufacturing facility to suspend operations to help stretch its dwindling semiconductor inventory. It is also leaving two of its plants in India idle in response to the component crunch.
Finally, General Motors requested the Taiwanese government intervene to help it secure badly-needed supplies. Local officials reportedly passed the appeal along to regionally-based foundries like Taiwanese Semiconductor Manufacturing Corporation (TSMC). However, the area's contract chipmakers may rebuff those offers because consumer electronic parts are more profitable.
IHS Markit estimates the automotive component shortage will continue until the second half of this year. The raw material and production capacity shortfalls will not decrease as long as consumer electronics end-market demand is high.
That means pricing and part availability will not approach traditional seasonal levels until sometime in 2022.
Article Tags