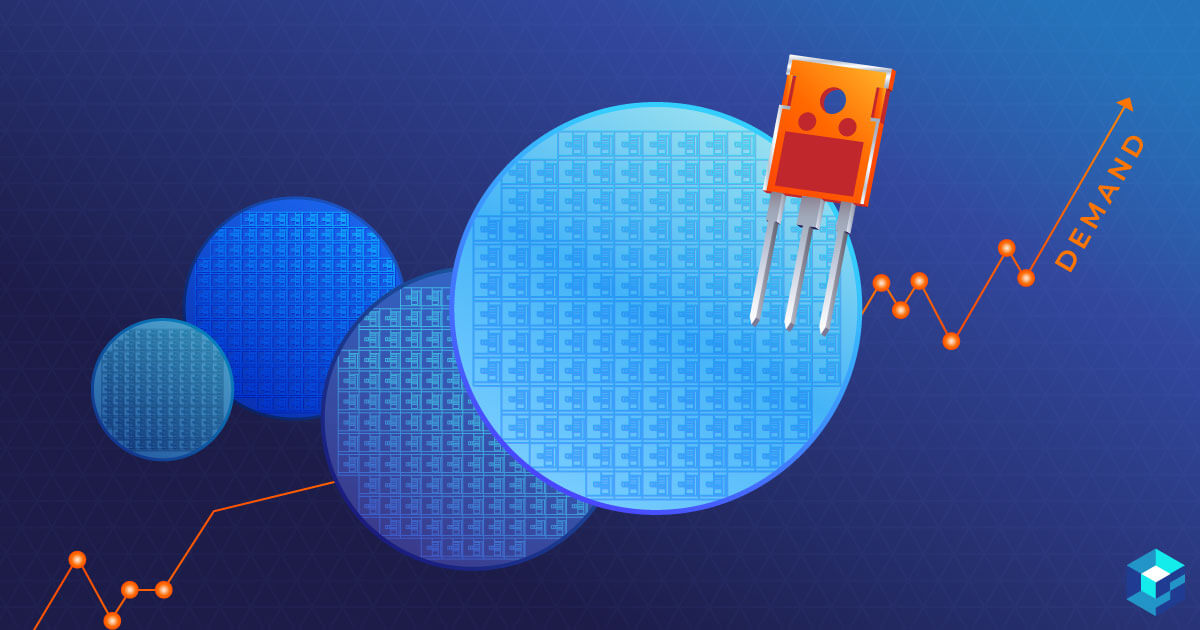 MOSFET is an abbreviation for "Metal Oxide Semiconductor Field Effect Transistor" and can be well-defined as a power semiconductor that is used as an electronic switch device to control the loads as per requirement. Apart from being cost-effective solution to replace bipolar junction transistor (BJT), it also enables power management to enhance energy conservation in various applications such as industrial systems, consumer electronic, and electric vehicle. At present, it is used in renewable resources and electric vehicles to improve switching speed, prevent power loss and to amplify electronic signals in the electric devices.
The global Power MOSFET market has had a steady growth in recent years and is expected to grow at a steady CAGR in the years to come. The global Power MOSFET market size was valued at $3,730 million in 2016, and is projected to reach $6,340 million by 2023, registering a CAGR of 7.40% during the forecast period of 2017 – 2023. The market growth for this market is driven by increasing requirement for compact automation solutions, enhanced efficiency,and durability. The global power MOSFET market is expected to witness moderate growth in the near future, owing to compact size and enhanced durability.However, high implementation cost and current leakage hinders the market growth. Integration of power MOSFET with HMI is expected to provide lucrative opportunities to the market growth.
In this article, we will assess the market for MOSFETS from multiple angles. The viewpoints are based on the type, power rate, application and geography.
POWER MOSFET MARKET, BY TYPE
Power MOSFETs are classified into two types: Depletion mode power MOSFET and Enhancement mode power MOSFET. Depletion mode power MOSFET is a packaging type, which is widely used in UPS, air conditioners, inverters, and welding machines to control the power and minimize the power loss. Enhancement mode power MOSFET is a power module with high current rating by paralleling semiconductor chips and is widely used in industry and traction applications.Currently, the enhancement mode power MOSFET segment occupies much of the market share and is expected to maintain its dominance throughout the forecast period. However, the depletion mode power MOSFET segment is anticipated to grow at the highest CAGR, owing to the increase demand of this segment in the coming future.  
POWER MOSFET MARKET, BY POWER RATE 
Based on the power rate, the market is segmented into high, medium and low power rate. In 2016, the low power segment accounted for the largest market share, followed by medium and high-power rate respectively. The medium power segment is anticipated to grow at the highest growth rate. Voltages greater than 35 kV are called as high voltage. Medium voltage ranges between 2 kV and 35 kV and the voltage below 2 kV are called as low voltage. Low power MOSFET is the most preferred MOSFET worldwide and is expected to remain a leading choice throughout the analysis period and is anticipated to exhibit faster growth, with a significant increase in the contribution to the world power MOSFET market owing to the increased adoption of MOSFETs in automotive and consumer electronics.
POWER MOSFET MARKET, BY APPLICATION
Based on application, the market has been segmented by energy & power, consumer electronics, automotive, inverter & UPS, industrial system and others. In 2016, the consumer electronics segment accounted for the largest market share, followed by automotive and industrial system. The industrial system segment is also anticipated to grow at the highest growth rate due to increasing mechanization in the businesses
POWER MOSFET MARKET, BY GEOGRAPHY
Geographically, Asia-Pacific is expected to dominate the market for power MOSFET throughout the forecast period. This is primarily due to the increasing demand for electric vehicles. Moreover, wide acceptance of power MOSFET across Europe due to the increase in the consumer electronics market,and higher adoption of power semiconductors is expected to boost the growth of the power MOSFET market.
In the past 10 years, North America emerged as an important market for power MOSFET, due to the extensive adoption across the electrical & electronic market. The United States is the major player in the market of multi-touch screens owing to the presence of key players in the region. North America contributes a smaller amount in power MOSFET market, however development in the energy & power industry for the adoption of advanced technology is boosting the market growth. Moreover, the use of power MOSFET in consumer electronics and electric vehicles is expected to drive the market for power MOSFET technology during the forecast period. The need for intelligent power management services and standardized hardware platforms by different industries has increased use of power MOSFET. Growth in the adoption of power modules and applications and rise in the number of electronic applications in North America drives the power MOSFET market. Moreover, increase in power MOSFET module implementation to improve switching performance and to reduce energy loss also boosts the growth of this market.
MOSFET MARKET, SUMMARY
The current demand for MOSFETs in 2018 and 2019 is strong across all segments, but it's the highest in automotive, industrial, and communications systems. Economically speaking, this demand is pushing the lead times out significantly,even up to 30-40 weeks. In addition, super junction MOSFETS are facing even longer lead times, extending to over a year depending on a manufacturer. As the supply becomes tighter, the market is seeing the price increase by 15% - 30%.
One of the main reasons supply remains tight is because MOSFETs are built on 150 mm and 200 mm wafer production lines. Other chips, such as display drivers,micro-controllers and mixed-signal semiconductors, are also built on 150 mm and 200 mm wafer production lines and there's not enough capacity to go around.
To conquer these production challenges, the manufacturers will, most likely, manufacture MOSFETs on 300 mm wafers instead of 200 mm or 150 mm wafers.  With larger size wafers, chip makers can produce more chips per wafer effectively increasing supply. Over the next five years, many chip makers will likely follow suit and produce MOSFETs on 300 mm wafers. Around 2022 or 2023, the supply of MOSFETs will most likely start catching up to its demand. Until then, having a valuable stock in the warehouses will be of crucial importance.
PRODUCT AVAILABILITY
As mentioned above, having the product availability is crucial when it comes to tight deadlines and on-time deliveries to OEMs. When searching for immediate stock of MOSFETs, Sourcengine is a one-stop shop for all your sourcing needs. With our sophisticated e-commerce platform, engineering product specs and data sheets, as well as the information regarding the lead-times and prices, Sourcengine can fulfill all your electronic component sourcing needs by individual part number search, multiple part number search or our sophisticated BOM upload tool.

Visit www.sourcengine.com today and find our how we can help your organization with the product procurement or to schedule a demo with one of our product managers, please click here.
References:
1.      https://www.alliedmarketresearch.com/power-MOSFET-market
2.      https://www.sourcetoday.com/supply-chain/lead-times-grow-power-mosfets-new-entrant-d3-semi-seizes-opening
3.      https://www.electronicdesign.com/power/infineon-introduces-new-generation-power-mosfets
Article Tags