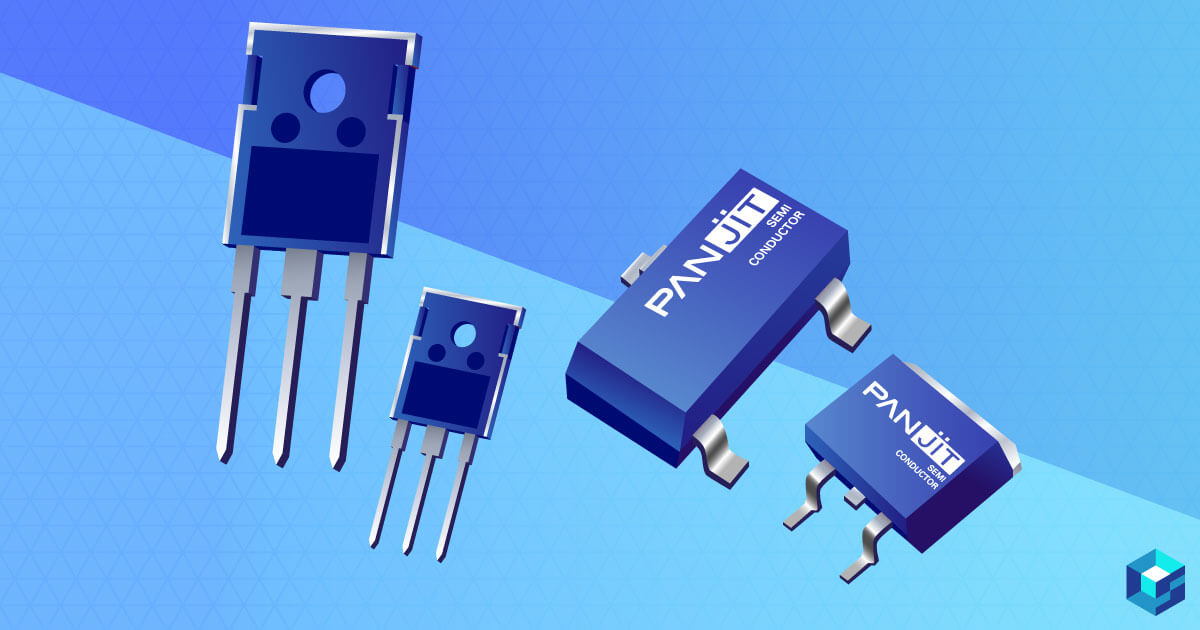 Editor's Note: This blog was originally published on July 5, 2019, but it has been updated for accuracy and relevance.
The MOSFET (Metal Oxide Semiconductor Field Effect Transistor) is a type of semiconductor widely used for switching and amplifying electronic signals. These components are commonly used in modern integrated circuits (ICs) because their microscopic size allows them to be packaged in a single chip. One of the main advantages of a MOSFET is that it requires little to no input current to control the load current making it different than other bipolar transistors.
MOSFETs feature four terminals; source(S), gate (G), drain (D), body (B), and a dielectric layer for insulation. The device's body is frequently connected to the source, making it a three-terminal field-effect transistor. That means it can direct current flow by controlling the electrical field. It is one of the most common transistors used in digital circuits with hundreds if not billions included in a memory chip or microprocessor.  
This very amusing video breaks down exactly how MOSFETs work:
Because of their unique characteristics, MOSFETs can be used in analog and digital circuits serving applications in the automotive, computing, transport, telecommunications, gaming, and mobile device sectors. Recently, since the rise in popularity of the electric vehicle (EV), MOSFETs have become widely used in EV charging stations to control the charging and discharging process. Since its inception in 1947, the MOSFET has become the most frequently manufactured electronic component of all time.
During the 2020-2022 global semiconductor shortage, MOSFETs became hard to find. After COVID-19 began, a supply-demand imbalance emerged in the automotive sector and rapidly spilled into over 169 industries. Manufacturers and their foundry service partners are working hard to ease the bottleneck by ramping up production. Availability and production gradually increased over 2022, with many IC-design houses working overtime to mitigate component shortages.  
The automotive chip shortage has eased throughout 2023 thanks to production strategies by IC-design houses. However, according to a report by Research and Markets on the MOSFET relay market share, the increase in EV sales in recent years will continue to fuel growth and demand in the MOSFET market. Furthermore, continued action by lawmakers to incentivize consumers to switch over to EVs will contribute to rising demand in the coming years.  
The same applies to adopting artificial intelligence in organizations thanks to the popularity boom in generative AI due to OpenAI's ChatGPT. The need for high-speed data acquisition will contribute to the growing demand for MOSFETs in applications.
As the shortage continues to ease, manufacturers can find a variety of MOSFETs from PANJIT with high availability. PANJIT's portfolio features multiple circuit configurations, including high-speed, high-performance, low resistance, and small package sizes. The versatility of its offerings enables engineers to optimize their IC designs.
For example, PANJIT developed advanced high-density cell design and trench structure for its devices. Therefore, when used in a synchronous-rectification DC/DC converter, its MOSFETs provide lower-than-usual power dissipation and switching losses. That's less energy lost and more efficiency in your products.
Furthermore, PANJIT's MOSFETs are available in three main categories: Low Voltage, Medium Voltage, and High Voltage or Power. That gives buyers and design teams a wide range of options when pursuing different end markets. PANJIT also offers Super Junction MOSFETs which are highly specific for a far more limited range of applications.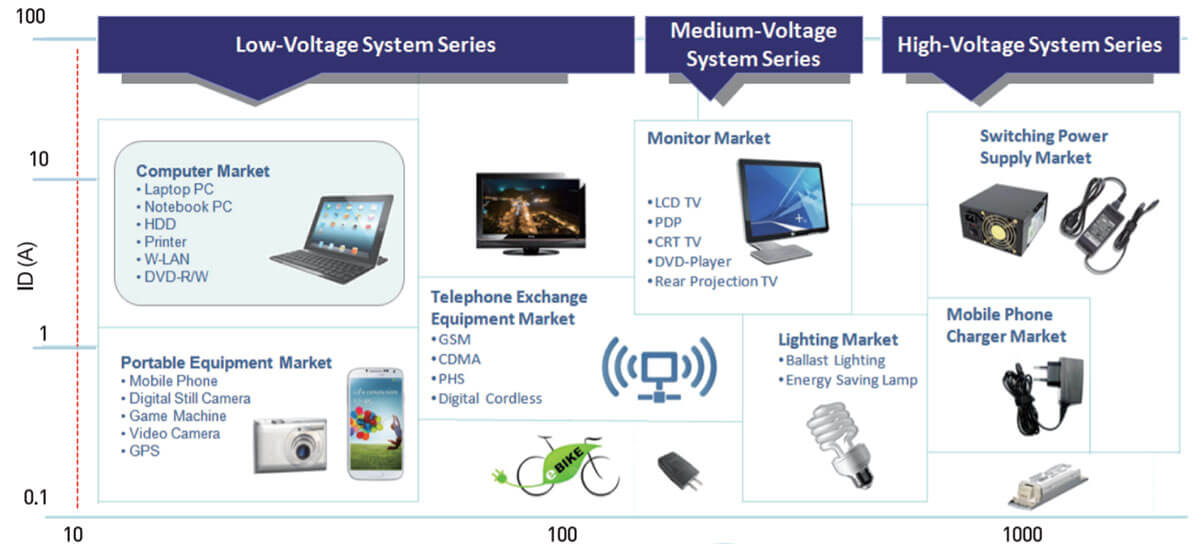 Features:
High-Speed Switching
Low RDS (ON)
Small Package Sizes
Next-Generation Trench Technology
Applications:
Automotive
Computing
Transport
Telecommunications
Gaming
Mobile Device
Lighting
Low Voltage MOSFET Specifications and Series
PANJIT designed a series of low-voltage MOSFET products in different packages to address the demands of different segments. The firm's BVDSS 20V ~ 50V components suit notebooks, tablets, and other 3C products. The product offers low resistance and enhanced performance by combining innovative designs and advanced packaging technology. PANJIT's low-voltage MOSFET product portfolio includes PJQ54, PJQ44, and PJA34. These products are AEC-Q101 qualified and 100% UIS tested. Each component is reliable and rugged, making it suitable for various industries and their applications.

Medium Voltage MOSFET Specifications and Series
PANJIT's Medium Voltage MOSFETs also utilize Trench technology to provide best-in-class characteristics. Its BVDSS 60V ~ 200V products are often used for synchronous rectification circuits in consumer electronic power supplies and telecommunications power systems. This includes the PJQ1938L, PJQ58, and PMSQC lines. These products come with high switching speed and low reverse transfer capacitance. Additionally, they are in lead-free compliance with the EU's RoHS 2.0 standard and green molding compound per IEC 61249 standard.

High Voltage (Power) MOSFET Specifications and Series
PANJIT's High Voltage MOSFETs, apart from featuring outstanding performance due to their robust cell density, have low conduction and switching losses. BVDSS 400V ~ 1000V can be used for AC-DC chargers, industrial equipment, and LED lighting equipment. Their active product lines are PJP2NA70, PJP3NA80, and PJP7NA60. These MOSFETs offer low gate charge, improved dv/dt capability, and low reverse transfer capacitance.  
It should be noted that most of PANJIT's High Voltage MOSFETs are currently EOL and NRND. This does not apply to the components listed above as they are still active and available.

Super Junction MOSFET Specifications and Series
PANJIT's Super Junction MOSFETs are easy-to-use with excellent performance capabilities thanks to their high switching speeds and low switching loss. BVDSS 600V – 650V can be utilized in several power applications including TV, Industrial, PC ATX, PFC, PC, Adapter, UPS, and PD charging. These products are 100% avalanche and gate resistor tested assuring reliability and durability for many products.  
PANJIT's Super Junction MOSFETs include PJMP310, PJMH190, and PJMH074.  
In addition, PANJIT conducts comprehensive avalanche energy testing to ensure the reliability of its products. To learn more about PANJIT's product lines, send our global team of experts an RFQ today!
‍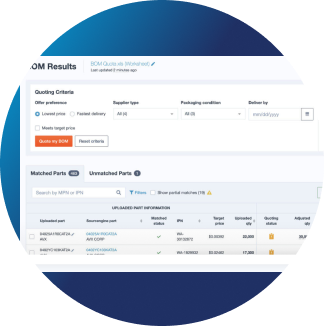 Quotengine: Your Ultimate BOM Tool
With Quotengine's real-time data on over 1 billion part offers, managing your BOM effectively has never been simpler.
Upload Your BOM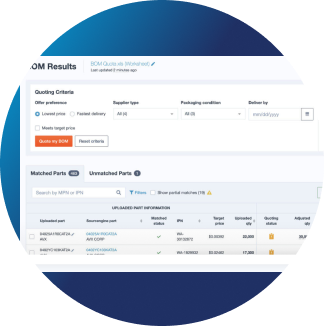 What's Your Excess Worth?
Real-time market data, quick response time, and unique price offers to help you maximize your return on excess inventory.
Get an Estimate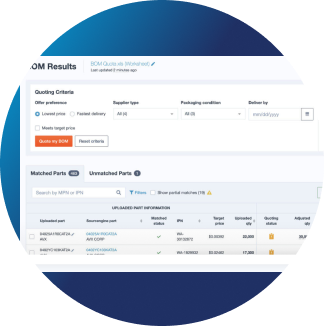 The Last Integration You'll Ever Need
Streamline manual processes and gain real-time access to inventory data, pricing updates, and order tracking through Sourcengine's API
Sign-up Here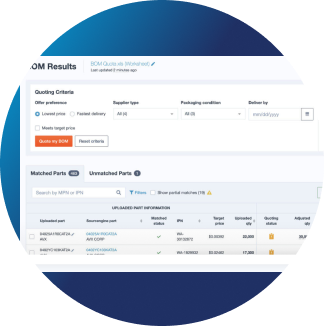 Sourcengine's Lead Time Report
Strategize for upcoming market shifts through lead time and price trends with our quarterly lead time report.
Download now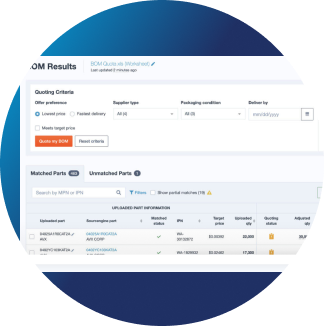 Sourcengine's Lead Time Report
Strategize for upcoming market shifts through lead time and price trends with our quarterly lead time report.
Download now