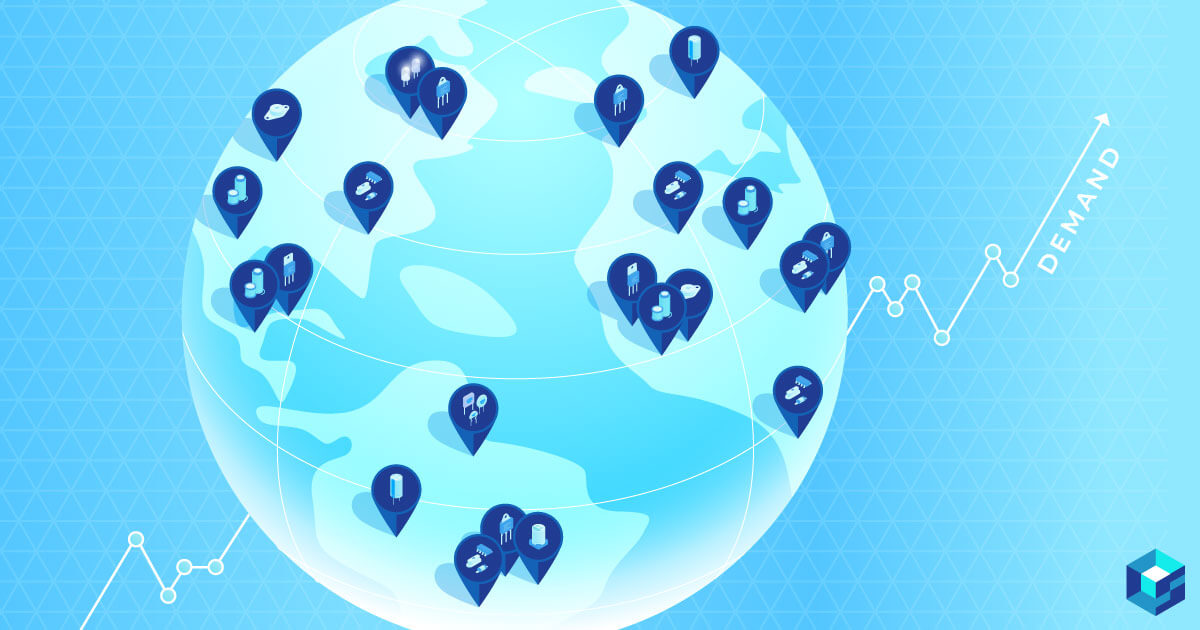 New Tech Increases Global Demand
The current state of the electronic components market has moved into unprecedented territory. Strain on availability and prices hikes are mirrored across all three regions. The benefits of having a global market have not increased supply, instead the industry is seeing shortages across the board.
As recently as 3 months ago, according to one of the major global franchised distributors, three major component manufacturers canceled their entire backlogs and were no longer giving lead times because delivery dates are pushed out over a year. Supply will come when it comes. In Europe, for example, there was a steady supply at the end of May. Demand briefly froze, but came roaring back as soon as the supply was consumed.
"In my 20 years in the electronic component supply chain industry, I have never seen a market where both the general IC (and passives) side and the commodity side had shortages at the same time," said Joakim Stafwerfeldt, Sourceability's Corporate Vice President EMEA. "What we see today continues to be the case with lead times and prices increasing on general IC and passive components, while on the commodity side (DRAM, CPUs, and LCDs) we see a flat market or even price decreases."
Back to the Future
To predict future market trends, it is common practice to look at past markets. The closest comparison to the current market is 2000, when mobile phones suddenly exploded in popularity. Then, like now, technological advances and demand drove shortages for key components.
Usually shortages are caused by a new product that is a huge success and the supply chain cannot keep up. In the case of mobile phones, everyone suddenly needed a broad range of components, but the various components went on short supply because component manufacturers had not anticipated the huge wave of demand. Manufacturers who had grown accustomed to low or negative PPVs (Purchase Price Variance) were faced with high, positive price variances, forcing them to choose between increasing prices to customers or eating the costs.
It was about a year before the shortages lessened. Component manufacturers dramatically increased capacity and the market permanently shifted as millions of pieces began flooding supply channels.
Capacitor History Repeats Itself
Like now, in 2000 it was capacitors (electrolytic) that were most in demand and saw the biggest price increases. The capacitors today are multi-layered and made of ceramic and other compounds, but the reason is the same. For every active component in a design you need a large number of passive components, like capacitors, and that's before you get into the skyrocketing demands for memory and data storage from industries across the board.
"We can expect this shortage to be more severe," says Stafwerfeldt. "In 2000, there was one big driver of the shortage: mobile phones. This time there are several contributing factors (IOT, electric cars, self-driving cars, advances in the medical industry, spending increases across the globe in the military sector) that are all creating demand."
Despite the increased demand, most component manufacturers do not want to drastically increase production. They have been losing money for years, with margins around 5-7%, and they have learned their lesson from the 2000 shortage. Now the component manufacturers have developed more advanced, smaller, higher-capacitance parts for which industries like automobiles and appliances will pay a premium. Meanwhile, the rest of the market is left to suffer as new products gobble parts up.
Are We Looking at a Repeat?
Will 2019 be a repeat of 2001? It doesn't look like it. There are more industries driving demand and component manufacturers are wary of flooding the market and depressing prices. There is also another major factor at play that is affecting pricing in a subtler but very important way: mergers & acquisitions. We will discuss that more in our second article: Unprecedented Shortages, Part 2: The Rise of Mergers & Acquisitions.