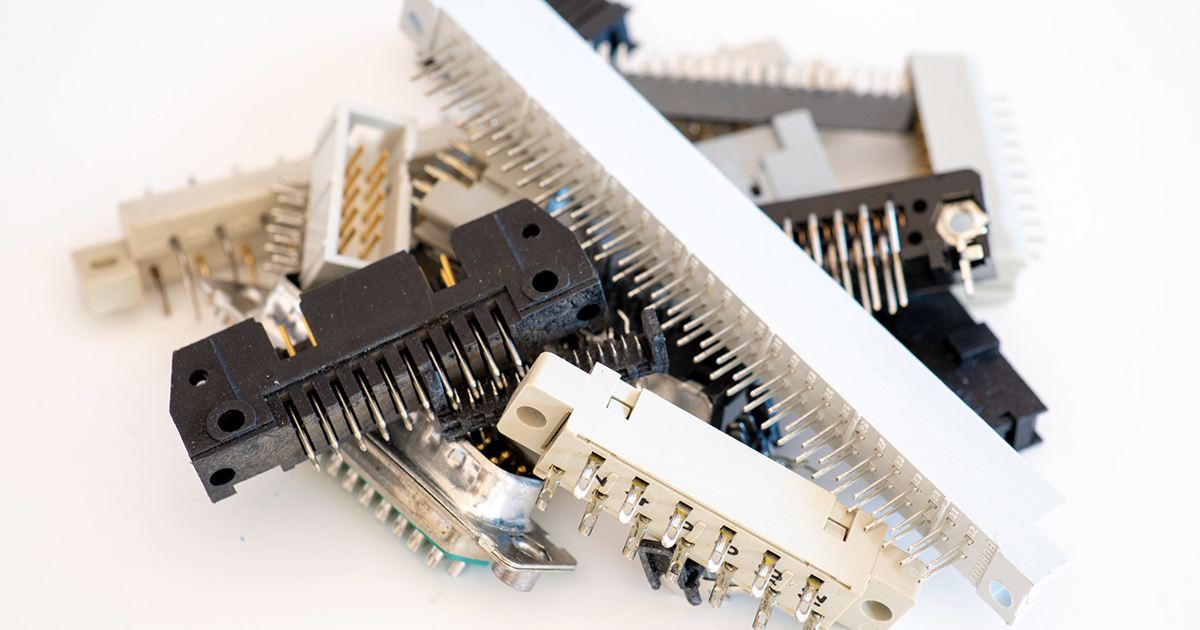 Since its inception, Sourcengine has strived to provide its users with quick and easy access to a wide array of electronic components. As a result, professional buyers can shop thousands of interconnects, including audio, board, DIN, datacom, fiber-optic, radiofrequency (RF), military-grade, and telecom connectors on our e-commerce marketplace. And we have proudly introduced numerous companies to the benefits of supply chain digitalization.
Since the global chip shortage began, we have also seen its disruptive impact spread from the automotive sector to nearly 170 industries. We have talked to OEMs, CMs, and EMS providers that are struggling to keep their doors open during the crisis, and we want to help.
Accordingly, Sourcengine is excited to announce we have thousands of fully traceable connectors from Amphenol Corporation, Molex, and TE Connectivity in stock thanks to our partnership with a franchised distributor.
Amphenol's Exceptional Military and Commercial Connectors
Amphenol has spent over $200 million on research and development annually in the last few years. Its efforts at expanding its knowledge base and catalog have paid major dividends, especially in its interconnect product portfolio.
The firm's PTIH10-6P circular connector is MIL-DTL-26842 compliant, meaning it can be counted on in even the harshest environments. The part is highly ruggedized, featuring an aluminum alloy and carbon steel shell. It has a neoprene elastomer insert and is robust enough to stand up to temperatures ranging from -55°C to 125°C.
Because of Amphenol's precision design work, the PTIH10-6P is ideal for military ground vehicles, commercial real transport, and oil & gas projects.
Similarly, the manufacturer's R&D efforts are reflected in its G881B02102KEU rectangular micro power connector. The commercial component has a thermoplastic LCP shell, a 5A per contact current ratting, and offers 250V with 15mΩ. It is also part of a product family made with accidental disconnect-preventing positive housing locks and anti-mismatch polarized housings.
The G881B02102KEU's small footprint and technical characteristics make it applications in home appliances, vending machines, networking systems, and diagnostic equipment.
Sourcengine's Amphenol interconnect products index features a comprehensive listing of the manufacturer's readily available connectors.
Molex's Outstanding Datacom and Wire-to-Board Connectors
For almost 100 years, Molex has been a significant player in the electronic components industry because of its ability to evolve and adapt. The firm's ability to tailor its output to the needs of an ever-changing marketplace without compromising quality has driven its success.
In the post-pandemic world, businesses, institutions, and individuals rely on high-speed Internet access like never before. Without stable and robust connectivity, billions of people could not work, learn, and enjoy entertainment remotely every day. Molex makes connectors that enable businesses to provide the foundations for the digital new normal.
For example, the company's 445600004 modular PCB jack is a dependable and versatile solution. The four-port component has a low-profile design and accepts Category 5/5e Ethernet cables. That means it is a perfect fit for products that facilitate the deployment of blazing-fast 1000 Mbps networks.
The global chip shortage has made procuring essential parts exceedingly challenging, but Sourcengine had the resources to address that problem. We enable buyers can acquire mission-critical datacom solutions like 445600004 jacks in the quantities they need in a timely fashion. Our e-commerce marketplace also features real-time listing for its active alternate, 445600014.
In addition, our e-commerce marketplace has listings for many Molex wire-to-board components available. The 532530880 micro-latch wire-to-board connector headers have a 2.00mm pitch,  20mΩ in contact resistance, 2A of current per contact, and a maximum voltage tolerance of 120 5V. The item is also functional in temperatures from -40°C to 104°C.  
Those attributes make the 532530880 a first-rate general-purpose part.
For even more connector choices, buyers can check out our Molex interconnects product index.
TE Connectivity RF and Fiber-Optic Connectors
TE Connectivity's engineering teams have earned or filed more than 15,000 patents in its s 15-year existence. The manufacturer's impressive development rate is the product of its innovation-centric company culture. Its prioritization of breaking new ground within the electronic components industry led to it cultivating an outstanding line of interconnect products.
The firm's  2-331350-4 AMP BNC connector is a cost-effective and responsible option for RF-related NPIs. It features a 14.53mm mated outer diameter, 50Ω, and can operate in temperatures from -65°C to 165°C. The military-grade item is compatible with RG 174 and RG 188 type coaxial cables and meets.
Consequently, it can stand up to the challenges presented by intense aerospace, defense, and marine applications.
Sourcengine has many TE Connectivity's 2-331350-4 connectors and five active alternates (2331350-1, 2-331350-6, 2-331350-9, and 9-331350-4) available for delivery because of our franchised distributor partnership.
That relationship also lets us list an array of the company's first-rate fiber-optic connection systems.
We have ample quantities of TE Connectivity's 1123445-1 free hanging simplex connector plugs housings in stock. Moreover, our e-commerce marketplace enables buyers to bid on double-digit quantities of that component at considerably lower prices than on the open market.
An extensive listing of the manufacturer's connectors can be found on our TE Connectivity product index page.
Sourcengine's purpose is simple: to make the process of acquiring electronic components simpler. By making thousands of high-quality, thoroughly inspected Amphenol, Molex, and TE Connectivity connectors available to ship worldwide, we hope to make parts purchasing amid an unprecedented crisis a little easier.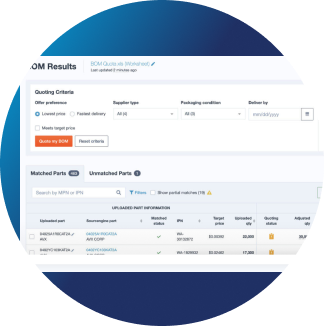 Quotengine: Your Ultimate BOM Tool
With Quotengine's real-time data on over 1 billion part offers, managing your BOM effectively has never been simpler.
Upload Your BOM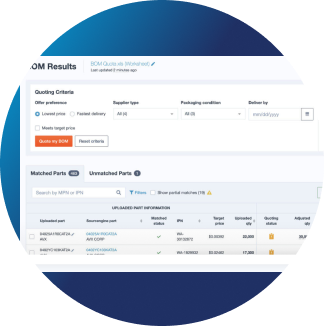 What's Your Excess Worth?
Real-time market data, quick response time, and unique price offers to help you maximize your return on excess inventory.
Get an Estimate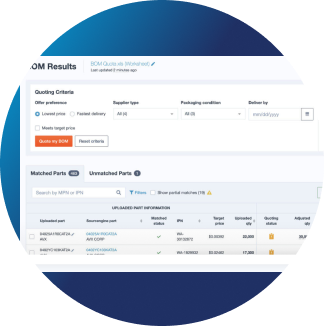 The Last Integration You'll Ever Need
Streamline manual processes and gain real-time access to inventory data, pricing updates, and order tracking through Sourcengine's API
Sign-up Here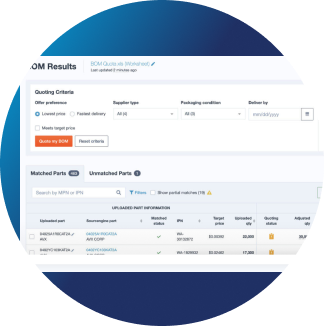 Sourcengine's Lead Time Report
Strategize for upcoming market shifts through lead time and price trends with our quarterly lead time report.
Download now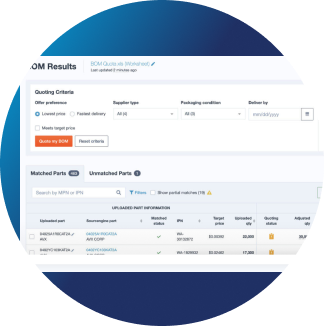 Sourcengine's Lead Time Report
Strategize for upcoming market shifts through lead time and price trends with our quarterly lead time report.
Download now