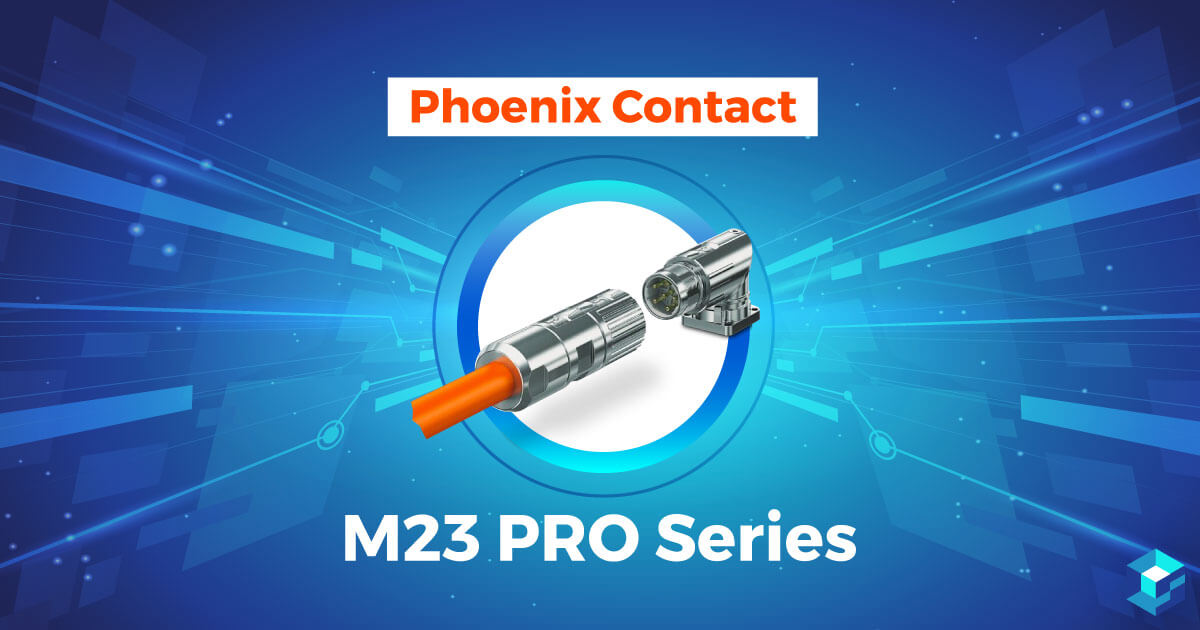 Since 1985, Phoenix Contact has manufactured components that optimize the function of industrial equipment and electronic interfaces. With the advent of Industry 4.0, the firm has been a leading innovator of connected automated systems. Indeed, the company's M23 PRO Series Circular Connectors makes establishing power and signal networks easier and safer than ever before.
Features
Phoenix Contact designed its M23 PRO line for maximum compatibility and ease of application. To that end, the firm made these components plug compatible with TE Connectivity's Speedtec standard and quick lock connectors. As such, OEMs can implement Phoenix Contact's products even if their networks have been set up with a competing provider's gear.
Furthermore, Phoenix Contact's M23 PRO series assures operators' cable connections have been appropriately established in three different ways. The firm built the connectors with a unique ONE CLICK locking system.
Accordingly, installation teams know the components have locked into place via optical markings that provide visual confirmation, an audible click that happens after a 45-degree turn has occurred, and physical verification that the connector is correctly aligned. As such, the M23 PRO series makes power and signal network set up ultra-secure and efficient.
In addition, Phoenix Contact's circular connectors feature vibration resistance of up to 20 GHz. Therefore, the M23 line provides remarkable durability, even in the harshest conditions.
M23 PRO Circular Connectors can handle voltage up to 630V, current up to 30A, and have IP66/IP68 ingress protection.
Applications
Because of their enhanced level of connection assurance and quick setup, Phoenix Contact's M23 series products are ideal for use in signal and power networks. Also, since the ONECLICK enabled components offer visual, auditory,and tactile lock-in confirmation, they can be installed easily in low-light,noisy, and hard to access locations.
For instance, OEMs operating out of facilities with lots of electrical equipment would be well served by the M23 PRO series. Similarly, companies that utilize a connected logistics infrastructure in their warehouses can also benefit from using these components. Moreover, firms that need to run power and signal cable in heavy vibration environments would be well-served by investing in these circular connectors.
To learn more, check out Sourcengine's selection of Phoenix Contact M23 PRO Series Circular Connectors.