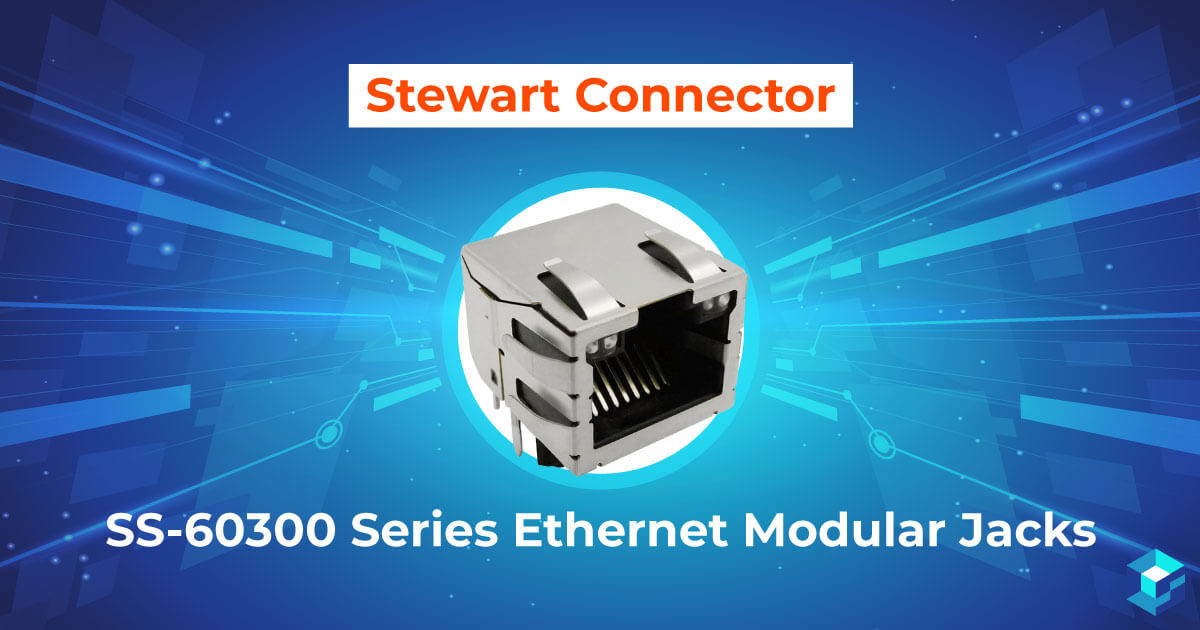 With its SS-60300 Series Ethernet Modular Jacks, Stewart Connector, a Bel Fuse group, produced a multifaceted solution in an elegant package. The connector series can facilitate 2.5G, 5G, and 10GBase-T Ethernet data transfer. Indeed, the component is one of the few that has the electrical performance qualities necessary to facilitate 10Gbps signal transmissions.
Features
SS-60300 series connectors are distinguished by their capacity to handle current and next-generation networking throughput. However, Stewart Connectors Innovative components also provide high-quality connectivity between modular jacks and Ethernet cables. The product line has contacts that mitigate cross talk and return loss problems that plague RJ45 connectors used in high-frequency applications.
In addition, the SS-60300 series has one of the smallest Ethernet jack footprints currently available on the market. As such, manufacturers can take advantage of its compact form factor when designing their connected devices. In particular, OEMs looking to curb production costs by reducing the size of their products' PCBs would do will to invest in Stewart Connectors' parts.
This series of Ethernet modular jacks, which feature contacts plated with 50-micro-inches of gold, are very versatile. Stewart Connectors offers the components in shielded and unshielded variations at 45°, 90°, and 180°. Also, this line of connectors is compatible with Power over Ethernet (POE) functions ranging from 15 W to 100 W.
It's worth noting that the SS-60300 Series are infrared reflow compatible and RoHS compliant.
Applications
Given their ability to facilitate Ethernet data transfer at 2.5G, 5G, and 10GBase-T, SS-60300 series modular jacks can be utilized in 6a patch panels. As such, the components have application within computer networking gear.
Because the connectors are capable of handling contemporary and theoretical signal transmission, they offer administrators a degree of future-proofing. Firms that invest in the SS-60300 series now won't have to upgrade their modular jacks when 10GBase-T tech is deployed.
Besides, Bel Fuse subsidiary Stewart Connectors smartly made the SS-60300 line POE compatible. As such, device makers can implement them in the construction of their latest Internet of Things (IoT) devices. Specifically, the firm's innovative modular jacks would work well in IoT-equipped set-top boxes, VoIP systems, connected industrial equipment, and video game consoles.
Global consumer demand has prompted the deployment of 38.5 billion IoT devices as of 2020. Accordingly, OEMs interested in pursuing that extremely lucrative market should consider purchasing large quantities of SS-60300 series connectors.
To learn more, check out Sourcengine's selection of Stewart Connectors SS-60300 Series Ethernet Modular Jacks.