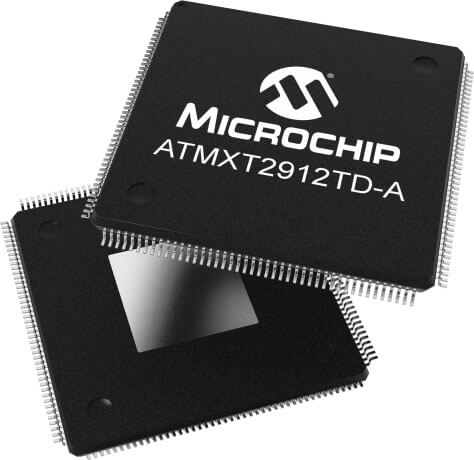 As fully functional self-driving technology is approaching maturity, autonomous car manufacturers are petitioning the federal government to revise its automobile production regulations. Leading next-generation transportation companies want to do away with human controls like steering wheels. Accordingly, Microchip Technology has developed game-changing components like the maXTouch2911-node Touchscreen Controllers that will power the smart car revolution.
Features
As the world's leading auto brands move away from traditional operator control systems, large cockpit capacitive panels will become ubiquitous. Soon, consumers will use touchscreens to program in their destinations, access road alerts, and interact with their infotainment programs. However, car makers must outfit their vehicles with highly functional, low-latency, and reliable displays to attract buyers.
Microchip designed its maXTouch 2911-node Touchscreen Controllers to facilitate the firm's comprehensive capacitive sensing solution. The ATMXT2912TD-A, in tandem with a high-performance vehicle CPU, gives original equipment manufacturers (OEMs) the ability to produce multifaceted automotive touchscreens of up to 20-inches.
The firm's maXTouch technology provides designers with displays that feature up to 41 X (transmit) lines and 71 Y (receive) lines. It also lets engineers work with screens that contain a maximum of 2911 nodes. Consequently, the firm's adaptive sensing interfaces provide multi-touch support for 16 concurrent points of contact in real-time.
As such, the ATMXT2912TD-A can give consumers the high-quality user experience needed to foster the widespread adoption of new technology.
Specifications
Microchip designed its touchscreen system with the specifications necessary to ensure its functionality in the real world.
For instance, the ATMXT2912TD-A, its sensors, and display can be configured to detect contact on glass screens as thick as 4 mm and as thin as 0.4 mm. Microchip also accounted for moisture condensation and water splashes. Its touchscreens have no false touch protection covering 22 mm diameter. Therefore, a user's wet hand or a few drops of rain won't render the interface frustratingly unresponsive.
Furthermore, the firm's panels have glove support that can detect user contact even if their winter gear is 5 mm thick. Microchip's controller chips also give their displays remarkable scan speed. The company's touchscreens are configurable up to 100 Hz reporting rates for one finger. Besides, their initial touch latency is less than 20 ms for the first contact from idle.
Therefore, consumers in vehicles outfitted with Microchip maXTouch technology won't have to deal with the frustration of sluggish cockpit interfaces.
The manufacturer equipped its controller chip with enhanced algorithms that minimize touch errors. The ATMXT2912TD-A has a lens bending program to remove display noise and a touch suppression feature to discount large-area interactions like a palm contact.
Notably, Microchip made the ATMXT2912TD-A with an eye toward OEM-friendliness. The firm lets its clients review device configuration, sensor patterns, and stack up as part of its design services. As such, its maXTouch 2911-node Touchscreen Controllers are ideal for engineers that are ready to craft next-generation smart car systems today.
Microchip maXTouch 2911-node Touchscreen Controllers
ATMXT2912TD-ATVAO
ATMXT2912TD-ATRVAO
ATMXT2912TD-ABRVAO
ATMXT2912TD-ABVAO
Article Tags