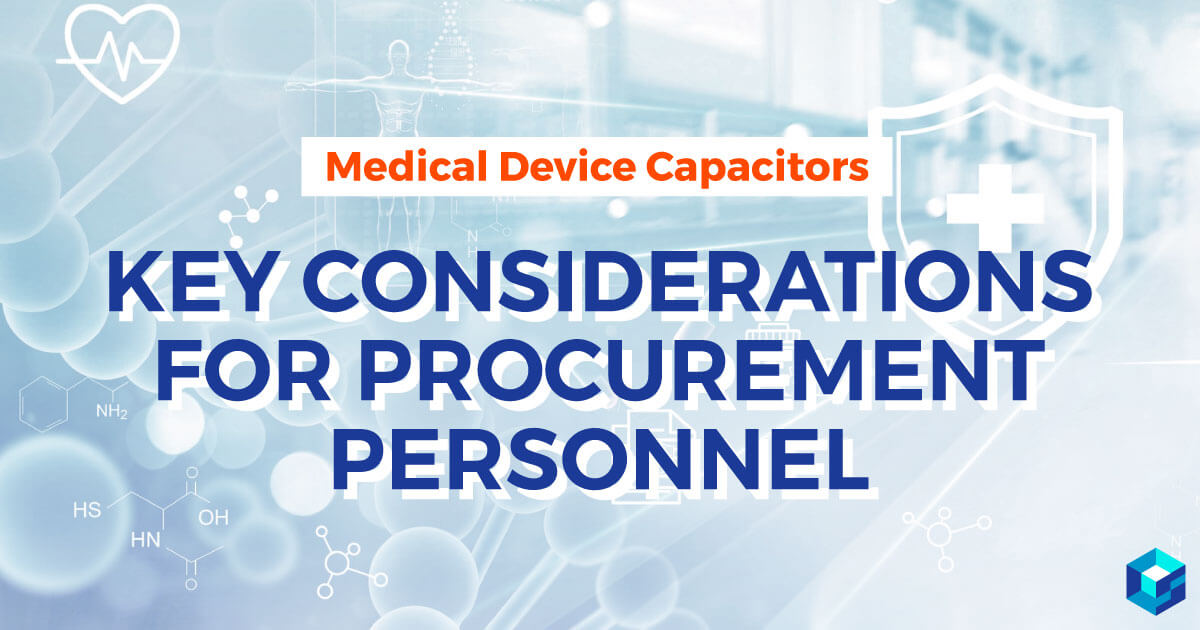 For medical device technology and important stakeholders (manufacturers, distributors, end users, and others), a perfect storm of sorts projects to drive demand well into the 2020s. Thanks to aging populations in developed countries and emerging market requirements for healthcare monitoring equipment, surgical components, and other medical devices, the worldwide medical tech marketplace projects to reach half a trillion dollars by the early 2020s.
All medical device capacitors, whether non-life- or life-supporting, demand a high degree of reliability along with exceptional durability and higher than normal capacity. Physical size is also important. Smaller capacitors are typically preferred by doctors, EMT technicians, and other medical personnel, particularly for anyone working in the field. Smaller capacitors are also popular with hand-held medical devices and wearable health tech products.
Unlike most electronic components, medical device capacitors are subject to heavy regulatory control and other considerations (for obvious reasons). What's more, the different types of capacitors available today is simply overwhelming, compared to the global supply just a few years ago.
Thankfully, e-commerce marketplaces now exist to help procurement teams leverage the global supply chain, up-to-the-second deals, traceable sources, and much more to ensure optimal quality and performance for medical device capacitors. In light of the recent and ongoing coronavirus pandemic, this is welcome news.
Prepare for Capacitor Regulations
Medical capacitors, like other medical device electronic parts, are subject to precise regulatory requirements. From a global perspective, these standards are established by the International Standards Organization (ISO). Domestically, the U.S. Food and Drug Administration (FDA) utilizes ISO regulations as a template, with additional demands as required by specific jurisdictions.
For U.S. medical device manufacturers, a 3-tier classification system is used by the FDA to determine the critical risk to patient health. The classifications are:
Class I (Low Risk): Class I devices pose the least risk to patient health and are rarely invasive. Tongue suppressors are a great example of a Class I medical device. Regulatory bodies like the ISO and FDA rarely merit any safety or regulatory attention.
Class II (Moderate Risk): These type of medical devices (capacitors are a common component) include monitoring equipment, scanning devices, and similar accessories. Think of a blood glucose monitor as a typical example of a Class II device.
Class III (High Risk): The FDA closely scrutinizes Class III devices. Any invasive device (for example, a heart stent or pacemaker) is considered high risk, for obvious reasons.
When sourcing medical device capacitors, it's helpful to know a product's FDA class. One of the best ways to attain this knowledge is through updated data sheets. Such sheets and accurate design characteristics for a wide range of capacitor attributes is key for procurement personnel to efficiently perform job duties.
Which Type of Medical Capacitor Is Right for My Product?
In some ways, rapidly advancing technology like multilayer ceramic capacitors (MLCCs) have made medical device design easier. But in other ways, the ever-expanding capacitor marketplace has muddied the waters for engineers, designers, and even supply chain specialists.
If a medical device is an implantable accessory (insulin pump, cardioverter, pacemaker, gastric device, etc.), a Class II or Class III designation is inevitable. Choosing the correct capacitor is more than just a simple issue of supply and demand. This electronic component must clear detailed regulatory hurdles, so timely input from regulatory departments is critical.
Product degradation is another constant concern with medical device capacitors, due to a variety of reasons: frequency of usage, particular applications, source materials, and operating temperature. Since these types of electronic parts require superior performance and reliability, local markets might not have the ideal capacitors to meet and exceed device design requirements – not to mention, regulatory concerns.
This is where Sourcengine proves helpful. Its ultra-efficient e-commerce marketplace ensures a product's individual components (capacitors included) contribute to a durable, reliable, life-changing medical device, regardless of FDA classification. Try its model search function by signing up and then searching for a particular part number. Searches will show pricing, live offers, lead time, and date code of component.
Sign up today or schedule a demo. Discover an easier, more efficient way of supply chain management for all your medical device manufacturing, distribution, and procurement needs.
‍
Article Tags