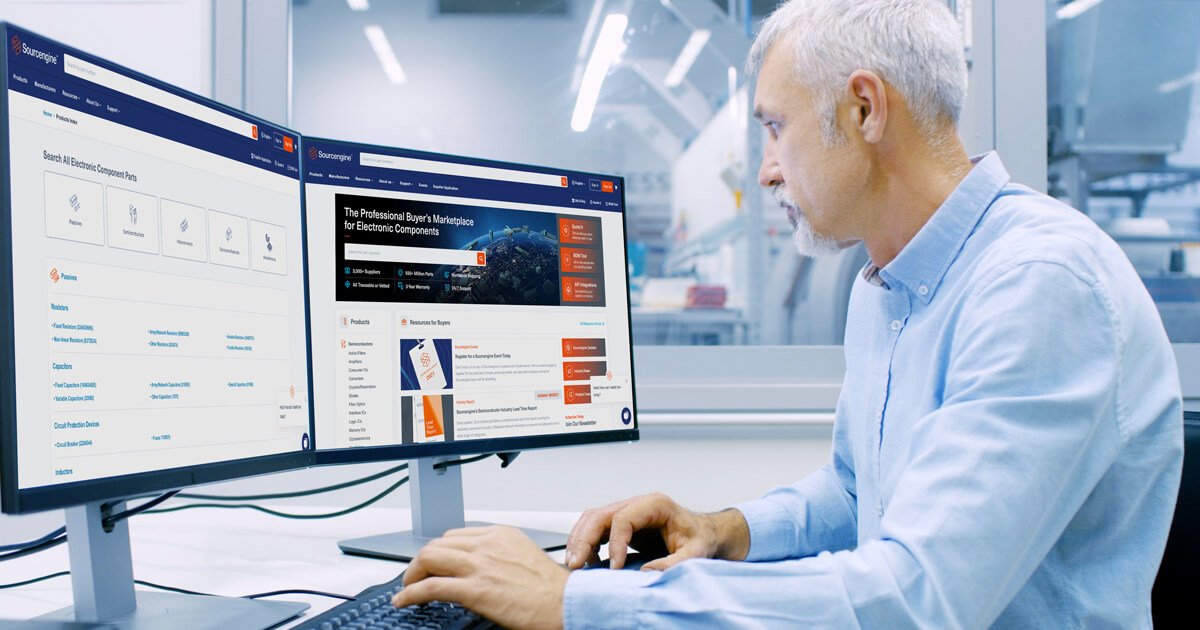 Every employee at Sourceability has a unique job that helps bring the company's vision to life, and our product managers are no different. From empathizing with our customers to creating tools that solve their challenges, our PMs are hard at work making all of Sourceability's products the best they can be. Today, we want to highlight a few ways our PMs bring Sourceability's vision to life.  
What does the product management team do?
Our PMs are all about learning the unique challenges of the market and our customers. One PM says, "When we build out personas, we do so to understand their struggles, not only with our products, but what their challenges are daily."
"The market is going through a crisis, and our customers are challenged with sourcing and finding parts to avoid any manufacturing delays. What we do is find these issues and create a product that helps them solve those problems. "
How does product management play into the big picture of Sourceability?
Our PM team is at the forefront of Sourceability's goal: to lead the industry through a digital revolution. Modern buyers no longer have to rely on emailing or calling salespeople to find the parts they need. "Instead, we are building tools and applications for them, which not only allow they to self-serve, but they are also opening up new avenues that buyers didn't have before."  
One example is the BOM Tool. When buyers use it, they can see a summarized view of every part they are looking for, instead of having to manage their list across dozens of websites. "When buyers having to keep track of their lists across multiple websites, the information is harder to keep track of, and buyers end up having to make choices with incomplete data. We are giving them visibility into a marketplace they have never had before."  
Recent Successes from Product Management.
The creation and evolution has been a huge win for our PM's over the past few years. Here's what they have to say:
"With Sourcengine, like most e-commerce sites, we provide pricing, availability, and a shopping cart. We make it easy for people to find what they need, checkout, and buy. And while that is good, a large part of this industry is negotiating pricing. That is why we created the RFQ feature that enables them to leverage our purchasing team, so we can reach out and negotiate pricing with them. They way, they know they are getting a great deal on their parts."  
"There are competitors out there... and we set ourselves apart by reaching out to our community with a comprehensive private quote just for them to help them truly find the best pricing and availability."
Another win has been the recent revamping of the Sourcengine dashboard, which makes it easier for buyers to manage their BOMs:
"There has been a complete overhaul of the look and feel of our e-procurement tools. You can check the carts you've saved, see your recent search results, and the layout of your order history is much cleaner. It is now easier to view your order summary and to track your fulfillment. Your entire dashboard is remodeled and easier to use."
"This is important because buyers go to Sourcengine because they don't need 20 purchase orders to complete one purchase. When they are buying a BOM without Sourcengine, they may have to buy it from 20 different places and websites where they need to track fulfillment. And we have all of that within our marketplace. It's just one purchase order. It's easier for them to follow up and track fulfillment. This is another way we've been listening to our audience."
We are very proud of our Product Management team and the excellent work they do every single day!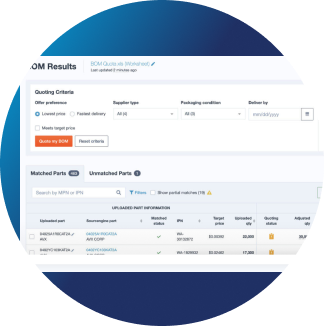 Quotengine: Your Ultimate BOM Tool
With Quotengine's real-time data on over 1 billion part offers, managing your BOM effectively has never been simpler.
Upload Your BOM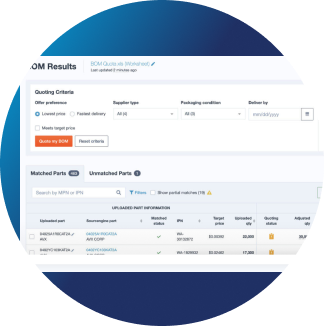 What's Your Excess Worth?
Real-time market data, quick response time, and unique price offers to help you maximize your return on excess inventory.
Get an Estimate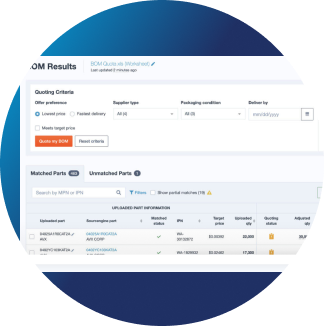 The Last Integration You'll Ever Need
Streamline manual processes and gain real-time access to inventory data, pricing updates, and order tracking through Sourcengine's API
Sign-up Here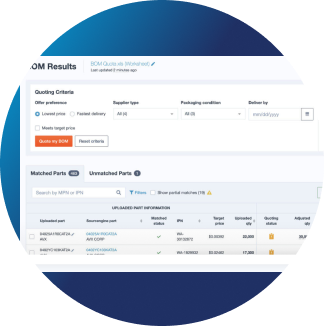 Sourcengine's Lead Time Report
Strategize for upcoming market shifts through lead time and price trends with our quarterly lead time report.
Download now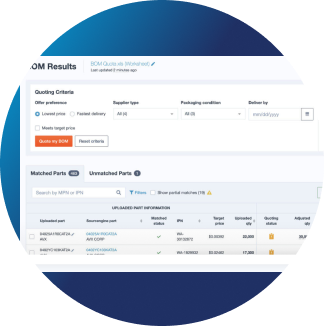 Sourcengine's Lead Time Report
Strategize for upcoming market shifts through lead time and price trends with our quarterly lead time report.
Download now