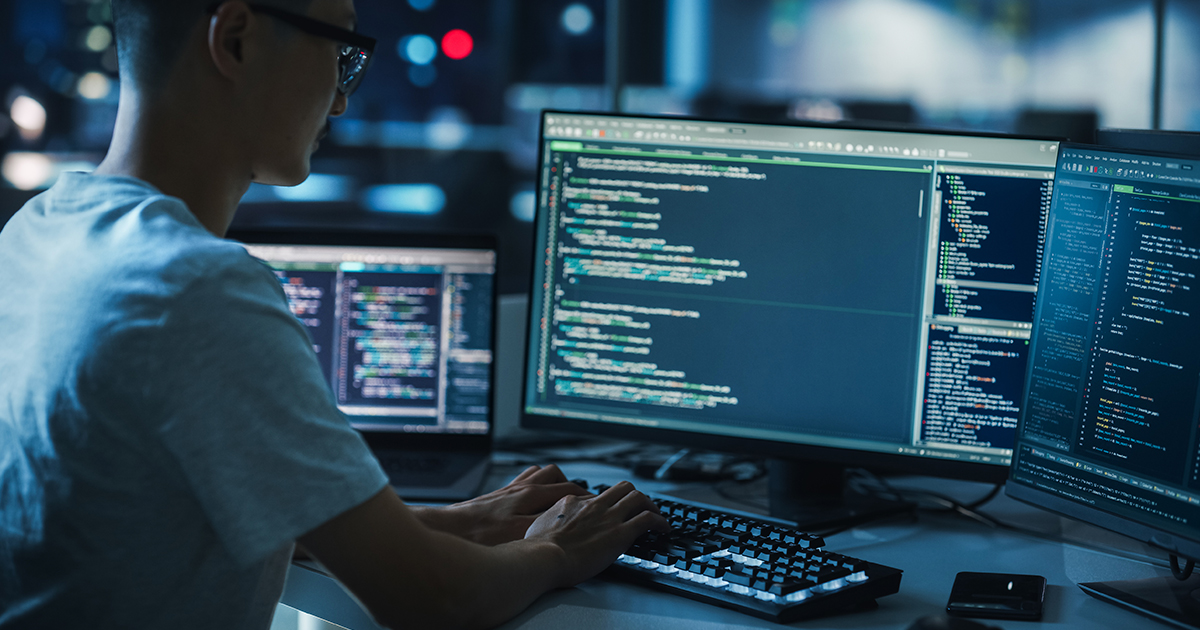 Original equipment manufacturers (OEMs), original design manufacturers (ODMs), and electronic manufacturing service providers (EMS) need to innovate their procurement process. The last several years have revealed the extent to which the global supply chain is vulnerable to disruption. As companies work on diversifying their supply chains and promoting the establishment of domestic chip ecosystems, procurement could further suffer from the challenges of decoupling the existing supply chain. Sanctions are becoming commonplace, and as they do, traditional methods of operation will become obsolete.  
Technological development is happening at a rapid pace. Throughout the shortage, the world saw a gigantic shift in technology applications, most notably by the rise of the work-from-home model (WFH). From smartphones to smart cars, the number of components used in products is growing, meaning more stock needs to be ordered. To manage a rapidly increasing parts list, OEMs, ODMs, and EMS providers need a tool that can increase efficiency, improve buyer experience, have scalability, and offer cost savings. Overall, this tool should lessen the time spent compared to traditional procurement processes, which are often labor-intensive, expensive, not scalable, and can result in slow and inaccurate data entry.  
Finding a tool to manage this task is often daunting and overwhelming in the face of supply chain disruptions. As technology use grows, so does the risk of supply chain disruptions as demand can rapidly outpace predetermined production capacity. Many industry experts believe it is not a matter of "if" the subsequent shortage will come but "when." When it does it will most likely make the 2020-2022 chip shortage look like a walk in the park.  
The current supply chain is made of interconnected manufacturing plants worldwide. With each additional link added to the existing chain, the easier to is for potential weak spots to form.  
The Modern Semiconductor Supply Chain
Today's semiconductor supply chain is complex and prone to disruption. Our advanced, nanometer-wide chips take hundreds of steps to manufacture one efficient semiconductor. Many of these steps happen at different locations across the globe, as other plants are utilized for varying processes. If manufacturing a single semiconductor is challenging, does it come as a surprise that procuring stock has its difficulties?  
Procurement in the modern-day semiconductor industry that sells the very parts to power a growing technology-integrated society is still exceedingly traditional. The process is often tedious and time-consuming, requiring many manual steps to just make one order for one component. Usually, most industry professionals spend hours managing approved vendor lists (AVLs) alongside bill-of-materials (BOMs) that are thousands of components long. The more technology develops, the more components are added to that list.
Once completed, a typical professional buyer will spend hours searching the internet on multiple platforms to check pricing and availability for needed stock. Once they find a good offer, they must email their sales representative to receive additional quotes. All the while, the buyer is inputting this data manually. Due to the vast amount of data often collected during this process and the taxing hours buyers must dedicate, these lists can be prone to inaccurate or outdated data. This is a common industry issue, but many are reluctant to change.  
While the process might be complicated, there's fear it will take a long time to embrace a new workflow. Something that procurement teams often have very little of thanks to the traditional process. There is also a lingering hesitancy to dedicate time to a new process that might not work. Then all that time spent learning a new workflow, letting component orders build up in the meantime, was wasted.  
Likewise, only a few solutions exist to replace this traditional workflow. This is because there are only three main ways to procure components.  
The first method is by calling or emailing one or many of your sales reps to determine stock pricing and availability. That can remove some of the more tedious tasks of searching for offers online from different suppliers. Unfortunately, and something many buyers encountered during the 2020-2022 semiconductor shortage, if they don't have current stock or don't sell a specific component, buyers are out of luck.
The second method is to search and submit orders online through a distributor's e-commerce platform. Many e-commerce platforms operated by distributors have streamlined check-outs, where buyers can quickly add required stock to their cart and then check out. It keeps buyers on one platform, reducing the time spent searching for other components elsewhere. Especially when the distributor has thousands of suppliers regularly uploading their offers. However, should the distributor lack vendors on a buyer's AVL or offers of a particular stock, buyers must search elsewhere for the components required.
The third method is integrating a distributor's API into your enterprise resource planning (ERP)/materials requirements planning (MRP) tools. Instead of spending time scouring the internet or calling sales reps to find information, API centralizes data input making it streamlined and easily shareable to all members needed within the buying process. This third option is the best solution and should be utilized more by the industry. It aids in digitalizing a user's supply chain and helps to automate manual buying processes as buyers can quickly access component information through their ERP system.
API integration does more than simplify the procurement process too; it gives users a competitive edge over those that depend on traditional workflows.
What API Accomplishes
Application programming interface (API) is a software tool that allows two or more applications to speak with one another. API allows various unrelated software products to integrate and interoperate with other software and data. Developers can further customize API tools through features and functionality that align with the tool's primary objective.  
API, in general, simplifies processes, saving time and cost through flexibility while providing security and control. APIs often provide standardized ways to integrate different systems and applications. No matter what ERP/MRP tool is used, an API tool is integrated similarly. It can save development teams time and resources through the seamless integration process.
Though APIs have a standard integration process, that doesn't mean their functionality operates similarly. APIs can be customized and configured to meet your organization's specific needs. Thereby allowing your development and software teams to configure your API to particular requirements without building everything out from scratch. This can help drive innovation within an organization as APIs can create new products and services that leverage existing capabilities.  
Companies can quickly develop new applications and functionalities that scale with their operations on this existing software. It removes time commitments and other challenges that may arise while developing new features or expanding a program's reach. With access and data easily accessible on API platforms, old and new users can quickly be onboarded.
The world is becoming increasingly digitalized with the acceleration of smart technology and electric vehicles (EVs). APIs can quickly aid manufacturers in increasing agility and efficiency within their operations. Time efficiency and cost-savings result in a competitive edge over traditional processes. Beyond the number of parts rising year-on-year, the amount of data produced by the products is also growing.  
Implementing API now will help your organization tackle rising component use and strengthen your company against future shortages. You can get started with Sourcengine's powerful API products.  
Sourcengine API Capabilities
If you want to increase flexibility, scalability, efficiency, and innovation, Sourcengine API is your tool of choice. Sourcengine's API products can help your business automate manual processes that are often tedious and time-consuming such as managing an online marketplace, listing products, processing transactions, and managing inventory. This tool will help improve the efficiency of your operations by removing the risk of human error and outdated or inaccurate information.  
Sourcengine's API integrates your ERP/MRP into an e-commerce marketplace with access to over 3,500 suppliers globally in one platform. Additionally, as a service provider, Sourcengine's in-stock inventory isn't the only information you obtain through the API service. Rather, Sourcengine's global partnerships with suppliers and data acquisition to receive inventory and pricing, including partners that can handle RFQ queries through our RFQ management tools.  
Users can access data for over a billion part numbers with real-time pricing and availability, parametric data, compliance data, alternate data, market analytics, and the ability to place orders and transactions systematically. These easily fit in with your ERP/MRP tools with complete transparency for supply chain decision-makers and engineers to monitor and approve, without ever having to learn a new tool.  
The world is becoming more digital every day. Traditional procurement processes will become more of a hindrance and help during future shortages and fluctuating markets. Integration with Sourcengine's API will help you stay ahead of the competition and allow your manufacturing processes to flourish with new, streamlined workflows.  
Sourcengine's API is the last integration you will ever need.  
‍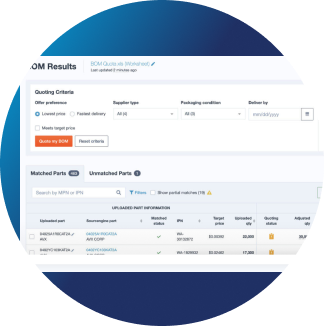 Quotengine: Your Ultimate BOM Tool
With Quotengine's real-time data on over 1 billion part offers, managing your BOM effectively has never been simpler.
Upload Your BOM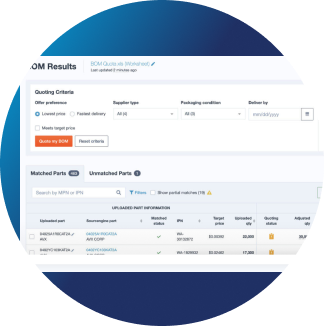 What's Your Excess Worth?
Real-time market data, quick response time, and unique price offers to help you maximize your return on excess inventory.
Get an Estimate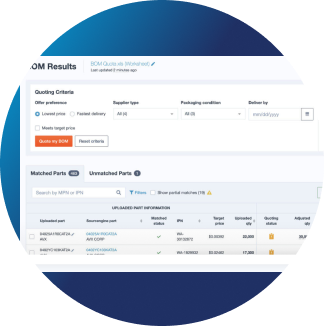 The Last Integration You'll Ever Need
Streamline manual processes and gain real-time access to inventory data, pricing updates, and order tracking through Sourcengine's API
Sign-up Here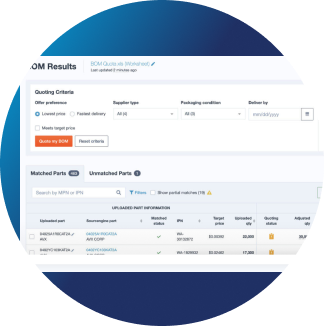 Sourcengine's Lead Time Report
Strategize for upcoming market shifts through lead time and price trends with our quarterly lead time report.
Download now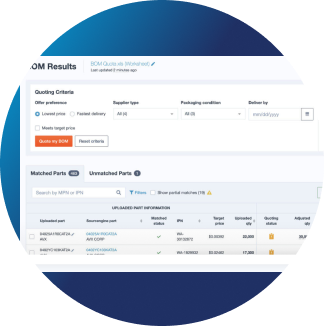 Sourcengine's Lead Time Report
Strategize for upcoming market shifts through lead time and price trends with our quarterly lead time report.
Download now