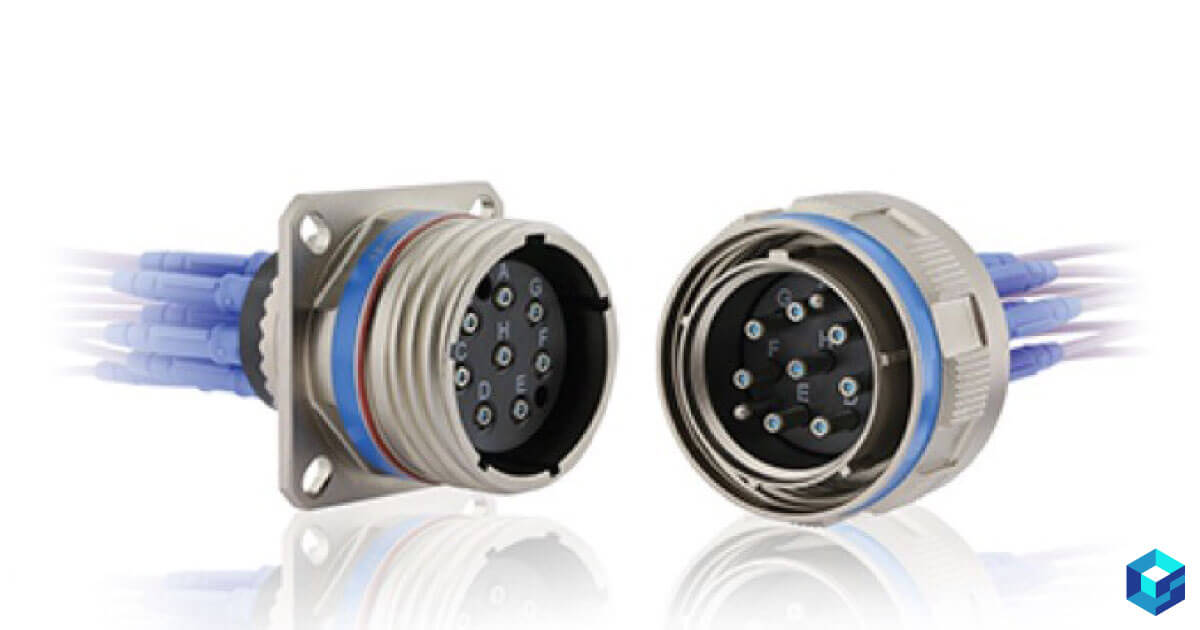 High speed connectors create an excellent platform for transferring data at the greatest possible bandwidth. They are currently used in virtually every computer system around the world and aerospace. USB, RJ-45, Fiber Optics, and others offer the highest performance while maintaining high reliability. Their innovative design affords the best-possible latency for time-critical functions and performs transfers of bulk data with very little impact on system processing. High speed connectors accomplish a variety of tasks, ranging from high-definition audio/video output, network interfacing, and simple data sharing among users.
Data transfer requiring high-speed connectors doesn't always take place in the quiet, clean environment of a server room, office, or laboratory. Often times, these applications are in extremely harsh environments,especially those related to the military or aerospace industries. For harsh environments involving conditions such as dust, moisture, shock, vibration, or extreme temperatures, a more rugged, specialized kind of connector is needed to maintain high-speed data transfer. Fortunately, there are many different options available to meet these stringent requirements.
USB High-Speed Data Connectors
‍
The most common type of high-speed data connectors are USB, in part because they are highly standardized. Not only can they transmit data, but they can also handle electrical power. USB high-speed connectors are simple in design, easy to operate, and self-configuring, meaning they do not require any adjustments to settings, system updates, or inputs from the user to function properly. The Amphenol USBFTV series connectors, in particular, allow for the use of a USB-A 2.0 and 3.0 data connection in very harsh environments, such as battlefield communications, ground vehicles, and military avionics. Amphenol USB high-speed connectors offer up to 480 Mb/s (2.0) or 5g Bit/s (3.0) for high-speed as well.

RJ45 Ethernet Connectors
RJ-45 connectors were originally designed for the use of telephones but have since been incorporated into various forms of telecommunication. RJ-45s were standardized by the Administrative Council for Terminal Attachment (ACTA) and designated as the customary connector for telecommunications. Commonly referred to as an "Ethernet connector," this connector is being used for computer networking, Internet connectivity, and telephone services. They contain eight pins, representing 4 pairs of polarized contacts, with eight color-coded wires. This cable allows for a 10BaseT or 100BaseT connection. Such an efficient connection is perfect for the high-speed communication of modern devices. The Amphenol RJ Field series connectors support 10 Base-T, 100 Base-TX and 1000Base-T networks; CAT5e per TIA/EIA 568B and Class D per ISO/IEC 11801; and CAT6 per TIA/EIA 568 and Class E per ISO 11801 protocols. Glenair SuperSeal– Ruggedized RJ45 and USB connectors also lead the harsh environment connector race with their durability, data transfer speeds and space-constraint issue related innovative designs.
Fiber-Optic Connectors
Fiber Optic connectors are among the latest and most advanced forms of data transfer. Using fiber instead of traditional metal in wires reduces data loss and eliminates EMI. This efficient method allows for the ability to increase the amount of data we can transfer at greater distances and speed. Silica fibers are used to internally reflect beams of light that transport data at the highest speeds possible. The silica fiber is protected by a plastic coating. They are sometimes covered by an optical cladding made from UV-cured urethane acrylate composite or polyimide materials with a low reflective index. In other instances, fibers may be protected a tough resin and a plastic jacket. Amphenol ARINC 801 connectors CF5A and CF6A offer all of the same benefits of standard 38999 shells, but with significantly better bandwidth and reliability, along with low insertion/return loss through the use of F/O termini. Additionally, Radiall's NSX ARINC 600 is the industry leading connector series. NSX—Arinc 600 is a connector that can be mixed and matched in various ways in order to provide custom solutions for the end user. Advantages of using Radiall's NSX—ARINC 600:
The most comprehensive choice of inserts
A large selection of contacts
Robust accessories to answer all type of requirements
RoHS options and Environmental Surtec 650V Reach compliant solution
High-Speed Connectors for Many Applications
The need for high-speed data transfer is not limited to environments with minimal exposure to humidity, dust, vibration, and extreme temperatures. High-speed contacts (such as the Amphenol Qadrax or Radiall LuxCis) and connectors are vital to applications very common in the military and aerospace markets. There are several different high-speed connector options for just about all types of communication protocols, including USB, RJ45, and fiber optics.
‍
Sourcing for Your High-Speed Connector Needs in One Place
Sourcengine is the world's leading electronic component marketplace with over 500 million transactable components from over 2,000 traceable sellers.  We offer the largest catalog of harsh environment high-speed connectors from all the leading manufacturers including but not limited to Radiall, Amphenol, Glenair, Souriau, Positronic, TE Connectivity, Smiths Interconnect and many more. Check out our large catalog of electronic components today.
‍