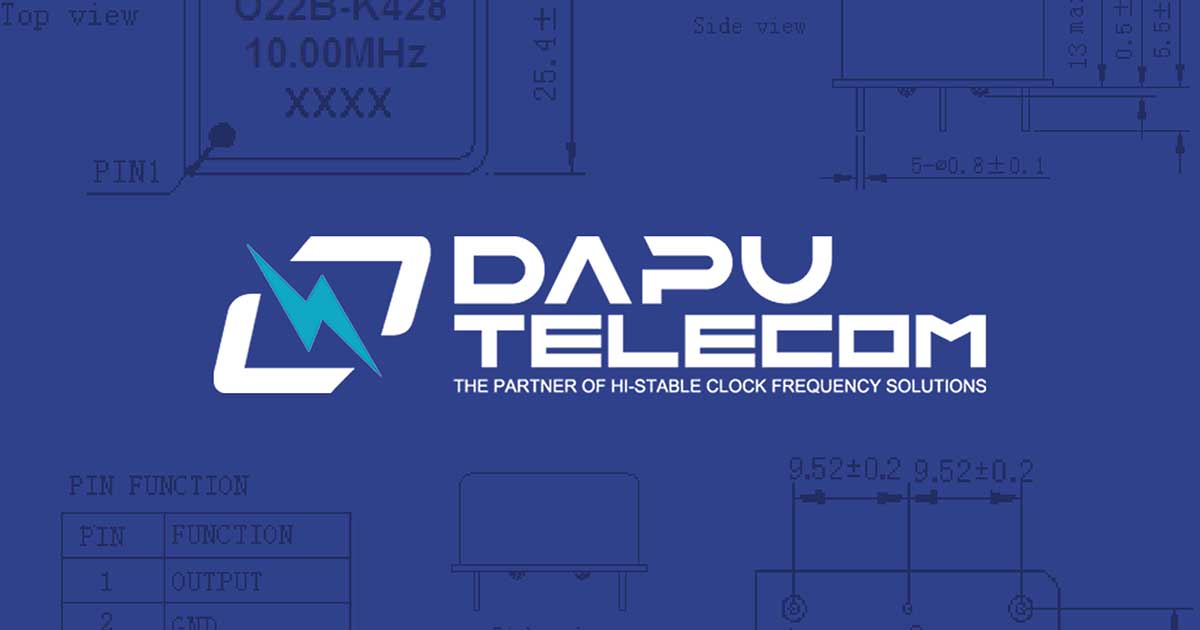 The electronic components industry is in the middle of a global production capacity shortage with no end in sight. The shortfall is primarily affecting the automotive sector, but the scarcity of manufacturing space is beginning to affect chipmakers in other segments. Multiple semiconductor firms have notified their clients about protracted lead times and stockouts.
However, Dapu Telecom has managed to mitigate the impact of the crisis on its operations.
The vendor has a wide range of crystal oscillator components with applications in multiple sectors available. It can also fabricate TCXOs and VCXOs that cross with Epson, KDS, and Abracon's products in just 8-9 weeks.
To see Dapu's popular product line, click here
Dapu Telecom's Remarkable Catalog Variety
Though only 16 years old, Dapu Telecom earned a reputation as a best-in-class timing and frequency device provider. The firm operates state-of-the-art research and development centers in China and the United States to help expand its portfolio offerings on a regular basis.
It also aligns closely with its customers to create solutions that address their industry-specific needs. The company understands that its clients must depend on their components when building new product. That is why it obtained ISO9001, GJB9001B, and ISO/IEC 17025 certifications to assure its partners that its output is of the highest quality.
The vendor's focus on design innovation and high fabrication standards allowed it to assemble a diverse and well-regarded lineup.
For example, its T75B-E312-12.80MHz temperature compensated crystal oscillator is notable for its outstanding durability. It underwent extensive International Electrotechnical Commission (IEC) testing while being developed to ensure its ruggedness. As a result, the TCXO has strong vibration, shock, and impact resistance. It can also remain operational in environments ranging from 0°C to 70°C.
Dapu Telecom's V754-A312-61.44MHz voltage control crystal oscillator has a similar level of robustness. The item can function in temperatures as cold as -40°C and as hot as 85°C. The SMD packaged VCXO also typically has minimal phase noise of -80dBc at 10Hz and voltage control characteristics of -60ppm to -160ppm at 0V.
Those two products only represent the tip of the iceberg in terms of the firm's crystal catalog. It sells an assortment of OCXOs, MCXOs, and XOs with applications in the telecommunications (5G), industrial, aerospace, and Internet of Things (IoT) sectors, among others.
Crucial Components, Short Lead Times
In addition to being extensive, Dapu Telecom's lineup has significant utility for OEMs because many of its components are interoperable. The firm also has turnaround times that are considerably shorter than other providers on key items. For instance, its TCXOs and VCXOs, which cross with parts offered by Abracon, Epson, and KDS, have 8 to 9 week lead times.
Because of factors like the supply crunch, the timing and frequency devices made by those vendors now have 30 and upwards to 52 week turnaround times. Even Samsung and Qualcomm recently warned the crisis could impact their ability to meet demand for their products.
At present, manufacturers expect the supply crunch to last through the middle of this year. If many components remain out of stock or have delayed availability, OEMs could have problems meeting their release schedules.
Considering the potential long-term ripple effects of the worldwide shortage, OEMs need to understand the full range of their options when procuring materials. Electronics makers should know Dapu Telecom can fulfill their crucial part orders with maximum expediency even amid the shortfall. Given the volatility of the current environment, the vendor's supply capability cannot be overstated.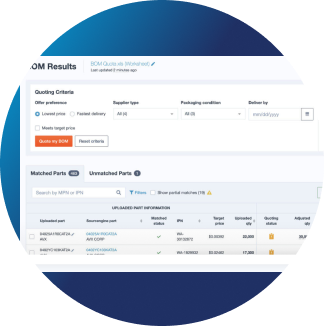 Quotengine: Your Ultimate BOM Tool
With Quotengine's real-time data on over 1 billion part offers, managing your BOM effectively has never been simpler.
Upload Your BOM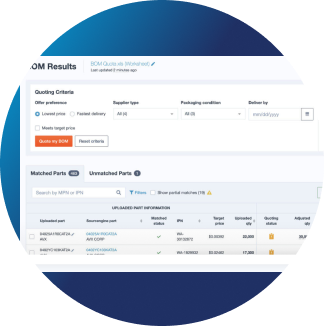 What's Your Excess Worth?
Real-time market data, quick response time, and unique price offers to help you maximize your return on excess inventory.
Get an Estimate