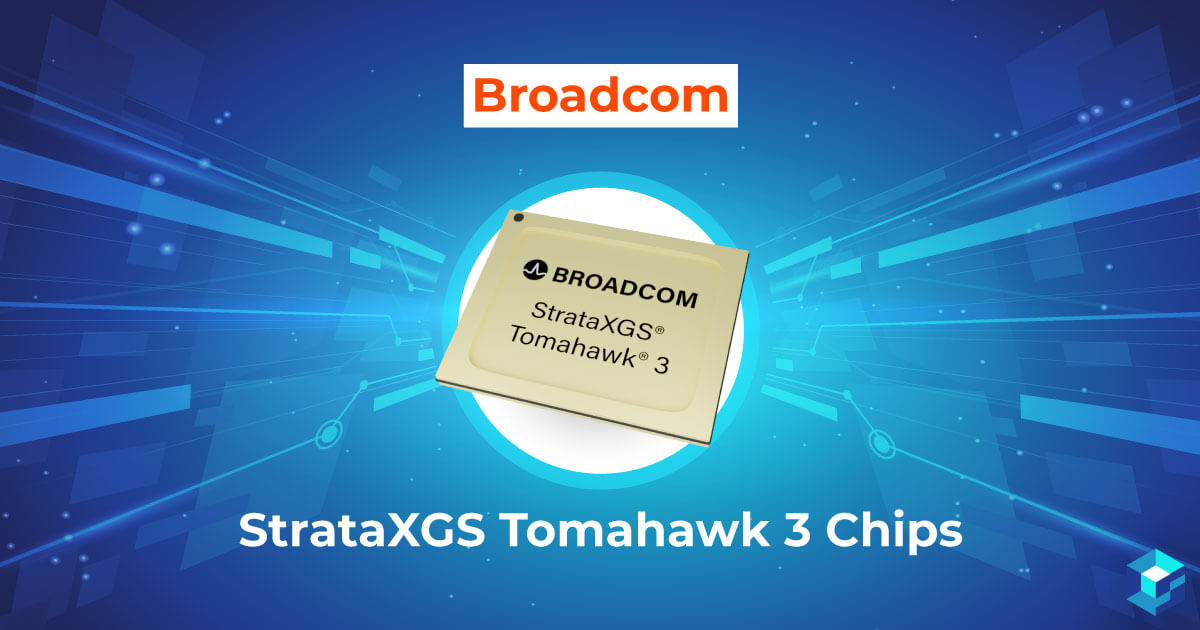 In 2019, worldwide cloud data center IP traffic will hit around 13,127 EB. However, the growth of the global internet user population and the emergence of hyperscale networks is driving a significant uptick in throughput. Accordingly, cloud data centers will process an estimated 19,590 EB in data flow by 2021.
As such levels of traffic would strain the capabilities of current generation networking hardware, Broadcom recently introduced a new solution. The firm's StrataXGS Tomahawk 3 series of chips can tackle the challenges of hyperscale throughput.
Features
Broadcom's Tomahawk 3 chips represent a new developmental benchmark in the firm's StrataXGS line of components. The silicon family is capable of switching and routing functions at a rate of 128 TB/s on a single chip. Moreover, the production-qualified series supports line rates of 50 GbE, 100 GbE, 200 GbE, and 400 GbE interconnects.
Tomahawk 3 chips also allow for 256 integrated serialization/deserialization tasks with 56C-PAM4 application.
As such, Broadcom's latest StrataXGS products have more than double the route forwarding capability of the previous generation of Tomahawk devices. In addition, the components offer users a 75 percent reduction in cost-per-port. Similarly, the series provides a 40 percent decrease in power-per-port when compared to rival equipment.
Applications
Broadcom created the Tomahawk 3 series as a single-chip solution for hyperscale data center throughput. With its 128 TB/s data management capability, the product line has the capacity to fulfill that need.
Indeed, its capacity to perform 32 x 400GbE, 64 x 200GbE, or 128 x 100GbE line-rate switching and routing makes it a best-in-class component. Besides, the product line is an ideal solution for data centers that feature top of rack and spine switches.
Also, the chipmaker's newest StrataXGS chips can facilitate non-volatile memory storage desegregation.
Broadcom's Tomahawk 3 products are also robust enough to handle the traffic generated by cutting-edge machine learning networks.