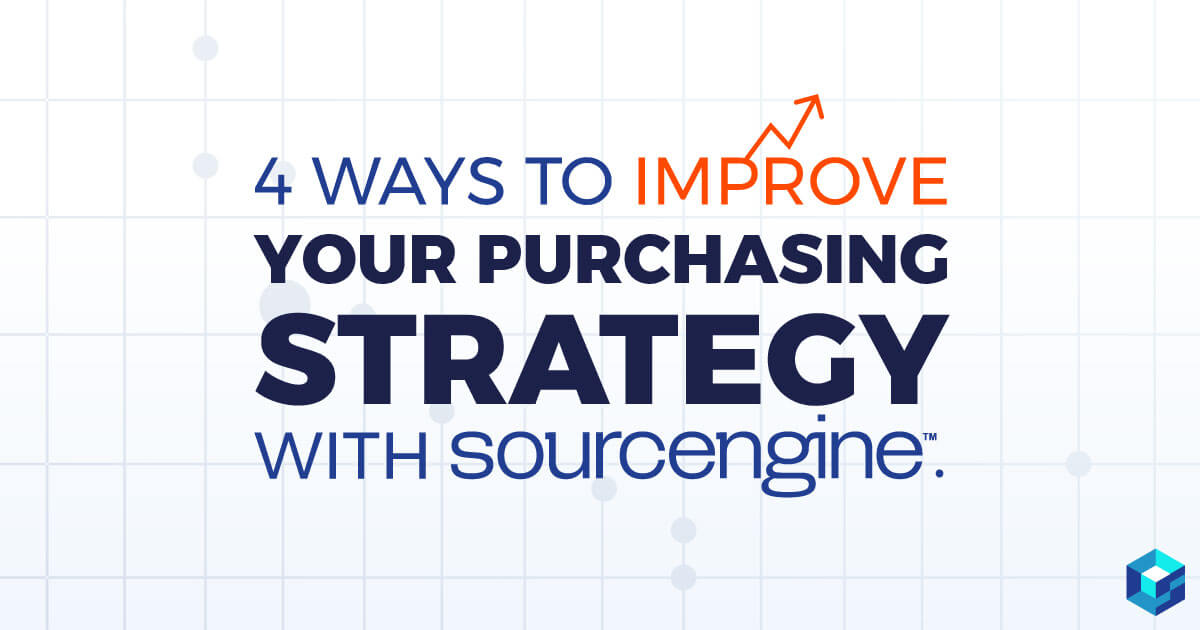 This blog was originally published on 07/12/2019 and has since been updated.

Buying electronic components is now easier than ever.
It's also more difficult than ever. Let's explain.
The growth of e-commerce marketplace technology and worldwide original equipment manufacturers (OEMs) is a blessing in disguise for purchasing departments, project managers, engineers, and others involved with tight project deadlines and even tighter budgets. The demand for high-quality electronic components has always been constant, even if the supply wasn't quite there yet. Just ten years ago, finding the best value for electronic parts posed many challenges – not the least of which was limited product availability.
In some ways, that's great news for project deliverables. Yet the ability to find an optimal value for electronic parts with favorable delivery times and discount pricing is more competitive than ever.
Getting the best bang for your buck in the electronic component marketplace can be difficult in a post-pandemic world. Buying electronic parts on a global scale is no longer just tactical in nature; it's also dependent on buying strategies that are flexible enough to adjust to quickly changing marketplace conditions but also rigid enough to provide stability and reliability when making last-minute purchasing decisions. Something that's become a top priority after the last few years of navigating a global chip shortage and glut.  
If your purchasing strategy for electronic components could use some fine-tuning, Sourcengine's put together a few recommendations to help you maximize ROI, limit expenses, and bolster your bottom line.
1. Buy from a global marketplace
The Internet's a big place – and getting bigger all the time—case in point: the electronic component marketplace. New suppliers and distributors are rising thanks to the semiconductor shortage, but whom should you purchase from? Global marketplaces often have thousands of suppliers and factory-direct offers listed on millions of components available. Purchasing components can be done in one place without leaving the site. Buyers can often find their entire bill of materials (BOM) on a global electronic component marketplace.
If there isn't an offer listed for a specific part, many large e-commerce sites have the capability for users to request for a quote (RFQ). An RFQ will be sent to a team of industry experts who can quickly find and deliver a personal offer to the requesting buyer, saving procurement teams lots of time usually spent on sourcing a similar offer.  
2. Use a BOM tool
With hundreds of electronic components suppliers selling millions of parts, it can be hard to find all the parts you need effectively. Buyers utilizing a BOM management tool integrated with a global e-commerce site can quickly find and sort all available offers for components on a buyer's BOM. Many times, BOM management tools can gather part offers on part lists over several thousand components long. Results, too, can be filtered by specifics based on a buyer's need, whether its availability, vendor, or price. Price benchmarking capabilities within a BOM tool ensure buyers can verify whether the e-commerce site offers the best price or another supplier does.  
A BOM management tool helps procurement teams be time-efficient and make cost-effective decisions when purchasing components. It can also nullify the risk of inaccurate or outdated information from tainting purchasing decisions.  
3. Monitor the market
Missed value-buying opportunities will drive any buyer crazy. The electronic component market can often turn on a dime, especially with how complex the global supply chain has become. With new efforts on government incentive measures to boost domestic semiconductor manufacturing, the market could remain volatile for some time. Monitoring changes through market intelligence tools that analyze real-time data can help forewarn and forearm procurement teams of upcoming opportunities or challenges before they happen.  
4. Use an API
Before clicking "buy," all backend planning should be 100% complete – and double-checked for accuracy. The best way to confirm data as you go and before you buy is by integrating a marketplace API with your company's ERP system. Buyers can gain immense transparency from real-time pricing and availability alongside technical datasheets accessed through their ERP when merged with a marketplace API. Strategizing for future component purchases becomes a streamlined and efficient process when all the data needed is rapidly available and combined with the specific goals of an organization's resource planning strategy.  
Sourcengine: Where Purchasing Strategy Never Sleeps
Along with the actions listed above, here's another way to optimize your supply chain software and electronic parts purchasing strategy: sign up with Sourcengine. Our robust, strategic-based software gives you the tools and knowledge to stay ahead in a competitive, ever-changing marketplace.
From new suppliers to the most recent pricing analysis, our e-commerce marketplace is a super-effective strategy: powerful, all-in-one electronic components purchasing resource. Sourcengine comes equipped with two powerful tools, Quotengine and Sourcengine's API. Quotengine is a BOM management tool that allows users to upload BOMS up to 4,000 parts long for one simple checkout. Users can quickly find and select their offers through Quotengine's filter system. For strategic buyers, users can schedule deliveries for orders up to a year in advance.  
Sourcengine's API capabilities mean buyers can access over 3,500 suppliers and 1 billion part offers in the comfort of their own ERP system. API users can also view technical datasheets on part offers through Sourcengine, so complete purchase visibility is assured. Users can take it one step further by utilizing the market intelligence tool Datalynq which offers real-time market analytics based on information gathered through Sourcengine's global marketplace.  
The last few years have been challenging to mitigate, thanks to the global supply chain's vulnerability and numerous disruptions. Experts warn that the shortages of tomorrow might make the last pale in comparison. As the supply chain grows, procurement will only become more difficult for buyers. Integrating Sourcengine's tools is the first step in making purchasing easier for buyers.
Ready to get started or have some questions? Get in touch with our team today to learn more. Already have a part in mind? Send our team an RFQ to help you get started with your personal offer. Get in touch with our team today to learn more.
‍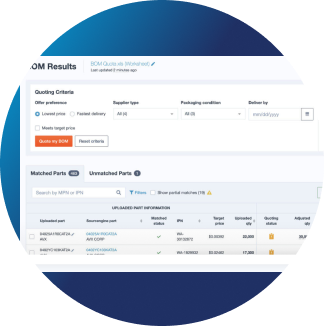 Quotengine: Your Ultimate BOM Tool
With Quotengine's real-time data on over 1 billion part offers, managing your BOM effectively has never been simpler.
Upload Your BOM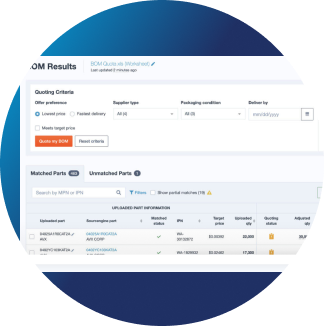 What's Your Excess Worth?
Real-time market data, quick response time, and unique price offers to help you maximize your return on excess inventory.
Get an Estimate