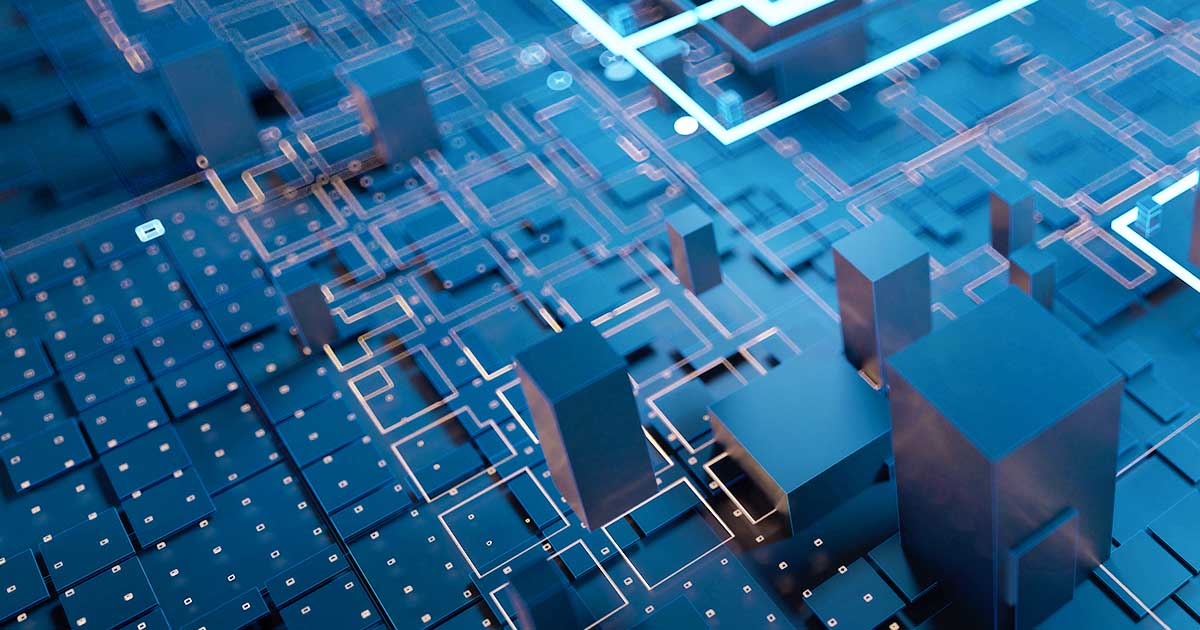 A walkie-talkie ...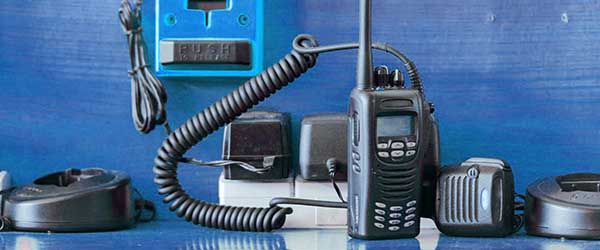 In 1990, I entered the electronics industry as a 13-year-old hobbyist. I was inspired by a friend of the same age with whom I played soccer. Together, we made small digital clocks to help us wake up early and analog radios to catch signals from neighboring countries. It was fun and helped to pass the time.
It was, however, by complete accident one day when we were buying components for our circuit boards that the owner of the shop posed a question that would change the trajectory of my life. He asked us if we could build him a walkie-talkie for a reasonable price. He wanted to use it indoors at a factory he worked at.
We were happy, of course, to take up the challenge knowing he could source the components for us. In addition, we were also lucky that my friend's father was an electronics engineer. He quickly helped put together a circuit board design for a decent and strong walkie-talkie.
‍
‍
‍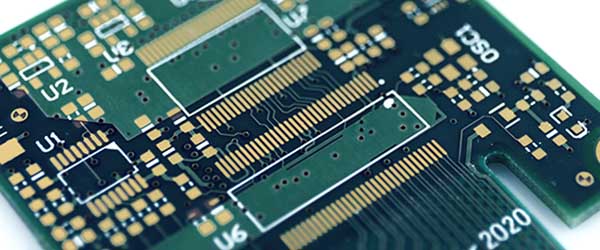 Happy with the design since it ran perfectly well in a computer simulation at my friend's father's office, we took the design to the same shop to buy the components. At the time, we did not realize how difficult it is to buy a whole BOM in one shot. To make a long story short, it took us a few iterations and redesigns, as well as learning about the market availability of components in order to source the full BOM from the shop owner.
‍
This was my first encounter with supply chain realities in the electronic components industry. I have to say, the summer of 1990 was good for me and my friend. It not only coincided with one of the most memorable World Cups in soccer history, but our walkie-talkie also became a big hit because it worked everywhere in the factory for which it was designed.
‍
‍
... a list of parts
‍
We immediately received orders to build hundreds of walkie-talkies. This is when the second reality check regarding the electronic components supply chain hit us: we could not get enough quantity for each part. In the end, we built what we could, but as summer came to a close and we were back in school again, the experience of sourcing parts and making walkie-talkies became a distant memory.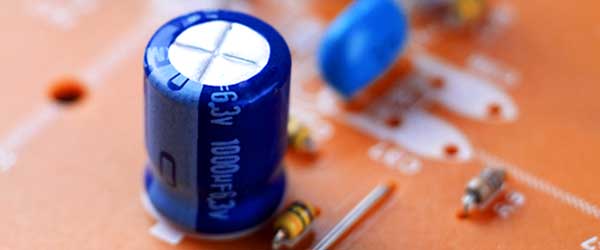 Though distant, this experience's impact on me would help guide me to study electronics engineering in university years later. It would even help get me my first summer job in London to work for an electronic components distributor. The year was 1999 and to my luck, it coincided with a components shortage of electrolytic capacitors due to the dot com boom at the time.
It's no wonder that I became fascinated with the whole affair of electronic components distribution and officially entered the business in 2003. Fast forward to 2016 and with years of experience in the bag, my friend and mentor, Jens Gamperl, shared with me his vision to offer supply chain solutions for electronic components within the online realm. He envisioned a new supply chain with no geographical barriers and with utter transparency and visibility.
Of course, I was game and wanted to join in this journey with him. In a way, at least in my mind, the origin of Sourcengine as an e-commerce marketplace platform for professional buyers goes that far back to my early experience in 1990.
... and the (future) digitalization of the electronic components supply chain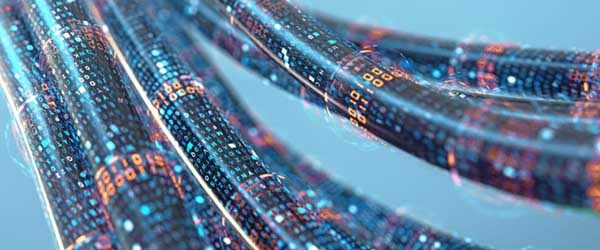 Fast forward even further to today, in 2021; we have come a long way with a lot of hard work and sweat. We have been lucky with not only great investors, an outstanding management team and great team members, but also with great partner vendors and customers to position Sourcengine as a place where professional buyers can now upload a BOM consisting of thousands of parts. Our marketplace either has the availabilities, pricing and lead times that professional buyers need to keep production lines moving, or they can submit an RFQ through the platform and get what they are looking for in the needed timeframe.
At its heart, Sourcengine is that simple.
We hope, as we move forward, that we can make a positive impact within this complex world of electronic components. The supply chain is facing massive disruption right now during these turbulent and uncertain days of covid19 and the effects of the pandemic rattling our industry. However, I promise you, Sourcengine makes procuring your components even simpler than a child procuring a list of parts for a walkie-talkie. It is really that simple. Trust me by trying it today.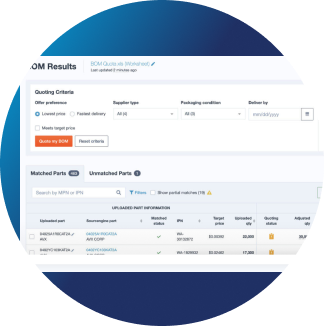 Quotengine: Your Ultimate BOM Tool
With Quotengine's real-time data on over 1 billion part offers, managing your BOM effectively has never been simpler.
Upload Your BOM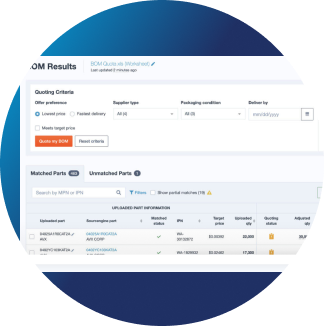 What's Your Excess Worth?
Real-time market data, quick response time, and unique price offers to help you maximize your return on excess inventory.
Get an Estimate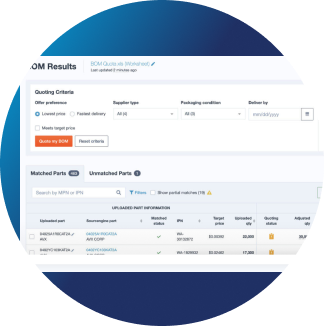 The Last Integration You'll Ever Need
Streamline manual processes and gain real-time access to inventory data, pricing updates, and order tracking through Sourcengine's API
Sign-up Here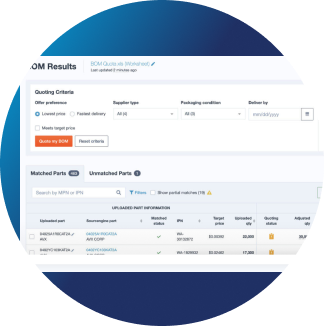 Sourcengine's Lead Time Report
Strategize for upcoming market shifts through lead time and price trends with our quarterly lead time report.
Download now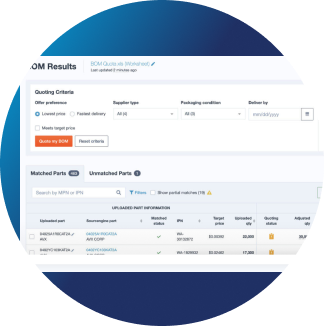 Sourcengine's Lead Time Report
Strategize for upcoming market shifts through lead time and price trends with our quarterly lead time report.
Download now