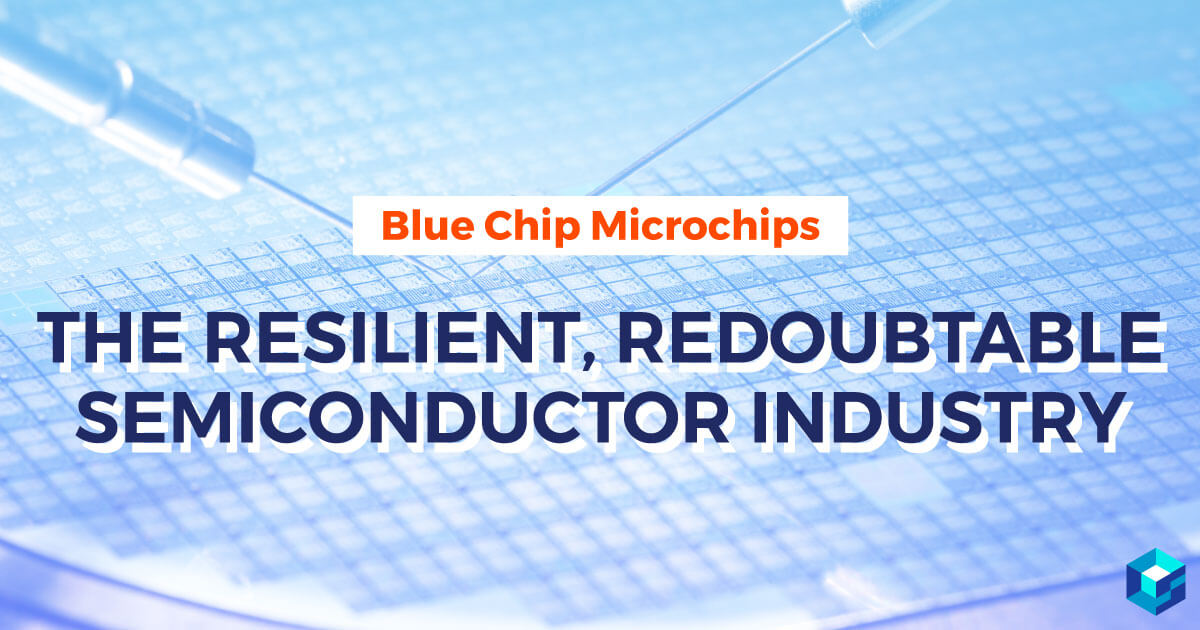 The global semiconductor market can't get much more productive for the next decade… can it? According to the latest industry reports and overall economic sentiment surrounding chip makers, the best days are ahead – and right over the horizon.
One major reason why the semiconductor industry is agile enough to handle changing market conditions, yet robust enough to handle major upheavals, is an aspect of self-investment; R&D among major chipmakers like TSC, Intel, Samsung, and other companies ensures that reliability and performance are at the forefront of engineers and designers within the industry.
The forward-thinking nature of the semiconductor industry is reflected in major technology initiatives from other sectors. Take the telecommunications industry, for example. The advent of 5G networks seems like a new and novel thing to most consumers, but semiconductor professionals were already working on 5G infrastructure and support even as 4G was still in deployment mode.
Given the heavy R&D investment and look-to-the-future element of the global semiconductor market, it appears the rosy predictions have merit.
But there's nothing quite like a serious threat to global health (and the global economy) to illustrate why the semiconductor industry is poised to handle anything that comes its way. Case in point: the recent coronavirus outbreak.
Case Study on Coronavirus: The Next Great Challenge to the Semiconductor Supply Chain?
The early 2020 outbreak of the coronavirus (COVID-19) in Wuhan, China, has proven to be a significant challenge to the entire semiconductor industry. Wuhan, located in Central China, is a major transportation center for the country, and also a major semiconductor manufacturing city. Wuhan's population is around 11 million, which would make it the largest U.S. city. But in China, it's "merely" a top-10 city in terms of total residents.
The coronavirus has tested every aspect of the semiconductor industry for China, East Asia, and across the globe. Since Wuhan and other Chinese urban centers are critical for semiconductor manufacturing and general labor supply, many companies have already reigned in profit expectations for 2020 and beyond.
Coronavirus' impacts on labor are felt far beyond China's borders: Many major U.S. electronic component makers – including Apple – are making on-the-fly adjustments for anticipated labor shortages, disrupted supply chains, and other factors related to a possible pandemic.
However, Chinese semiconductor makers and other technology firms have already proven the semiconductor industry is more robust – and resilient – than originally thought. According to an article in the South China Morning Post, the entire semiconductor market in Wuhan and surrounding cities has managed to keep minimum manufacturing quotas, all without sacrificing quality. As Moring Post columnist Jane Zhang wrote:
Every morning hundreds of professionals in Wuhan, epicenter of the coronavirus outbreak, don protective masks and hazmat-style suits before they enter their workplace… they work for Wuhan Xinxin Semiconductor Manufacturing Co. (XMC) and Yangtze Memory Technologies Co. (YMTC), which operate hospital-style clean rooms designed to prevent microscopic particles from contaminating silicon wafers.
The fallout from the deadly coronavirus outbreak for the tech industry and the global supply chain has been significant, with Canalys forecasting that China's smartphone shipments would drop 40 to 50 percent in the first quarter of 2020.
Yet the semiconductor manufacturing sector has been more resilient to the impact thanks to its higher level of automation and clean room environment on the factory floor.
Thanks to clean, spacious workspaces – something non-Chinese observers may find surprising – Wuhan's semiconductor enterprise continues to churn along – modified from its original capacity, no doubt. Yet the inherent built-in advantages of a highly regulated market like semiconductors have provided unexpected advantages, including a robust infrastructure and manufacturing base that's already ahead of the curve, in terms of productive, precise working environments.
What's more, the semiconductor industry's highly automated characteristics make it especially suited to handle unforeseen circumstances – including a crisis as large and widespread as COVID-19. From the same Morning Post article:
China enforced mandatory factory shutdowns in at least 24 of its 31 provinces, municipalities and autonomous regions from January 31 to February 9 in an effort to contain the outbreak, but that order does not appear to have been directed at semiconductor factories which typically operate 24/7.
"There will not be a big impact on chip manufacturers," Linda Sui, director of Wireless Smartphone Strategies said. "The demand [for chips] will fluctuate for sure but in terms of production capacity, these factories work 24 hours a day, 365 days a year. Their machines keep running even during holidays."
An XMC spokeswoman told the Post last week that its factory lines have not been interrupted due to the coronavirus and that production continued safely during the Spring Festival holidays.
Need a Resilient Solution to Chaotic Global Supply Chain Processes? Try Sourcengine™ Today
As the semiconductor industry continues to grow, you might need a supply chain management solution that'll grow right alongside it. Soucengine e-commerce marketplace enables your entire procurement team, regardless of the location, to source for products under one dashboard from over 2,600 sellers. By utilizing the power of Sourcengine, your team can access over 530M components, data sheets, products specs and alternates. On top of that, you will be able to see the product life cycle before you commit to purchasing a part.
We've put the requisite R&D into our own product, and we think you'll agree – no other supply chain e-commerce platform matches up to Sourcengine. Sign up today, or check out a demo to see what you've been missing. In order to stay ahead of the curve on the semiconductor industry and other emerging technologies, you need an SCM platform that's up to the task. Try Sourcengine today.