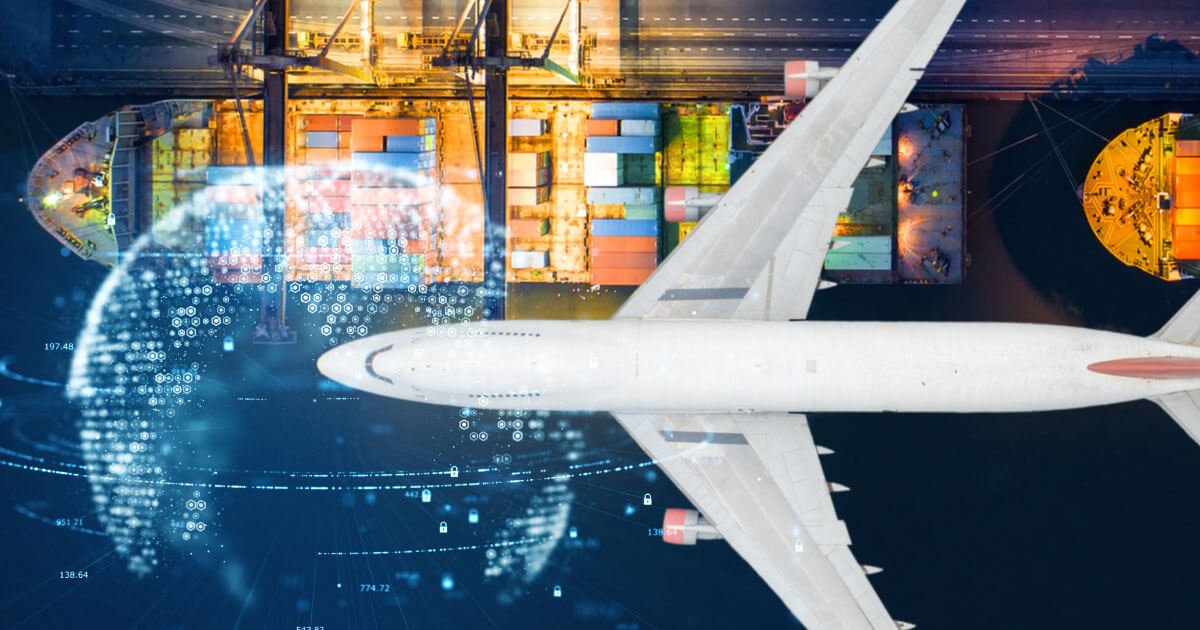 At present, the global semiconductor supply chain is undergoing a significant realignment. The ongoing U.S.-China trade war and the coronavirus pandemic have shown that centralizing electronic components manufacturing leaves companies vulnerable to major disruption.
Part vendors worldwide are working to address that risk by reshoring or diversifying their production capacity.
In addition, many countries are accelerating these changes by actively supporting the build-out of their domestic microelectronics sectors.
For small and medium-sized enterprises (SMEs), this global supply chain realignment might seem overwhelming. However, SMEs can emerge stronger from the current upheaval by integrating technological tools into their operations.
Reshoring is a Rapidly Emerging Strategy
Recently, abruptly issued electronic component tariffs and pandemic related availability issues have made sourcing less financially viable for vendors and manufacturers.
Many of the world's leading semiconductor vendors have acknowledged this change and have begun reshoring their supply channels.
The Taiwanese Semiconductor Manufacturing Company (TSMC) recently announced plans to build a new 2nm wafer foundry in its home country. Similarly, South Korean conglomerate, Samsung, kicked off an initiative to localize its entire supply chain by 2030.
One of the best outcomes of reshoring is that it cultivates economic growth in its host country.
For that reason, the Taiwanese government launched a $334 million incentive program to entice chipmakers to build new facilities within its borders.
Likewise, South Korea recently committed $843 billion to improve its domestic semiconductor production capability and capacity.
So what do these developments mean for SMEs? Electronic components made in Taiwan and South Korea could soon become more affordable and accessible than those manufactured in other regions. With new avenues for supply routes opening up, SMEs can not only procure at far more reasonable prices, but also (more importantly) get to market even faster than the competition.
New Supply Channels are Opening Up
SMEs also need to understand that reshoring is not the only trend shaping the global electronics supply ecosystem. Some countries are looking to make up for their less than robust technology infrastructures with large financial incentives.
For example, India launched a five-year, $6.6 billion subsidy initiative to attract the biggest electronic component producers to its country. The nation's technology-friendly atmosphere has already attracted the attention of some significant industry players.
Part makers Pegatron and Wiston have announced plans to build new factories in India this year. Foxconn, a major contract manufacturer (CM), is spending $1 billion to expand its Sriperumbudur-based iPhone assembly center.
Why is India's technological infrastructure investment program relevant to SMEs? Because more electronic components vendors will inevitably relocate their production hubs to the region. This alternate route will ultimately affect how and where companies source their raw materials.
Digital Tools can Help SMEs Navigate Supply Chain Realignment
At present, SMEs do not have the time to manually adjust to the realignment of the global electronics supply chain. Under the current economic conditions, electronics companies are directing their focus to hitting their manufacturing targets and acquiring new clients.
However, SMEs cannot grow and thrive without a consistent and stable flow of incoming production materials. It is here that electronic platforms and API integrations can help most with procurement. As the world changes quickly, new supply chains open up seemingly overnight, and availabilities are constantly in flux, SMEs need a technological solution that adapts just as quickly as things change.
Sourcengine can provide SMEs with this procurement dependability they need right now.
The platform gives OEMs, ODMs, and CMs access to an electronic components e-commerce marketplace with over 1 billion part listings. The company hosts more than 3,000 traceable vendors to give buyers confidence in their purchases.
This means that a Chicago-based SME can quickly and easily make an order from a vendor in Taipei thanks to the service's worldwide shipping capability.
In a few years, the global supply chain will look very different than it does today. But SMEs that utilize new technological tools to change with the times will thrive.
‍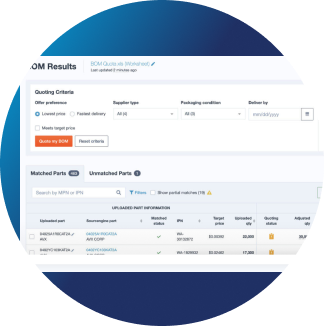 Quotengine: Your Ultimate BOM Tool
With Quotengine's real-time data on over 1 billion part offers, managing your BOM effectively has never been simpler.
Upload Your BOM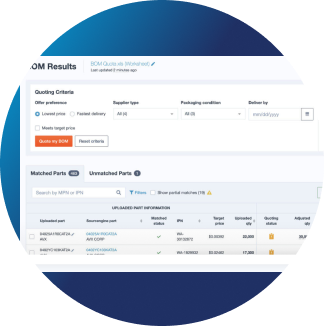 What's Your Excess Worth?
Real-time market data, quick response time, and unique price offers to help you maximize your return on excess inventory.
Get an Estimate