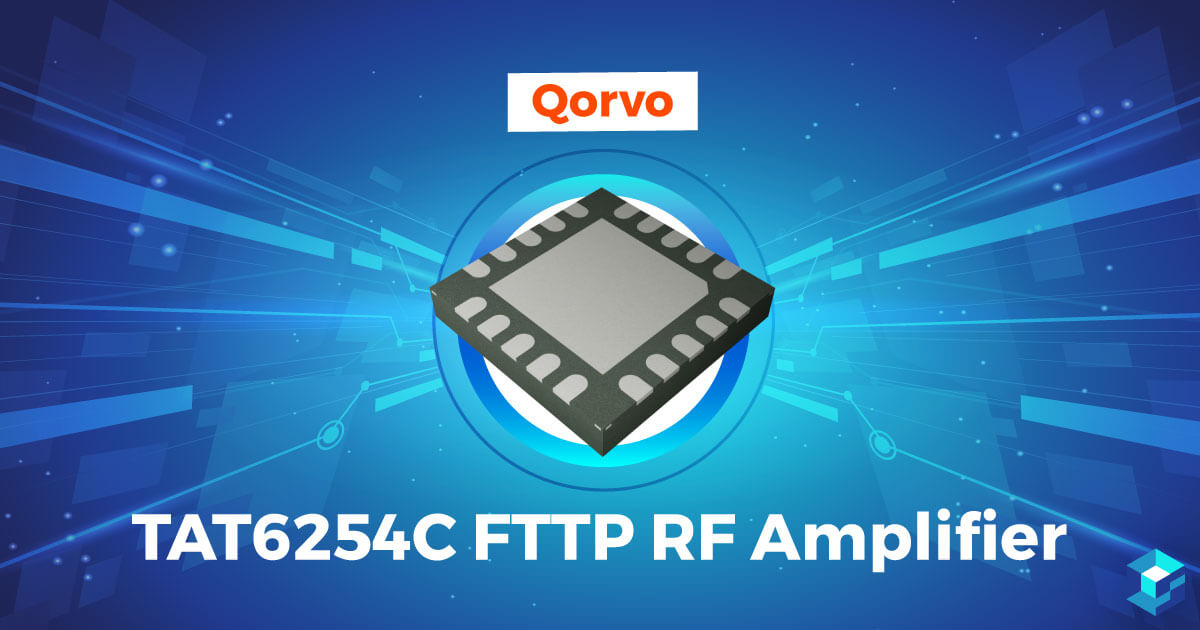 According to MarketWatch, the United States' fiber-optic internet market will be worth $3.56 billion by 2025.Moreover, the medium is expected to experience an annual growth rate of 8.4percent over the next five years. As such, manufacturers have an opportunity to seize a place in a growing sector by producing high-quality networking gear.
Notably, Qorvo makes a fiber to the premises (FTTP) radiofrequency (RF) amplifier, the TAT6254C, that can facilitate the deployment of ultra-high-speed home internet.
Features
Qorvo's FTTP RF Amplifier is an ideal network component because it produces low input noise and distortion. Indeed, it has a low equivalent input noise rate of 3.9pA/rtHz. As such, the TAT6254C provides the crucial margin performance needed to establish a quality home fiber-optic network connection.
Also, the component offers the automatic gain control (AGC) required to maintain consistent transmission quality. Qorvo's FTTP RF Amplifier 33 operates in the dB AGC range, with optical inputs -10 to 2 dBm.
Furthermore, the TAT6254C, which is available in two different configurations, consumes very little power. The RF amplifier only needs 1W at 5V and 1.3W at 12V. As such, the component doesn't need a separate optical network unit power supply.
Qorvo designed the FTTP RF amplifier with the flexibility to connect to a host of RF outputs and power supplies. Its innovative TAT6254C might preclude the need for expensive costly baluns and directional couplers. The component also offers linearity better than -63 dBc composite second order and composite triple beat intermodulation distortion.

In addition, Qorvo produced the TAT6254C with an eye toward affordability. The firm made its FTTP RF amplifier with 6-inch GaAs pHEMT technology. As such, the manufacturer kept the components cost low without sacrificing performance.
Application
The chief application of Qorvo's FTTP RF amplifier is to facilitate the deployment of fiber-optic service in the home. The TAT6254C's noise minimization and gain control features give it the capacity to optimize ultra-high-speed internet connections. Also, the component's comprehensive design and affordable production make it ideal for use at scale.
Besides, the TAT6254C can also serve as a high-quality single-family unit video receiver. The component can maintain 19 dBm V/ch output and 23 dBmV/ch in high output mode. As such, it can provide cable TV consumers with a consistently high level of video quality. As such, pay-TV equipment makers might want to integrate Qorvo's FTTP RF amplifiers into their inventory.  
To learn more, check out Sourcengine's selection of Qorvo's FTTP RF Amplifier:

TAT6254C


Article Tags