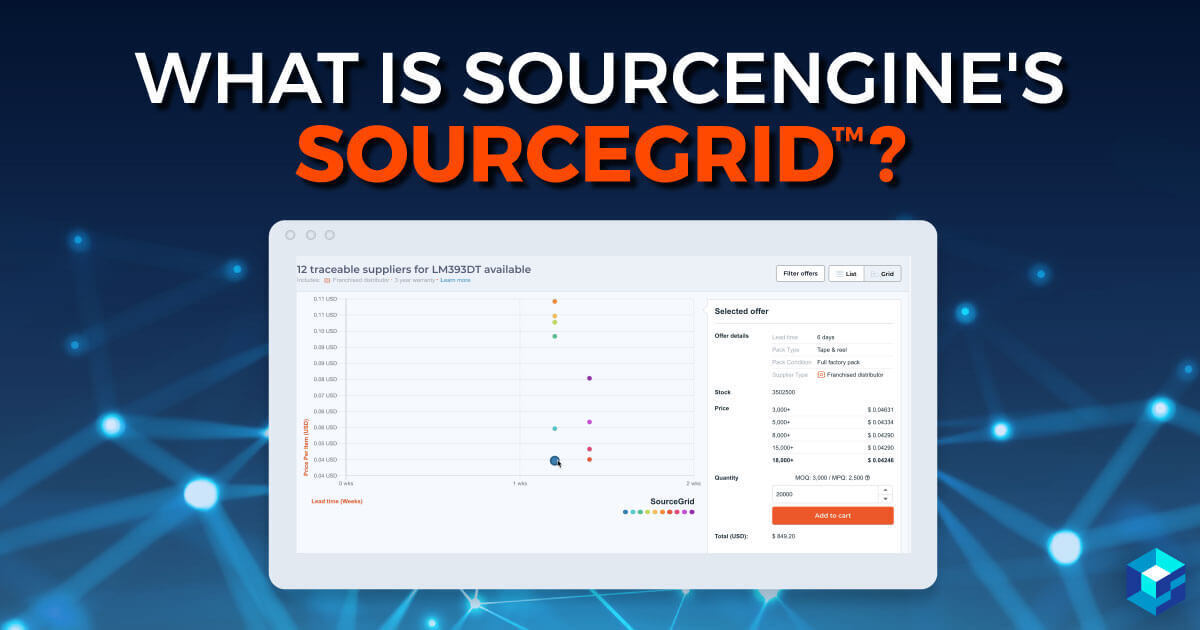 Sourcengine is a Global E-Commerce Marketplace for electronic components. Over 2,600 suppliers sell their products on our e-commerce platform enabling buyers and engineers with an access to over 530M electronic components, data sheets and alternatives. Sourcengine is a one-stop shop eliminating a need to browse through multiple websites to find the right price or availability of electronic components.
Source Grid™ Video in Action
‍
What is Source Grid™ and how can I use it to make smart purchasing decisions?
Source Grid™ is a graphical price assessment of an electronic component against the lead times offered by our suppliers in real time. It was designed to help Sourcengine's customers visually compare offers from our global suppliers. Here is a visual representation of how to navigate to Source Grid™:
Visit www.sourcengine.com and type in a part number in the search bar.

‍
Once you entered the desired part number, you will be taken to our search results page (SRP). In this case, OPA548F/500 is a prefix to additional part number variations. This is where you will see them all. In this case, we would like to stick with OPA548F/500. Click on "View Offers" on the right-hand side.
‍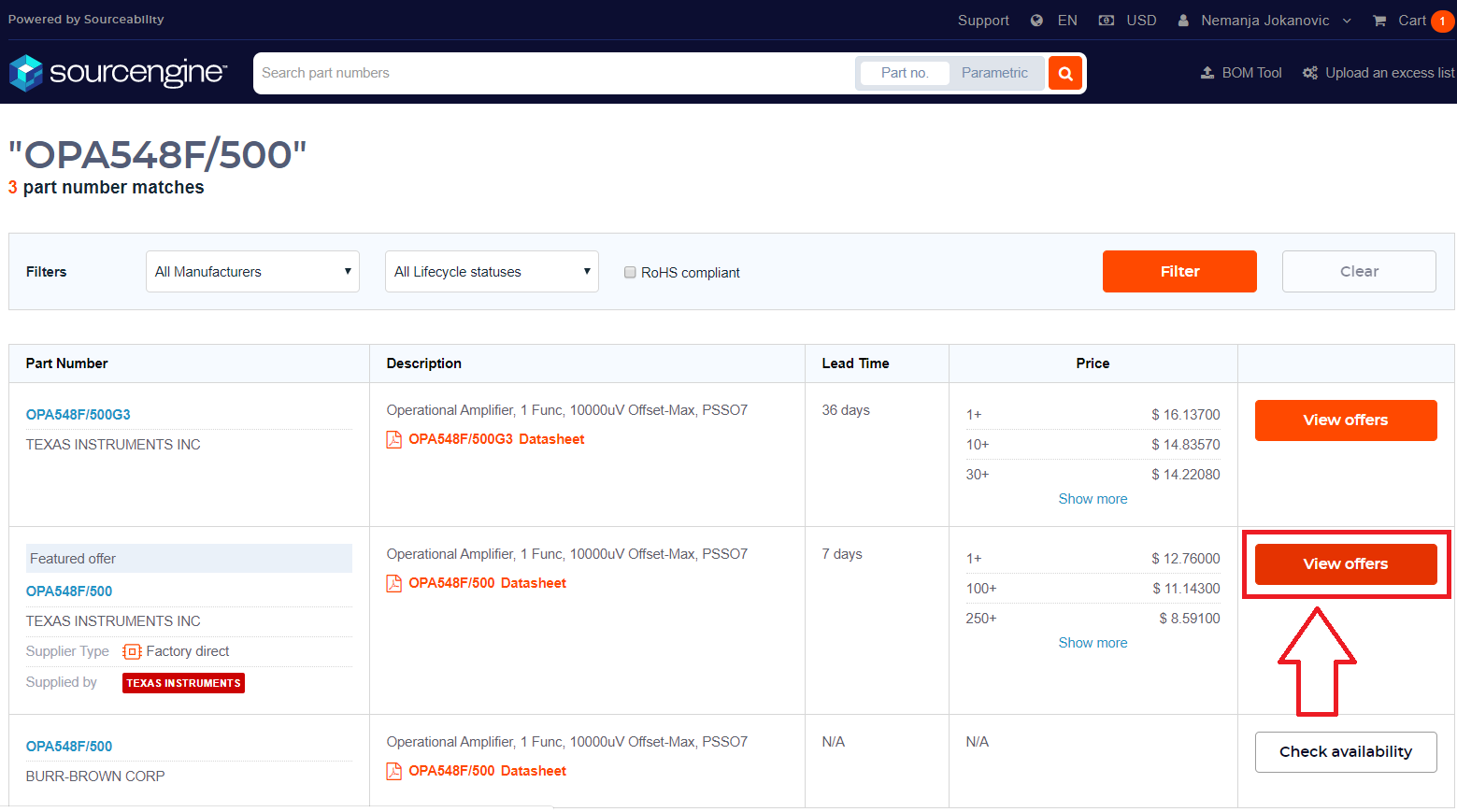 ‍
Once you landed on the product detailed page (PDP), you will be able to recognize the uniqueness and power of Sourcengine. As you can see in the image below, Sourcengine presents you with multiple suppliers (in this case 7) for a single part number search. Here, you can compare the prices, availabilities and lead-times for your search in the "List" view format. You can also add to cart and complete the transaction, download the data sheet, see the alternates, compliance details, and product specifications OR click on the "Grid" view to summarize this screen in a different visual format.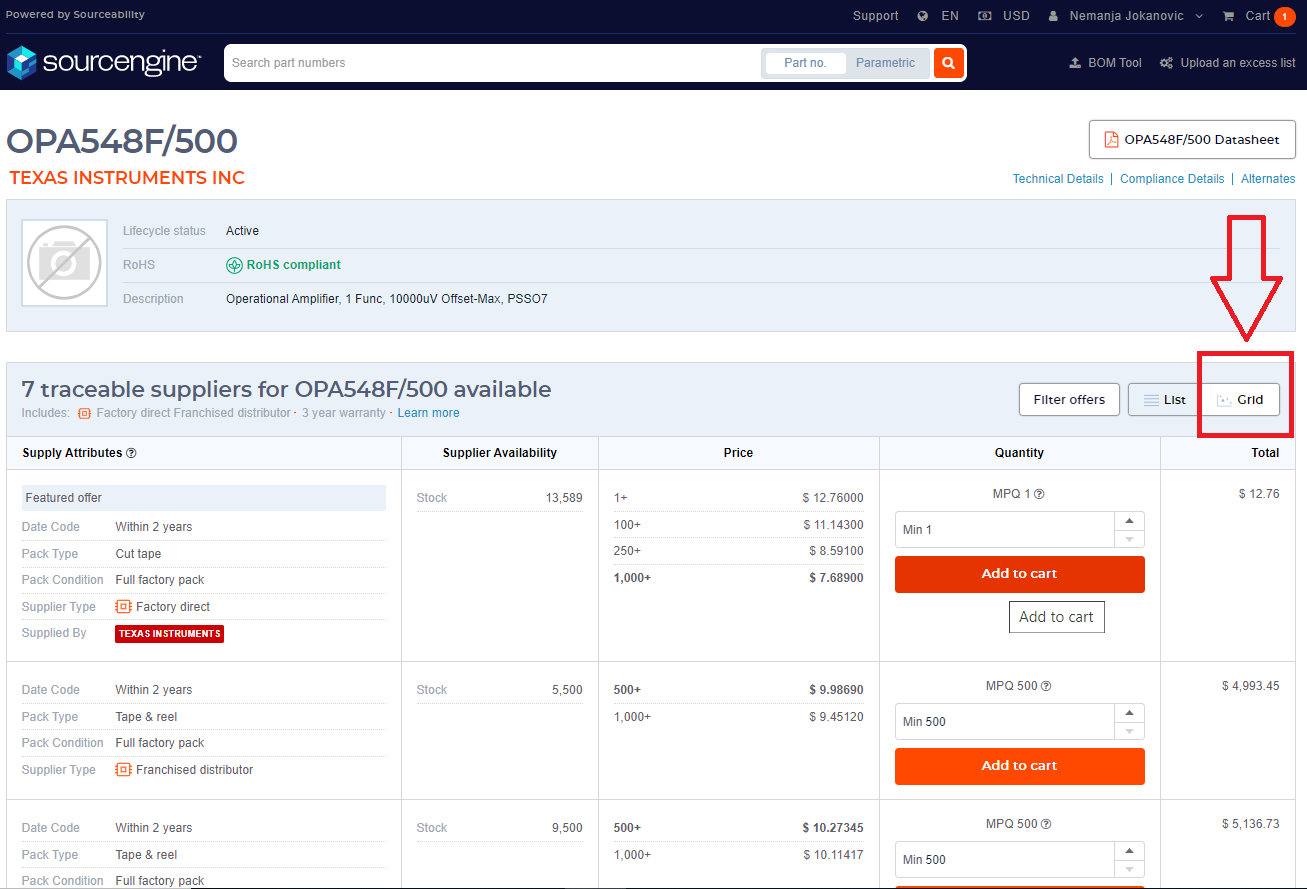 ‍
Source Grid™ presents the buyers with a graphical view where each of the dots characterizes a supplier with their price on the "Y" axis and the lead-time on the "X" axis. Sourcengine breaks the geographical boundaries of procuring electronic components as our suppliers are located globally. Once you are in the "grid" view format, click on each of the dots (suppliers) on the graph and see which of the offers suits your sourcing needs the best.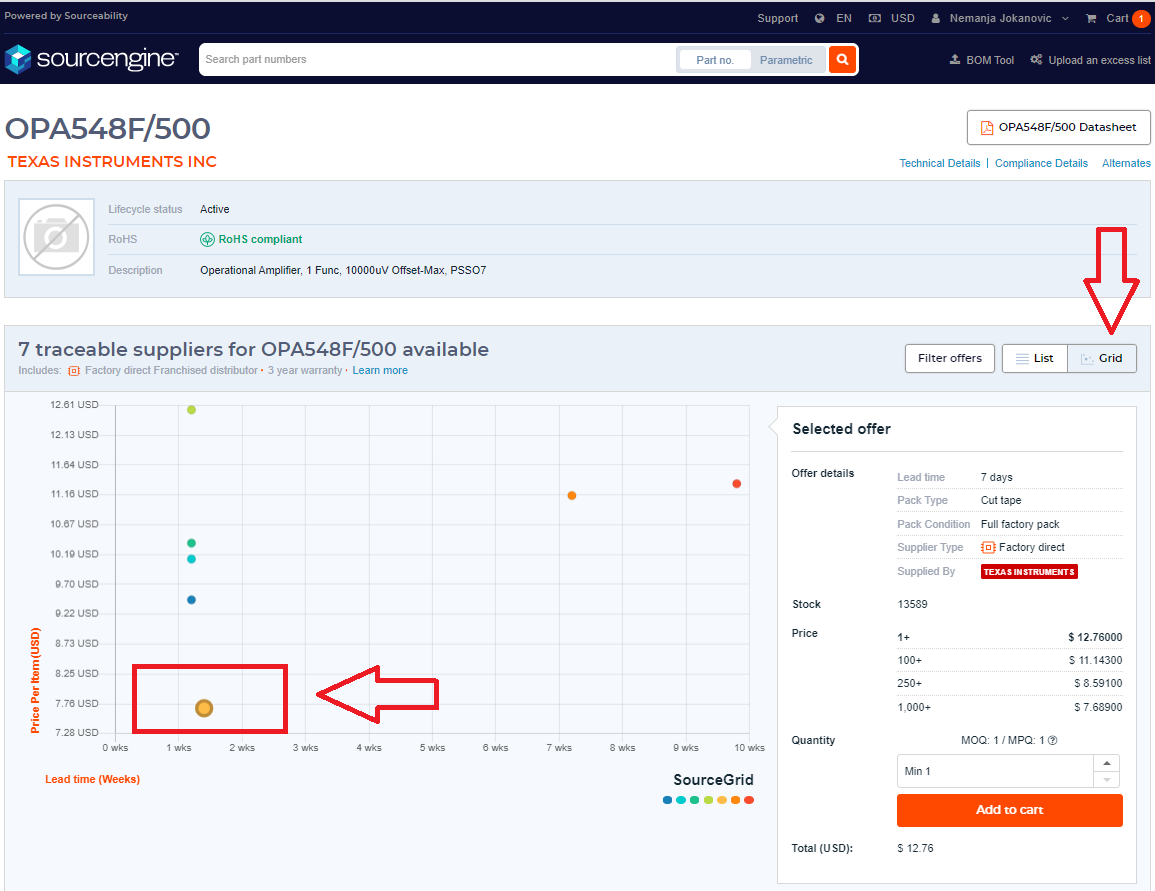 Sourcengine was created to help component buyers do their work more effectively. From Source Grid™ to our BOM Tool and e-Procurement dashboard our products enable companies across the world to acquire electronic components with ease. If you would like to learn about our powerful features, please request a demo and our team will be right with you to help. If you would like receive an access to check out alternates or receive customized pricing and terms, please sign up.
‍
Article Tags