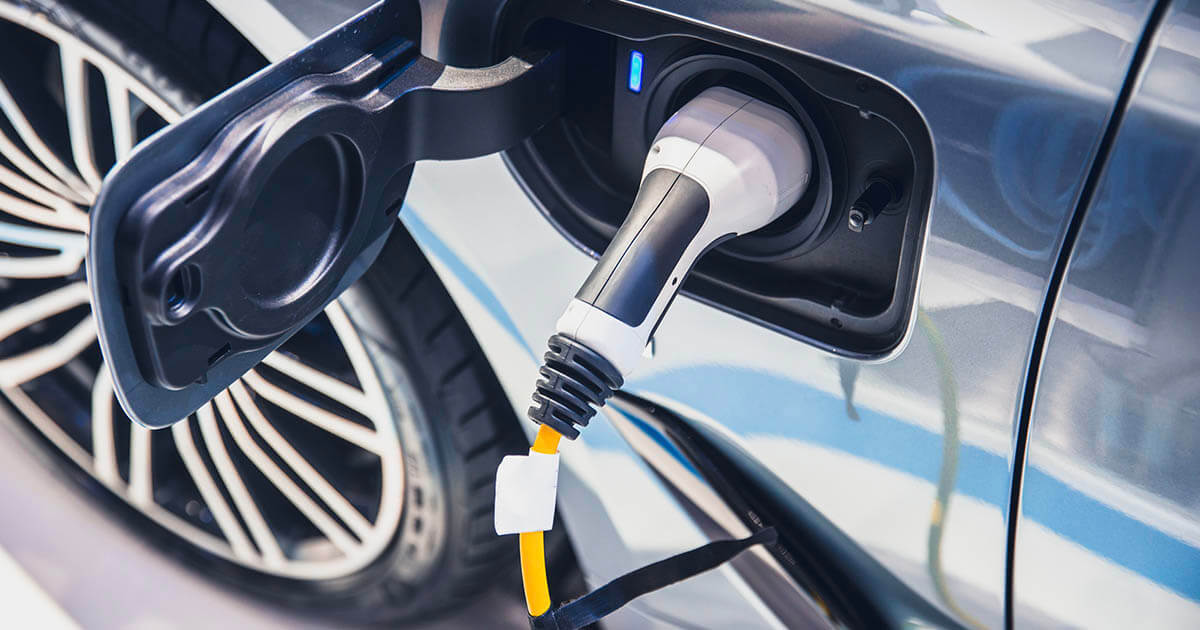 The EV market has and continues to experience an amazing boom as more countries and companies embrace an electrifying future. With that comes competition and new solutions for previous challenges. The EV market grew a little bigger this year with more manufacturers joining the race.  
In this list, we look at some of the big names in the Asian EV market that are making waves with their EV applications. China, Japan, and Korea are packed with EV powerhouses that are quickly rising in rank to global EV leaders. Each one fills a particular need within the complex chain of EV manufacturing. While some specialize in specific parts others advertise their end-to-end solutions for any stage of EV development.  
System Integration Sector
Huawei and Foxconn are breaking into the EV market in a big way. Both are trying to re-engineer EV manufacturing with open platforms while Denso and Hyundai Mobis lead the charge as Tier-1 EV system providers. Aisin continues to strive for increased efficiency with new axle systems to optimize energy and range.
Desay SV
Desay SV is a Chinese manufacturer based in Huizhou and is a smart mobility solution provider for intelligent connected vehicles (ICV). The products Desay SV offers include Division Intelligent Cabin (IC), Intelligent Driving (ID), and Connected Services (CS). Recently, Desay SV showcased 20 of the latest technologies and solutions at the International Suppliers Fair (IZB).  
This showcase included Desay's 23.6-inch Mini LED curved dual screen, rear-view camera with ultrasonic cleaning technology, integrated intelligent vehicle communication, and the first mass-produced in-vehicle intelligent computer platform ICP Aurora. As Desay SV continues to grow strongly through Europe, the company plans to continue to increase investments within global R&D into 2023.  
Huawei
A leading provider in information and communications technology, Huawei is a Shenzhen-based manufacturer that has been increasing its influence in the EV market. Huawei's HarmonyOS platform has been equipped in EV manufacturer Geely's two newest EV lines. The HarmonyOS is an operating system that can run and support a wide range of smart devices.  
Huawei and the Seres Group together launched EV-maker Aito. Aito has a lineup of all-electric SUVs equipped with Huawei's Harmony OS. As they cut prices to battle growing competition within China's EV market, Huawei is expected to continue improving functionality in Aito's smart solutions.  
Aisin
This Japanese global supplier of automotive components continues to offer a wide range of electrification technologies that contribute to the evolution of battery electric vehicles (BEVs). Aisin is specifically interested in increasing energy efficiency to extend EV ranges. To do so Aisin, BluE Nexus, and DENSO have developed eAxle which optimizes new technologies, motor magnet arrangement, and low-viscosity oil for electric units. This axle, called is being used in Toyota's latest BEV bZ4X.
Aisin's company, ADVICS, also sells a regenerative braking system that achieves energy recovery and smoother braking. Both products boost energy efficiency in BEVs, and Aisin continues to devote future solutions toward EV energy efficiency and safety for all vehicles.
DENSO
Kariya-based global automotive component manufacturer DENSO, after becoming independent from Toyota Motor, is a world-class Tier 1 manufacturer. A major supplier for Toyota, Denso offers power-train systems for BEVs that adopt technologies in hybrid systems and smoother driving.  
New products released earlier this year work to help increase energy efficiency within the use of EVs, specifically Toyota and Subaru's new all-electric bZ4X and SOLTERRA. These vehicles included new current sensors, heat pump systems, electricity supply units (ESU), and their radiant heating systems all developed by Denso.  
Hyundai Mobis
South Korean automotive manufacturer has recently announced plans for a new EV battery module plant in Montgomery, Alabama. The plant will produce mixed-model chassis modules for 4 different electric SUVs. Hyundai Mobis and Mercedes-Benz AG will be working together in order to always offer the best chassis module solutions.
Hyundai Mobis offers a line of flagship products for electrification in automobiles. This includes its integrated charging control units (ICCU), power control units (PCU), and OBC which converts AC power to DC power to charge high voltage batteries within PHEV/BEV.  
The Sinclair Broadcast Group, Inc. and Hyundai Mobis recently reached a memorandum of understanding (MOU) with each other for the continued development of automotive services. This partnership will target enhancing capabilities in ASTC 3.0 to be enabled in automotive business models within Korea and the U.S.
Foxconn
Apple supplier Foxconn hopes to make cars for Tesla one day and is continuing its push to expand into the EV market. In late 2022, Foxconn launched 2 electric prototypes the Model V pickup truck and Model B sports crossover hatchback. Foxconn hopes to manufacture and design vehicles for other automakers to reduce both design and development time and cost for automakers using their services. Foxconn reported that they do not seek to sell completed EVs but only manufacture them.
These are not the first prototypes Foxconn has unveiled. In 2021, Foxconn displayed three prototypes which included the Model T, an eclectic bus that is currently in use in Taiwan for public transportation, and the Model C which has been branded as the Luxgen n7 by automaker Yulon Motor.  
Battery Sector ‍
DigiTimes reported in their Top 50 EV companies article that "Chinese companies account for half of the battery segment, while Korea and Japan have world-class manufacturers such as LGES and Panasonic." This is no surprise as battery swapping has become a popular method of recharging in China, due to China's one port rule for EV charging stations.  
CATL  
Contemporary Amperex Technology Co. Limited is a Chinese battery manufacturer that specializes in lithium-ion batteries for EVs and energy storage systems. CATL describes the top 5 advantages of their batteries for EVs are the ultra-long driving range, instant charge, long service life, intelligent management, and weather resiliency.  
Dongfeng Fukang ES600 was the third model to embrace CATL's modular battery swap solution titled EVOGO. CATL's EVOGO solution offers high compatibility with vehicle models and fast charging among other features. As of now, 10 cities within China feature EVOGO battery swap stations that will continue to be implemented throughout the coming years.  
Panasonic
The Japanese industrial conglomerate company is a leader in infotainment, connected mobility, and electrification in consumer electronics. Panasonic stands as the number one li-ion battery supplier on the global market for hybrid, plug-in hybrid, and full-electric vehicles. These battery solutions improve energy density, lower costs, and driving range. Panasonic's nickel-metal hydride battery cells for HEVs continue to be durable throughout high charging and energy discharge.  
Due to increasing charging demands as EV adoption grows, Panasonic has invested in four different types of relays to ensure constant quality. These relays will be utilized in electrified-vehicle charging, safety cutoff on the AC and DC side, insulation detection for the battery, and signal control for IC card activation.  
Further, Panasonic will be investing $4 billion in a new EV battery manufacturing plant in Kansas. The project will not only add over 4,000 jobs to the area but supply the rapidly growing EV industry.  
Samsung SDI
South Korean battery and electronic materials manufacturer is working to create innovative renewable energy and energy storage systems. Samsung SDI offers a variety of batteries that include Standardized Modules that are compatible with both PHEV and EVs. These batteries contain Samsung SDI's own cell technology that specifically targets the EV market. Many European EV cars are equipped with Samsung SDI Battery Systems (SDIBS).  
Samsung SDI also seeks to enter a joint venture with General Motors and Volvo for electric vehicle plants within the U.S. This recent focus by Samsung SDI was prompted by the sudden booming demand for EVs over the last few years. An uptick of demand for Korean batteries within the U.S. has contributed to this decision. Samsung SDI is particularly interested in GM's next-generation battery strategy.  
LG Energy Solution
LG Energy Solution, Ltd. is a South Korean company that is one of the largest battery makers globally. LG Energy Solution manufactures and designs large lithium-ion polymer battery cells and packs that are for EVs and other energy storage applications.  
Ohio has been selected as the location for a new EV battery plant in a joint venture by Honda and LG Energy Solution. This $3.5 billion investment will start mass production of pouch-type lithium-ion batteries by late 2025. These batteries will be provided to Honda plants for EVs that are sold in North America.  
Auto Electronics Sector
As the shortage for consumer electronics comes to an end many component manufacturers are looking to expand their product ranges to include automotive applications. Some of these include display manufacturers like Japan Display that, like Tianma, are filling to new need for high-performance displays to assist with EV driving.  
Nippon Seiki
A Japanese transportation equipment manufacturing company that supplies high-tech HUD for automotive applications along with a range of sensors for vehicles that detailed and accurate information. Many EVs currently on the market utilize high-quality HUD systems that Nippon Seiki provides. With the increased use of intelligent systems within EVs, these displays will become more sophisticated as time goes on.  
Nidec
Electric motor manufacturer, Nidec, offers a wide range of EV applications from powertrain products to ADAS solutions. Nidec announced in late October that mass production of its Gen2 EV axle system has begun. The E-axle contains a motor, gear, and inverter that is 19% lighter with 20% better torque than its predecessor. It's only being mass-produced in the 100kW model for now, but Nidec will replace its first-generation models with the Gen2 over the next year.  
Nidec expects that the Gen2 E-axle will aid the company in acquiring 44% of the EV drive motor market by 2030. This development is unsurprising as Hero Electric, an electric bike company, describes Nidec as their preferred partner for EV development. Hero Electric incorporates Nidec's electric motors and, with growing demand in India, Nidec plans to further expand into Southeast Asia.
Mitsubishi Electric
Japanese multinational electronics manufacturer, Mitsubishi Electric, offers powertrain, vehicle controls, and infotainment products for the next generation of automobiles, EVs included. One of its newest projects is a next-generation driver monitoring system (DMS), which not only improves all vehicle occupants' safety but accurate biological sensing of the driver's condition.
Tianma
The world's largest maker of vehicle displays, and instruments invested earlier this year in a $5.2 billion USD 8.6-generational panel project. This project will set up a joint venture company with three government-backed firms for the 12,000-capacity display panel firm. With accelerating demand within the EV industry, Tianma is preparing for the increasing orders for large-screen and high-resolution display panels for EVs.
Japan Display
A joint venture between Sony, Hitachi, and Toshiba, Japan Display manufactures and supplies LCD modules for automotive applications. These LCD modules include car navigation, instrument panels, and rear seat monitors. These displays are user friendly with safety features and comfortable driving spaces.
Robosense
A global supplier of smart light detection and ranging (LiDAR) sensor systems, Robosense, works with several global EV manufacturers including Lucid, Great Wall Motors, BYD, Geely, and more. Its RS-LiDAR-E1 is the first automotive-grade pure solid-state Flash LiDAR. Its RS-LiDAR-M1 is the leader in the large-scale production of automotive-grade MEMS LiDAR.
In September, XPENG Motors alongside Robosense announced the new XPENG G9 electric car would be equipped with two Robosense second-generation smart solid-state LiDARs. This is to provide intelligent driver assistance as both sensors cover a 180° horizontal view to reduce vertical blind spots.
Robosense's sensors have recently been combined with Hesai's LiDARs in the recently announced Lotus Eletre SUV that will provide end-to-end autonomous driving.
Auto ICs Sector
Samsung Electronics is taking advantage of the dropping demand for memory chips in consumer electronics to invest in automotive IC development. EV charging technology will be Samsung Electronics' initial focus as it joins the ranks of powerhouses like Renesas and Toshiba.  
Sony  
Sony's made the news in October 2022 after partnering with Honda for a joint EV coming in 2025. Sony will be providing metaverse-related entertainment while Honda focuses on automated driver-assist technology. Earlier this year at CES 2022 Sony announced its SUV prototype, VISION-S 02, which uses the same EV/cloud platform as their previous prototype, VISION-S 01 is currently being tested on public roads.
Beyond Sony's foray into prototype EVs, it offers a large range of image sensors, interfaces, and AI for automotive use. This product list includes their High Dynamic Range (HDR) technology and LED Flicker Mitigation technology both for automotive use.  
Toshiba
Since 2011, Toshiba has manufactured high-performance drive motors for hybrid electric vehicles (HEV). As EV continues to drive demand skyward, Toshiba continues to improve upon existing technologies and motors to improve EV performance. In 2021, Toshiba announced they would be developing new lithium-ion batteries that utilize niobium titanium oxide as anode material. The desire would be optimization of battery performance with this new material that could blow lithium out of the water.
Meanwhile, Toshiba earlier this year launched its 20Ah-HP SCiB rechargeable Li-ion battery for EVs. The battery boasts high-energy and high-power characteristics best suited for heavy-load applications. Outside of traditional batteries, Toshiba continues to work on a possible global wireless charging system for EVs with several other key players.  
Samsung Electronics
Memory chip giant Samsung Electronics might not be manufacturing the next EV, but it's expanding its portfolio to include several automotive ICs in the future. Samsung Electronics announced a partnership with IoTecha in the development of a new range of EV charging stations. The sites plan to utilize Samsung's display and signage solutions with IoTecha's existing EV charging technology.  
The collaboration addresses key challenges that affect the deployment of both EV charging and digital signage infrastructure. According to both companies the new charging station rollout should be able to scale quickly and cost-effectively with new driver and customer experiences for a range of commercial customers.  
Renesas
Japanese electronics manufacturer giant, Renesas Electronics, in August 2022, announced the development of a new generation of Si-IGBTs (Silicon Insulated Gate Bipolar Transistors). These will be offered in a smaller footprint and provide lower power losses for the next generation of EV inverters. These AE5-generation IGBTs will be mass-produced in the first half of 2023 for their 200- and 300-mm wafer lines.  
Renesas currently offers an extensive range of automotive solutions including their RL78 and RH850 automotive MCU lines. The RL78 is a 16-bit and the RH850 is a 32-bit automotive microcontroller. Both offer low power consumption and functional safety. As of November 16, 2022, unveiled their automotive radar transceivers that boast the industry's highest accuracy and lowest power consumption.  
Fuji Electric
Electronics manufacturer Fuji Electric's semiconductors have been used throughout the electric mobility market and automotive applications for years. Its current 7th generation RC-IGBT technology is utilized in EV charging stations for Type 1, 2, and 3. Fuji Electric's semiconductors offer small sizes, reduced energy loss, and reliability for EV applications.

About Sourcengine
As the EV market grows and evolves, accessibility to leading-edge and quality components will always be a top priority. To optimize your company's supply chain, try searching for parts on Sourcengine, the world's leading e-commerce marketplace for automotive ICs, batteries, sensors, and more. Over 3,500 traceable sellers offer their stocked items on our platform, upload your BOM to get prices on every part needed for your next EV project.  

Already have a part in mind? You can request a quote from our global team of experts today!
‍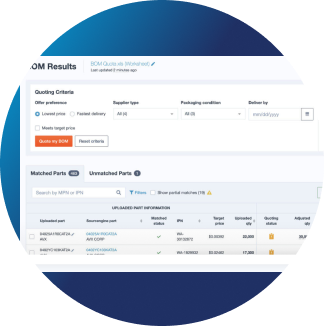 Quotengine: Your Ultimate BOM Tool
With Quotengine's real-time data on over 1 billion part offers, managing your BOM effectively has never been simpler.
Upload Your BOM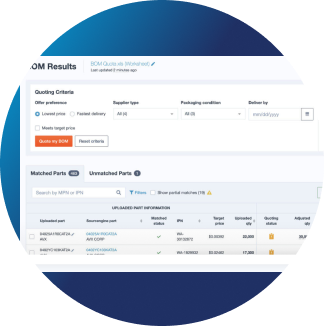 What's Your Excess Worth?
Real-time market data, quick response time, and unique price offers to help you maximize your return on excess inventory.
Get an Estimate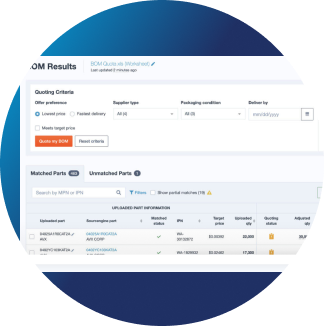 The Last Integration You'll Ever Need
Streamline manual processes and gain real-time access to inventory data, pricing updates, and order tracking through Sourcengine's API
Sign-up Here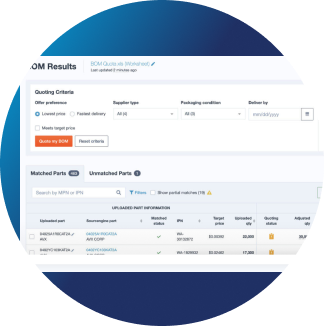 Sourcengine's Lead Time Report
Strategize for upcoming market shifts through lead time and price trends with our quarterly lead time report.
Download now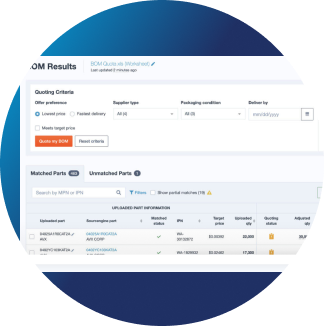 Sourcengine's Lead Time Report
Strategize for upcoming market shifts through lead time and price trends with our quarterly lead time report.
Download now