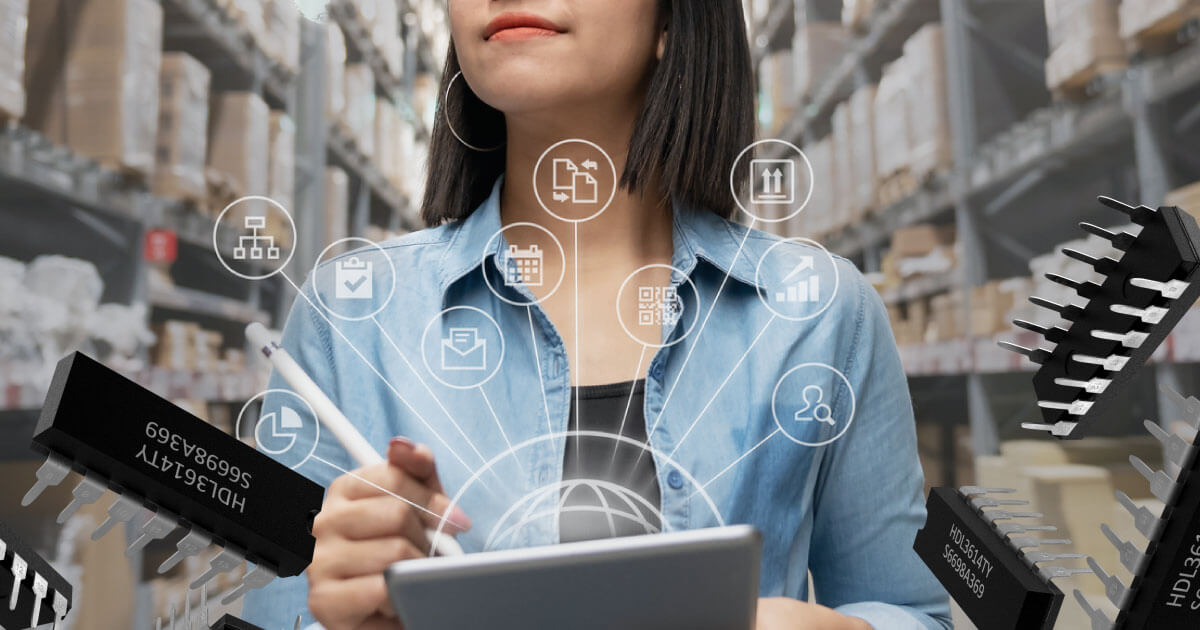 In the wake of the coronavirus pandemic, electronic component sourcing has become considerably more challenging. The viral outbreak has delayed manufacturing, obscured supply chain visibility, and created difficult economic conditions. Original equipment manufacturers (OEMs) and contract manufacturers (CMs) have been forced to learn things the hard way. They are pressed to keep production moving while navigating supply chain disruption. One important lesson learned by all: adopting an electronic procurement system can help alleviate pressure and keep production lines going.
Digital procurement systems are at an all-time high of importance in the industry; in fact, they are projected to maintain a compound annual growth rate (CAGR) of 7.3 percent through 2025. This rapid adoption of global procurement software offers plenty of opportunity to shorten lead times, reduce inefficiencies, and boost bottom lines – if the right software platform is utilized.
With all that's going on in the world, utilizing such a platform might be one of the single most important decisions any supply chain manager or logistics director will ever make.
The Benefits of an Effective E-Procurement System
By harnessing the power of digital transformation, a component e-commerce marketplace can help procurement officers in multiple ways:
Improve productivity to realize greater profitability
There's a proven link between supply chain management software and increased earnings. Quality platforms have plenty of built-in tools and resources that can help procurement professionals become more productive, including an automated vendor ranking system.
Strike a balance between long-term planning and strategic buying
Some projects rely on tried and true long-term purchasing strategies. Others demand need-it-now manufacturing and drop shipping. Finding the time and energy to manage both can be very taxing. Whether it is niche third-party suppliers or established OEMs, an electronic component e-commerce marketplace can help a company fine-tune its purchasing strategy.
Find a global perspective
A firm's purchasing strategy should not be constrained by geography. A quality e-procurement solution leverages the global marketplace to find optimal deals for every type of electronic part. With a streamlined user interface, it is just as easy to make a component purchase from Toledo as it is Tokyo.
Save money
An e-procurement purchasing strategy should prioritize error elimination and reduce cost inefficiencies. But not every sourcing platform delivers on that promise. With a user-friendly real-time excess estimator, companies can avoid costly over-purchasing, maximize storage facility usage, and save on critical overhead costs. Plus, it offers real-time resale analysis for surplus electronic components if a mistake happens.
Make BOMs multifaceted
A Bill of materials (BOM) already contains important product information, but it also serves another important role in an advanced e-procurement system. The right system can automatically convert complex BOMs into practical invoices for a firm's preferred vendors. All a company needs to do is import its Excel-based BOM and the platform can take it from there.
APIs that integrate with ERPs
A business's e-procurement strategy may sound simple enough on paper, but putting those ideas into practice is harder than it seems. This was true even before the pandemic struck, but now in the midst of it the startling reality of supply chains being disrupted is evident. As SCM specialists are forced to work from home in the new normal, many are realizing they are now away from the company ERP system. But this doesn't have to stagnate productivity. The right e-commerce procurement system will be able to integrate with a company's ERP via API. In today's world of digitization, the new normal doesn't have to stop supply chains.
‍
Regardless of size or location, all firms can derive meaningful gains from using e-procurement. Whatever its needs, a robust e-commerce platform can help organizations devise a practical, on-point procurement strategy.
Leverage the Full Benefits of an Electronic Components E-Commerce Marketplace
A digital platform empowers procurement professionals daily. How? By providing them with the crucial technological support necessary to navigate the headwinds of the post-coronavirus landscape. Take a moment to learn how Sourcengine can do everything laid out for SCM specialists here, and even more.
Schedule a free demo today and learn how this e-commerce marketplace will keep supply chains moving and production lines working.
‍
Article Tags