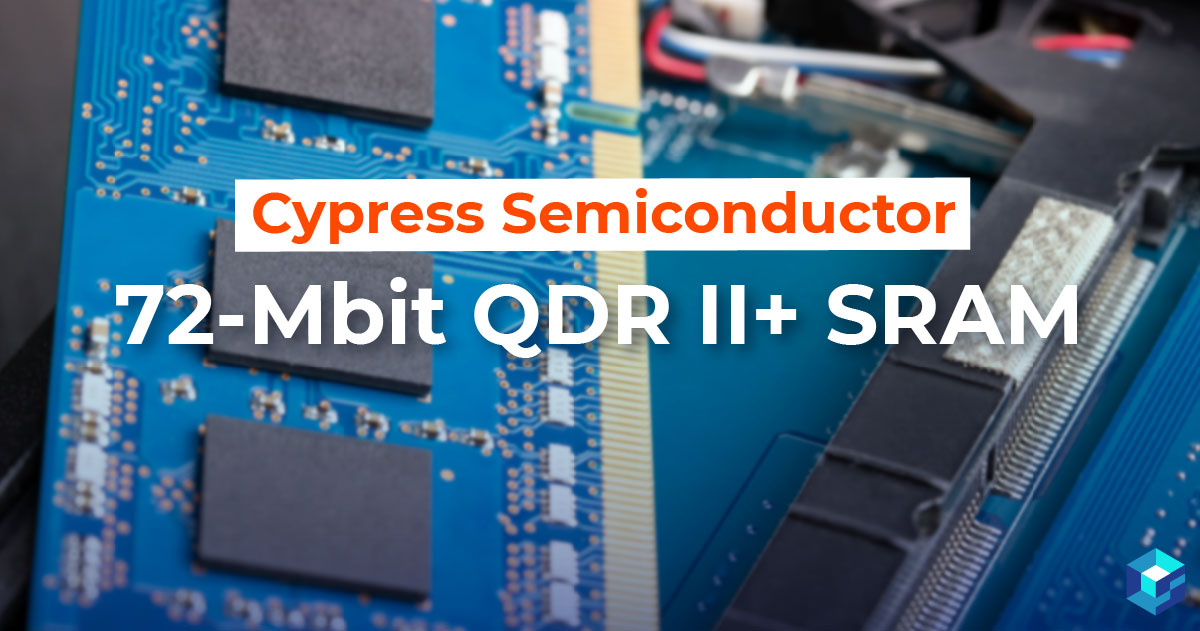 This year, global IP traffic will reach 194.4 exabytes per month. With more than 1 million people a day joining the online community, firms will need to ensure their systems are outfitted with robust networking gear to handle that traffic. Cypress Semiconductor has addressed the challenges of 2020s internet usage with its 72-Mbit QDR II+ SRAM.
Features
Cypress designed its QDR II+ architecture to maximize the throughput of its SRAM. To that end, the firm outfitted its cutting edge memory chips with two separate read and write ports that support simultaneous transactions. Therefore, the 72-Mbit component has the capability to transfer information of up to 550 MHz from each of its sockets.
Thanks to that innovative architecture, this type of SRAM doesn't need to turn around its data bus. As such, QDR II+ devices have 50 times the operating speed as products from the proceeding generation.
The manufacturer also worked to streamline the functionality of its 1.8V SRAM. The component, which boasts 2.5 read cycle latency, has internally synchronized self-timed data writing functionality. Specifically, its two rising edge input clocks (K and K) allow for precision double data rate timing. Also, its pair of echo clocks (CQ and CQ) simplify the process of data capture.
Cypress' QDR II+, available in lead and lead-free varieties, uses a data valid pin to certify information output. Also, the manufacturer offers the chip, which has on-die termination, in 18 and 36-bit four-word burst configurations.
In addition, Cypress has made its high-performance SRAM available in a compact 165-ball FBGA package. Accordingly, the memory chip boasts a space-efficient 13 mm x 15 mm x 1.4 mm footprint. And the component has cache coherence, which provides its connected system with continuously current data.
Applications
Because of its concurrent read/write capability and high-bandwidth timing, Cypress SRAM is ideal for use in networked systems. Indeed, the 72-bit QDR II+ chip possesses the high operating frequency and low latency required by contemporary data network and communications gear.
In particular, the innovatively designed SRAM can facilitate the rapid and continuous read/write functions of routers and network switches. Consequently, commercial, military, and industrial IT administrators would be well served by purchasing Cypress' QDR II+ memory chips.
To learn more, check out Sourcengine's selection of Cypress Semiconductor's 72-Mbit QDR II+ SRAM.
‍
‍
‍
Article Tags