Civil aviation is constantly changing. Faster, lighter, quieter, and longer-range aircraft are being developed to make the passengers' travel experience more enjoyable. Going beyond the improvements on the mechanical side of the airplanes, the airlines and their subcontractors are continuously competing for the best traveling experience inside the plane. The first one to come to mind is in-flight entertainment (IFE) and more efficient wi-fi.

According to IATA (International Air Transport Association), the number of air travelers will double in the next 20 years due to higher incomes, more international business needs, and more-affordable pricing in the airline industry. As the result of the increased demand for air travel, the civil aviation industry has a bright, but challenging future ahead of it. To continue to make more efficient airplanes, the companies will have to continue to innovate and find better solutions to fulfill supply chain and production demands. In this article, we will discuss the challenges of selecting the right connector solution for the commercial aviation application.
How to Select the Right Connector
The first thought that comes to mind when travelling with an airplane is safety and reliability. The connectors used in aviation applications need to be extremely reliable even though they are used in some of the harshest of the environments. Even though they are exposed to a significant amount of vibration, various levels of temperature and shock levels, the failure is simply not an option. Connectors are used all throughout an aircraft and each product family has its own set of challenges and needs.
For example, the landing gear on an aircraft is a critical system that often utilizes MIL-DTL-26482 Series II connectors most commonly manufactured by Souriau, Amphenol, TE Connectivity, Corsair, Conesys, etc. MIL-DTL-26482 series II connectors are designed for a specific need to operate in harsh, high-stress environment and can, often, be optimized to meet customers' unique design requirements.Additionally, there is a large benefit to using mil-spec connectors such as MIL-DTL-2648 series II because they can mate with any manufacturer. This makes the job of a design engineer or a buyer easier considering they can now purchase from any of the manufactures (or their distributors) who meet the mil-spec criteria.
MIL-DTL-26482 series II features: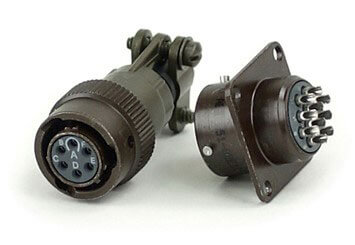 Rear release contact retention system. 9 shell sizes (8 to 24) in 49 insert arrangements utilizing contact sizes 20, 16, and 12 gage crimp contacts per M39029. Bayonet coupling mechanism. Polarization by insert rotation, per MIL-STD-1669. Operating temperature range: -55 degrees C(-67 degrees F) to 200 degrees C (392 degrees F). Uses high reliability metal contact retention clips. Environmental Flourosilicone Elastomers.
‍
‍
‍
‍
‍
‍
‍
‍



Installing and Removing Tools

Another good example of a system requiring specialized connectors would be the aircraft fuel management system. To successfully deliver on the fuel management systems, the OEMs, most often, use hermetically sealed connectors. Hermetic connectors are glass sealed connectors that are designed cooperate in extreme environments. The glass to metal sealing enables the connector to be resistant to most liquids and gas, such as gasoline, jet fuel,oil, acids and hydraulic fluids, among others, making it an ideal connector for use in harsh environments ranging from satellites to submarines. Depending on the application, an engineer can use a hermetically sealed connector from various mil-spec product families such as MIL-DTL-38999,MIL-DTL-83723, MIL-DTL-26482,etc.
One of the more popular choices for these types of applications is TE Connectivity's MIL-DTL-83723 Series III connector. This series offers reliability in high temperatures. Hermetic termination styles include solder cups, eyelets, PC tails, weld tabs, and crimp termination. MIL-DTL-83723 Series III is a high density military cylindrical connector with two coupling styles: bayonet and threaded plugs and receptacles. It was designed for rugged use and high temperature environments for both commercial and military aerospace applications.
‍MIL-DTL-83723 series III features: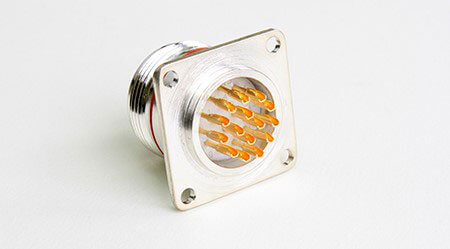 Shell: Aluminum alloy or Stainless Steel
Shell Plating: Electroless Nickel, Olive Drab Chromate over nickel, Anodized, and Passivated
Bayonet Pins: Passivated Stainless Steel
Contacts: Copper alloy
Contact Plating: 50u Gold Plated
Insulator: Rigid Plastic dielectric
Seals: Silicone based elastomer
‍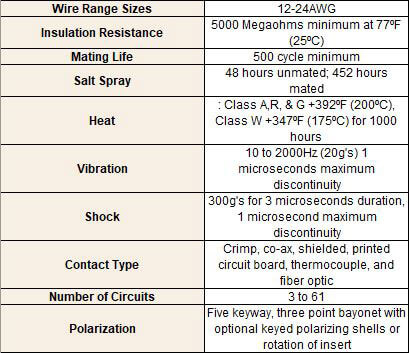 A great selection for airframe connectors would be Boeing-spec BACC series connectors. BACC qualified connectors are designed to satisfy multi-purpose requirements and various product application challenges for shielding, sealing, fluid resistance, shock and vibration. These can be built to customer requirements and are available in a variety of different shell materials and finishes. Some of the more specialized manufacturers of BACC connectors are Amphenol, Cinch, Souriau, RMS.  One of the most commonly used connector series in the world is MIL-DTL-38999 Series III or, in Boeing's (BACC) case, BACC63 series.
BACC63 (MIL-DTL-38999 Series III) features: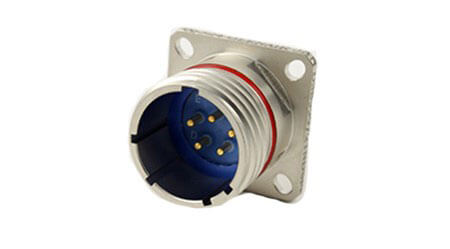 MIL-DTL-38999 Series III utilizes rear release contact retention in 9 shell sizes (A to J) in a variety of insert arrangements and contact sizes, (22D, 22M, 22, 16, 12, 8, 4 and 0 gage). Triple Start Threaded coupling mechanism: polarization accomplished by Shell rotation.Originally designed for the high-performance requirements of military and commercial aviation, these circular connectors are perfect for applications requiring extremely reliable interconnections.
Materials and Finishes
Contacts: Copper alloy
Plating: Gold-plated, 50 micro-inches per MIL-G-45204 type II, grade C, class I
Insulator: Hard dielectric wafer which contains tines for high-reliability retention of crimp contacts
Grommet & Seals: Silicone-based elastomer
Grounding Springs: Beryllium copper (grounded plug only)
Electrical Data 
Contact Sizes: 22D, 20, 16 and 12 
Test Voltage (unmated condition)

Operating Voltage

Contact Resistance of Mated Contacts End-to-End

Insulation Resistance: 5,000 megohms minimum
When it comes to in-flight entertainment (IFE), galleys, seat powering, kitchen, lighting, etc. TE Connectivity's DMC-M rectangular series is an affordable, efficient and one of the most common go-to connectors in the industry. DMC—M connectors are light weight composite, modular, color and mechanical coded, push pull coupling connectors. These connectors were created to meet the most demanding avionics requirements and specifications including BACC65, ARINC 809 and EN4165. DMC—M connectors support some of the most sophisticated programs in the aviation industry including Tiger, Rafaele, EC145, A350, B777, X6, LM JSF, NH90, B787, KC390, Sikorsky S—92 and many others. This Series offers the largest selection of insert ranges on the market—over 30 layouts, 50% single source. Large contact techno available (#24 to #8). Use of AS39029 and EN3155 contacts series. As far as the shells go, they are lightweight, shielded, and composite made. DMC—M shells offer 8 keyings, all with color identification.There is a large choice of Quick Install backshells and they are 100% tool less. EN4165, BACC65 and ARINC809 qualified.
DMC-M Series features: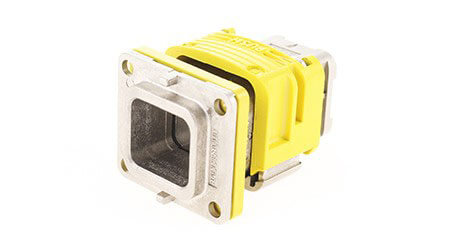 Technical Characteristics

Electrical Characteristics

EMI Shielding Performance


Lastly, control panel connector applications can be extremely demanding. Besides understanding technical demands of the control panel requirements, one must also take space constraints into consideration. To put this simply, there is a limited amount of space an engineer is allowed to work with to deliver a technically sophisticated interconnect solution that will pass or exceed all the design requirements. One of the most commonly used connectors in these types of applications are Rack and Panel – ARINC 600 rectangular connectors. Some of the more known manufacturers of ARINC type rectangular connectors are Radiall and Souriau.
ARINC 600 Series features: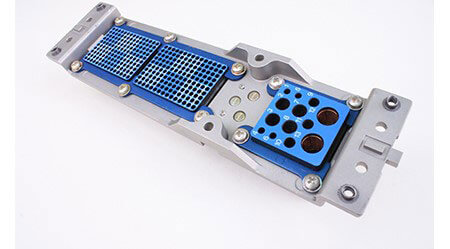 Materials and Finishes:
·        Shell: Aluminum alloy (Alodine 1200, Surtec 650V or nickel plating)
·        Inserts: Thermosetting or high-grade thermoplastic
·        Metallic Inserts: Aluminum alloy (nickel plating)
·        O-ring and grommet: Fluorosilicone
·        Contacts: Copper alloy (gold over nickel plating)
·        Retention clip: Copper alloy
·        Insert retention plate: Aluminum alloy (blue anodized or nickel plating)
·        Polarization posts and key retention plate:Aluminum alloy (chromatation or nickel plating)
·        Screw washers and clinch-nuts: Stainless Steel (with or without dry film)
·        Polarization posts and keys: Zinc alloy (nickel plating)
Mechanical Performance:
·        Durability: 500 mating and unmating cycles
·        Random vibration: conforming to MIL-STD-1344 method 2005.1 test condition 5 letter E. (16.4g, from 50 to 200 Hz, 8 hours per direction)
·        Shock: 50 g 11 ms half sine. MIL-STD-1344 method 2004.1 (3 impacts per direction)
·        Mating force:
·        Connector size 1: 27 pounds (120 N) max
·        Connector size 2: 60 pounds (267 N) max
·        Connector size 3: 105 pounds (467 N) max
Environmental Performance:
·        Temperature range: -65°C/+125°C
·        Temperature life: 1000 hours at 125°C (257°F)
·        Salt Spray: MIL-STD-1344 method 1001.1 test conditions B (48 hours)
·        Moisture resistance: MIL _STD-1344 method 1002.1 test condition II (10 times 24 hours)
·        Sealing: environment resistant to running water (environmental version only)
·        Fluid resistance: Resistance to MIL-STD-1344 method 1016 (fluids a, e, i)
Electrical Performance:
·        Shell to shell conductivity: (measured according to method 3007 of MIL-STD-1344A) max warranty: 2.5mΩ
PRODUCT AVAILABILITY AND PURCHASING:
No matter what your application is, finding the right connector is critical for the success of the design project. When it comes to sourcing and acquiring the hi-rel connectors, Sourcengine partnered up with some of the largest and industry leading stocking value-added connector assembly distributors in the world. With this power, we can offer fast turnaround and the largest availability of mil-spec connectors in the industry through our sophisticated e-commerce platform. Sign up for a free account to get lower pricing when you shop for your connector needs on Sourcengine today!
Article Tags