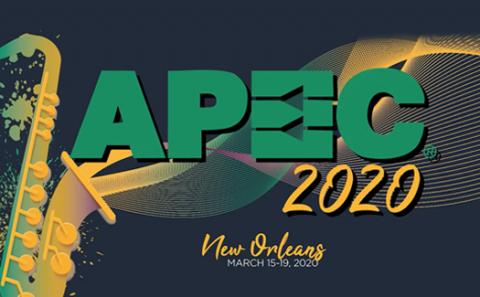 There was an APEC news release today cancelling the APEC conference in New Orleans. This was the right decision. Many companies and personnel had already decided to cancel before the announcement.
Mardi Gras 2020 was on February 25 and 97.5% of people who are infected with the Corona virus develop symptoms within 11.5 days - do the math: it has been 14 days since the Mardi Gras had more than a million visitors. On March 10th there were two new Corona virus cases in New Orleans.

The good news is that there will be a virtual conference coming soon. Stand by because I will be writing about this when it is announced. Thank God for virtual conference capabilities!
Online conference presentations are really good sources of knowledge for engineers and other interested parties. We are 20 years into the New Millennium and this is the way of the future-except, we really still need that personal, face-to-face meeting and human contact; the physical exchanging of business cards and the personal relationship building. Plus the touch and feel of the new products on display are crucial as well.
Although, on the surface, this is disappointing to engineers, procurement, and marketing/sales people, it is a 'blessing in disguise'. I surmised that the APEC team and its sponsors were just waiting to see if the Corona virus might subside. I knew they would make the right decision for the safety of all.
Some of the industry colleagues, already in the US, are even thinking of maybe taking a vacation in New Orleans now that the trip is already booked.
A CEO from an electronics industry marketing communications firm commented to me that, "My personal observation is that COVID-19 has added dramatically to the supply chain issues that have been dogging the electronics industry for the past 18 months due to the ongoing trade wars. While the strong economy has sustained demand for products (and OEM product bookings), deliveries of components and subassemblies are slow and resulting in lower shipments (revenues). 
The optimist in me hopes that this global health crisis might provide the foundation for real cooperative actions resulting in settlement of trade issues. It is surely taking "us vs. them"  out of the equation. It's just "us."
‍
‍